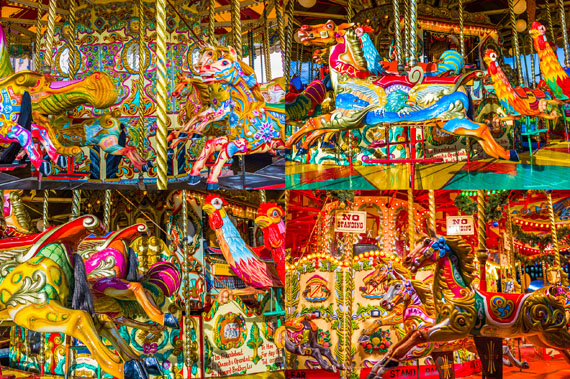 KALEIDOSCOPE Cornucopia
Exhibition: 12 Nov – 15 Nov 2014
Thu 13 Nov 18:00 - 22:00
Pop Up - Galerie Esther Woerdehoff
16 rue du Perche
75003 Paris
Fri-Sun 11-20

Galerie Esther Woerdehoff
36 rue Falguière
75015 Paris
+33(0)9-51 51 24 50
galerie@ewgalerie.com
www.ewgalerie.com
Wed-Sat 12-19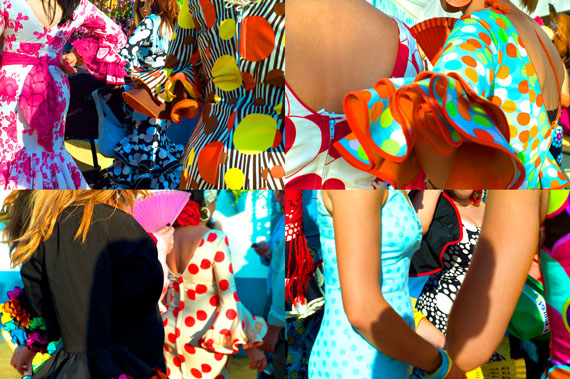 Gérard Musy
"KALEIDOSCOPE Cornucopia"

Exhibition: November 13 – 15, 2014
Opening: Thursday, November 13, 6 to 10 pm
The Galerie Esther Woerdehoff is proud to present a recent series of images by Swiss photographer Gérard Musy, which will be exhibited in a pop-up venue located in the Marais area during Le Mois de la Photo Off.

Gérard Musy's Kaleidoscope series display a multiple and dynamic concept, celebrated by day and night. In this temporary Mois de la Photo Off space, Kaleidoscope will be presented in different ways: A slideshow will be projected on the gallery window, framed prints exhibited on the walls and finally, all the photographs of the series gathered in a central portfolio. Music by Satie, Cage and Ligeti, tunes from musical boxes and scores from musicals will accompany the visitor into that immersive and vibrant vision.

The joyful subjects of Kaleidoscope, including Andalusian Feria costumes, Siena Palio riders, fair roundabouts, Christmas windows, circus arenas, summer beaches, etc. are turned into a bright and colourful explosion in these photographs. The close-up compositions become nearly abstract.

Kaleidoscope (in Greek etymology "lovely appearance") displays a firework and festival of colours: a beautiful visual serendipity. Gérard Musy, famous for his sleek and sophisticated black and white photographs, has initiated a reflection on colour. At first, there is an natural attraction to bright colours that has always been important through out art history - often we forget the vibrant colours existing on antique or medieval scluptures. Then, it reminds us the eternal opposition between colour and black and white: for example, the opposition between Malevich's and Rodchenko's monochrome paintings in the beginning of abstract art.

To be more down to earth, that alternation can be also observed by the return of black beginning of the '80s after an extreme multicoloured psychedelic era throughout the '60s and '70s. Within his horn of plenty – Cornucopia – Gérard Musy offers the viewers a motley mixture, spectacular patchwork and eruption of blazing colours. That chaotic effect is even enhanced by assembling four mirroring photographs within the same frame. Photography is thus reflection of life and energy.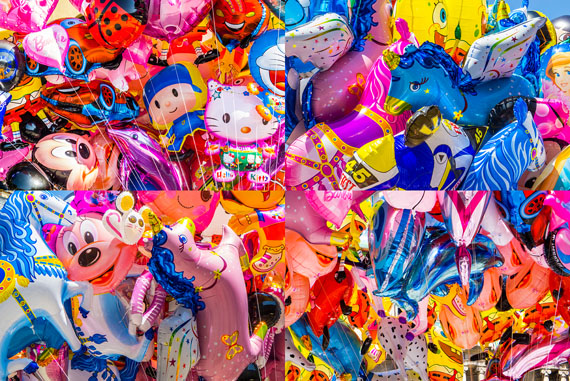 Gérard Musy
"KALEIDOSCOPE Cornucopia"

Exposition : 12.11. – 15.11.2014
Vernissage : jeudi 13 novembre, de 18h à 22h, en présence de l'artiste
La Galerie Esther Woerdehoff est heureuse de présenter le nouveau travail du photographe suisse Gérard Musy, exposé dans un espace pop-up du Marais, dans le cadre du Mois de la Photo Off.

Le Kaléidoscope de Gérard Musy se présente comme un concept multiple et dynamique, visible de jour comme de nuit. Dans cet espace éphémère du Marais, Kaléidoscope s'expose de manières différentes : dans un diaporama projeté sur la vitrine, sur un mur couvert de tirages et dans un portfolio qui présente l'ensemble des cent images de la série. Les musiques d'Eric Satie et John Cage, de boîtes à musiques et de comédies musicales accompagnent le visiteur dans cette vision immersive et animée.

Les sujets festifs - femmes en costumes andalous, cavaliers du Palio de Sienne, manèges de foire, vitrines de Noël, cirques, plages estivales, etc. - éclatent en couleurs vives dans ces images. Cadrés de près, ces sujets légers en deviennent presque abstraits.

Kaléidoscope, étymologiquement « bel aspect », se donne sans prétention : ici tout n'est que feux d'artifice et fêtes de couleurs, une belle composition aléatoire ainsi formée par de multiples éléments visuels.

Gérard Musy, réputé pour son travail élégant et sophistiqué en noir et blanc, engage ici une réflexion. D'une part, sur l'attirance essentielle des couleurs vives qui a toujours été présente dans l'histoire de l'art comme sur les statues antiques ou médiévales dont on a longtemps oublié la vivacité. D'autre part, sur l'éternelle opposition entre couleurs et noir et blanc - l'opposition, par exemple, entre les monochromes de Malevitch et de Rodtchenko au début de l'art abstrait. Plus prosaïquement encore, on peut aussi observer cette alternance dans le retour au noir des années 80 après la période psychédélique multicolore des années 60-70.

Dans cette corne d'abondance bariolée tout est panachage, fatras, méli-mélo spectaculaire, offerts pêle-mêle aux spectateurs. Cet effet chaotique est encore démultiplié par la disposition en miroir de quatre prises de vues à l'intérieur d'une même image. La photographie est ainsi le reflet de vie et d'énergie : Kaléidoscope est explosion de couleurs vives.