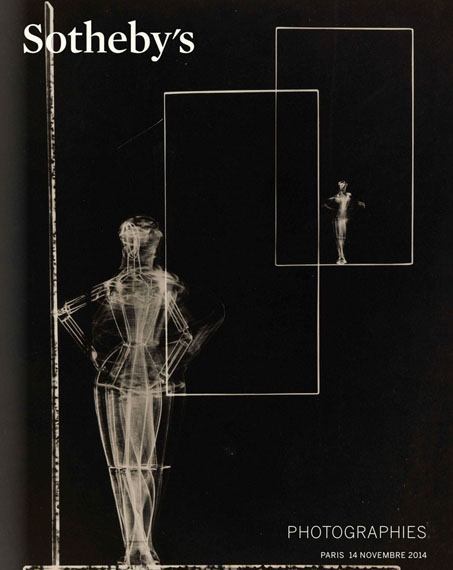 PHOTOGRAPHIES
Auction:
Fri 14 Nov 14:00

Sotheby's Paris
76 rue du Faubourg Saint-Honoré
75008 Paris
+ 33 (0)1-53 05 52 30
Sotheby's Photographies auction in Paris offers an exceptional selection of rare and unique works, many of which offered to the market for the first time, covering all periods of the genre from the 19th Century through to the contemporary era.

Works from the most celebrated and blue chip artists of the latter 20th century including Horst P. Horst, Robert Mapplethorpe, Irving Penn, Helmut Newton and William Klein, are represented. The sale is culminating in a fiercely strong contemporary section with key works from Shirin Neshat, Edward Burtynsky, Peter Beard and Thomas Ruff.

Top lot is Andreas Gursky's exceptional and unique work Untitled from 2006. Gursky is arguably one of the most sought after and collected artists in the world, and Sotheby's is honoured to present a unique work that has never been seen on the market and is an excellent example of his highly stylized aesthetic and iconic oeuvre (highlighted above).

Unique works by master avant-garde photographers of the 20th Century from Hannah Höch, László Moholy-Nagy and August Sander are on offer, plus a strong section of exceptional surrealist works by Hans Bellmer and Raoul Ubac as well as outstanding works by Otto Steinert, Adolf de Meyer, Florence Henri, Henri Cartier-Bresson, and an attractive group of vintage prints from the 1930s and 40s by Erwin Blumenfeld.

László Moholy-Nagy was a master of the Bauhaus and Modernism, and this photograph is a rare and important example of his deep interest in photograms as an artistic practice, which to him was integral to understanding the relationship between painting and photography.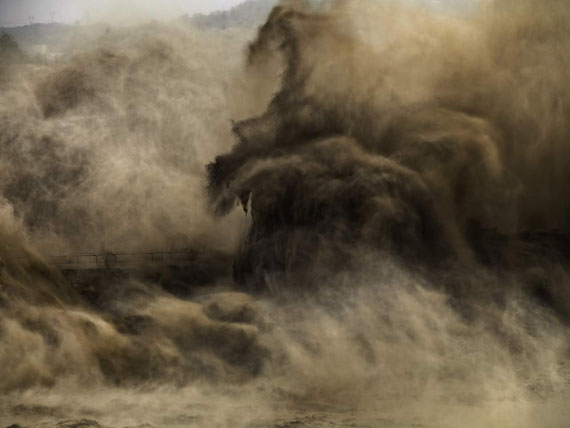 An exceptionally prolific fashion photographer, Helmut Newton, whose provocative and often erotic images changed the landscape of fashion photography, continues to be highly collected. This work is an excellent example of his iconic style, depicting a staged contemplative moment on life and death through the young and beautiful model and the funerary sculpture just behind her.


This is the first time that such an astonishingly painterly work by the blue chip contemporary photographer Edward Burtynsky has come to auction, from his highly collected "China" series.

Major photographers in the sale include:
• 19th Century photography: Edouard-Denis Baldus, Charles Nègre
• 20th Century Avant-garde: Hannah Höch, Laszlo Moholy-Nagy, August Sander, Man Ray, Hans Bellmer
• French photographie humaniste: Henri Cartier-Bresson, Robert Doisneau, Willy Ronis
• American photography: Robert Mapplethorpe, Andy Warhol, Irving Penn, Ansel Adams, William Eggleston
• Fashion photography: Edwin Blumenfeld, Horst P. Horst, William Klein, Jeanloup Sieff, Helmut Newton, Peter Lindbergh, Miles Aldridge
• Contemporary photography: Andreas Gursky, Edward Burtynsky, Hiroshi Sugimoto, Thomas Ruff, Vera Lutter and Peter Beard.


Sotheby's & Photography

Since holding the first regular Photographs auction in 1971, Sotheby's has consistently been at the forefront of the market with unparalleled expertise in the field and has actively contributing to the strong development of this market.

In 2002, Sotheby's was the first international auctioneer to sell photographs in Paris, and the continuous success of these sales is of great relevance to the global Photography market.

Over the years, Sotheby's has developed and strengthened its excellence in selling outstanding private, corporate or museum collections of Photography:
• La Collection de Marie-Thérèse et André Jammes (1999 to 2008) in Paris and London
• The Man Ray sales (1995 and 2014) in Paris and London
• Important Photographs from the Metropolitan Museum of Art (2006) in New York
• Photographs from the Polaroid Collection (2010) in New York.

Through a combination of expert knowledge, international network and close ties to museums and foundations, Sotheby's has achieved record-setting results at auction for artists such as Irving Penn, Josef Sudek, Eugène Atget, to name a few.

For both consignors and buyers, our team of experts is available to provide advice on market trends and valuation, sharing their professional expertise and enthusiastic visions.