Permanent Loan Selection
Exhibition: 27 Nov 2014 – 17 May 2015
Wed 26 Nov 20:00

Helmut Newton Foundation
Jebensstr. 2
10623 Berlin
+49 (0)30-31864856
info@helmut-newton-foundation.org
www.helmutnewton.com
Tue-Sun 11-19, Thu 11-20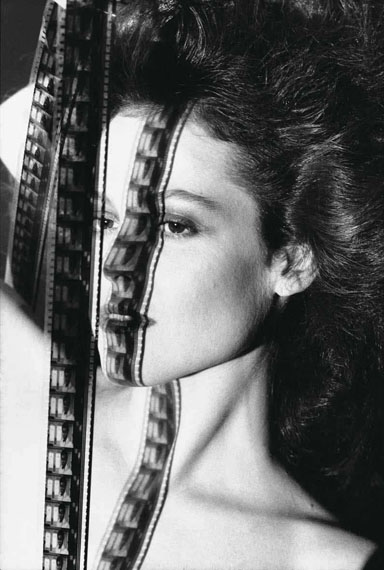 Helmut Newton
"Permanent Loan Selection"

27 November 2014 ‐ 17 May 2015
When Helmut Newton launched his foundation in Berlin in the fall of 2003, he donated several hundred original photographs, which have since been kept on permanent loan by the Prussian Cultural Heritage Foundation. Now for the first time, on the occasion of its tenth anniversary, the Helmut Newton Foundation is presenting over 200 photographs from this collection, under the title "Permanent Loan Selection". The three main genres – portrait, nudes and fashion – will be presented in separate rooms, along with numerous photographs in various formats that have not yet been shown in Berlin. These include a number of "vintage" or "late prints" – original prints authenticated by Newton himself.

Helmut Newton has a rare and distinctive sense for situations and moods. He famously avoided working in the studio, choosing instead to shoot on location in his subjects' apartments or hotel rooms. At times he would also transform his own residences in Paris and later in Monte Carlo into sparse settings for subtle stagings. Or he used business locations, like that of jeweler Gianni Bulgari, or the editing studio of director Francis Ford Coppola, as well as public spaces, such as the forest that served as a backdrop for actor Anthony Hopkins. His subjects play themselves in a way, or a chosen role. At times they gaze in moving contemplation, found in the portrait of photographer Bill Brandt, or surprise us with a provocative gesture like that of musician Malcolm McLaren, who rips open his shirt, offering up his naked torso to the photographer. Equally interesting are the interactions in Newton's double and group portraits: often they are of couples, like Mick Jagger and Jerry Hall, or David Lynch and Isabella Rossellini, presented in intimate poses. Here as well, Newton achieves an incomparable combination of voyeurism and exhibitionism.

This spirit continues into the foundation's central exhibition space, which is dedicated to Newton's nude photography. For the first time we encounter later Big Nudes, which he shot in the 1990s in Monte Carlo, Paris, and Nice, the "Walking Women" triptych, as well as the renowned photograph "Arielle after a Haircut" – all of which are iconic photographs at the juncture of fashion and nude photography. In 1981 Newton began his legendary "Naked and Dressed" series, at first en plein air in Brescia for Italian Vogue, and later in the Parisian studio of the fashion magazine's French edition. Newton had already shot several nudes there, interestingly in an editorial context, which were then printed in the magazine alongside the fashion shots. The models' movements in the minimalistic studio setting – first clothed and then naked – was singular. Often the women are pictured alone and in full length, sometimes presented in life-size dimensions. Rarely do they appear in pairs or in larger groups. His nude torsos are an exception, and all of them are unusual encounters, for example when "Miss Livingston" stands at her pool in California, looking confidently straight at the viewer. It is in this way that Newton inevitably makes us voyeurs.

In his fashion photography, on display in the last exhibition room, we discover erotically charged scenarios where young, self-confident women star in the leading roles. Posed on the Canal Grande in Venice, a mountain on Hawaii, or an alleyway in nocturnal Paris the models wear dresses and fur coats by famous fashion designers. These photographs not only pair elegance with seduction but also reflect and comment on the shifting role of women in western society at the time. They were mostly commissioned and first published by fashion magazines, before later being presented in Newton's exhibitions as enlarged photographic prints. Both timeless and contemporary, the fashion photography of Newton and other photographers started to be shown in museums and published in books in the 1980s. This shift in media context, between original intention and later use should be considered in today's reception of his works. Newton's motifs function perfectly in both genres.

Finally, in June's Room, visitors can experience a selection of enlarged contact sheets featuring various constellations of figures, offering a unique view into Newton's work process. Some include the entire photo shoot, allowing us to follow the photographer's decision-making process in selecting the final picture-worthy shot.

Regardless of the genre in which he worked, Helmut Newton, as we witness in documentary films by his wife, only gave his models a few concrete directions before triggering the camera. This was always stocked with analogue film material, and in most cases, the negative corresponded to the print. Newton determined the motif during the working process and not after the fact with lab assistants in the darkroom. This is remarkable when compared to today's work methods, where no printed portraits, fashion, nudes or advertising photographs are without some degree of digital image processing. The 1970s and 1980s, during which most of this exhibit's images were shot and printed, can now be described as a classic period in photography. And as we can see here, many of Newton's images are iconic of the times.
Helmut Newton
"Permanent Loan Selection"

2.7 November 2014 ‐ 17. Mai 2015
Als Helmut Newton im Herbst 2003 seine Stiftung in Berlin gründete, übertrug er ihr mehrere Hundert Originalphotographien, die seitdem als Dauerleihgabe von der Stiftung Preußischer Kulturbesitz verwahrt werden. Anlässlich des zehnjährigen Jubiläums zeigt die Helmut Newton Stiftung aus diesem Bestand erstmals mehr als 200 Bilder unter dem Titel "Permanent Loan Selection". Die drei Hauptgenres – Porträt, Akt und Mode – werden, räumlich getrennt, mit zahlreichen bisher in Berlin noch nicht gezeigten Aufnahmen unterschiedlicher Formate vorgestellt, darunter finden sich viele sogenannte Vintage oder Late Prints, also Originale, die Newton noch selbst legitimiert hat.

Wie nur wenigen seiner Kollegen ist Helmut Newton ein ausgeprägtes Gespür für Situationen und Stimmungen zu konstatieren. Dabei vermied er es bekanntlich, im Studio zu arbeiten, und verlegte stattdessen die Aufnahmen in die Wohnungen oder Hotelzimmer der zu Porträtierenden. Er arbeitete also on location. Auch die eigenen Wohnungen in Paris oder später in Monte Carlo funktionierte er gelegentlich zu einer spartanischen Bühne für subtile Inszenierungen um. Oder er nutzte Geschäftsräume wie beim Juwelier Gianni Bulgari, einen Schneideraum beim Regisseur Francis Ford Coppola und immer wieder den öffentlichen Raum, inklusive einer Wald-Kulisse wie für den Schauspieler Anthony Hopkins. Die Porträtierten spielen sich gewissermaßen selbst oder eine selbstgewählte Rolle. Mal ist es ein kontemplativer Blick, der uns berührt wie beim Photographen Bill Brandt, mal ist es eine provokante Geste, die uns überrascht wie beim Musiker Malcolm McLaren, der sich sein Oberhemd aufriss und Helmut Newton seinen nackten Oberkörper entgegenstreckte. Ebenfalls interessant ist die Interaktion auf den Doppel- oder Gruppenporträts von Newton: Häufig sind es Paare, etwa Mick Jagger und Jerry Hall oder David Lynch und Isabella Rossellini, dargestellt in intimen Posen. Auch hier erschafft Newton eine unnachahmliche Kombination von Voyeurismus und Exhibitionismus.

Dies setzt sich im zentralen Ausstellungsraum der Stiftung fort, der Newtons Aktbildern gewidmet ist. Es begegnen uns erstmals auch spätere Big Nudes, die in den 1990er-Jahren in Monte Carlo oder Nizza entstanden, und das sogenannte "Walking Women-Triptychon" sowie die bekannte Aufnahme "Arielle after a Haircut", allesamt ikonische Bilder an der Schwelle von der Mode- zur Aktphotographie. 1981 hatte Newton seine legendäre Serie "Naked and Dressed" begonnen, zunächst plain air in Brescia für die italienische Vogue, später im Pariser Studio der französischen Ausgabe der Modezeitschrift. Dort hat Newton, interessanterweise im Editorial-Kontext, auch einige Akte aufgenommen, die dann Seite an Seite mit den Modemotiven im Magazin gedruckt wurden. Die Bewegung mancher Modelle im Raum, auf der reduzierten Studiobühne – zunächst bekleidet und anschließend nackt –blieb ungewöhnlich. Oft sind die Frauen als ganze Figur separiert, teilweise lebensgroß. Nur selten tauchen sie zu zweit oder in einer größeren Gruppe auf. Eine weitere Ausnahme bilden die Akt-Torsi: Es sind ungewöhnliche Begegnungen, wenn etwa "Miss Livingston" nackt an einem kalifornischen Pool steht und den Betrachter direkt und selbstsicher anschaut. So macht Newton uns unweigerlich zu Voyeuren.

In seiner Modephotographie schließlich, im letzten Ausstellungsraum, entdecken wir wiederum raffinierte, erotisch aufgeladene Inszenierungen, in denen selbstbewusste, junge Frauen die Hauptrollen spielen. Auf dem Canal Grande in Venedig, auf einem Berg auf Hawaii oder in einer nächtlichen Gasse in Paris tragen die Modelle Kleider oder Pelzmäntel berühmter Modedesigner. Diese Aufnahmen, die nicht nur Eleganz mit Verführung paaren, sondern auch den Wandel der Rolle der Frau in der westlichen Gesellschaft jener Zeit begleiten und kommentieren, sind meist im Auftrag verschiedener Modemagazine entstanden und dort zuerst publiziert worden, bevor sie später, als vergrößerte Photoabzüge, in die Ausstellungen Newtons aufgenommen wurden. Denn die damals so zeitlose wie zeitgenössische Modephotographie von Newton und einigen seiner Kollegen wurde seit den 1980er-Jahren musealisiert und auch in Bildbänden publiziert. Diese mediale Kontextverschiebung zwischen ursprünglicher Intention und späterer Verwendung sollte bei der heutigen Rezeption stets mitgedacht werden. Die Newton-Motive funktionieren in beiden Bereichen geradezu perfekt.

In June's Room schließlich trifft der Besucher auf eine Auswahl vergrößerter Kontaktbögen mit unterschiedlichen Figurenkonstellationen, die einen ungewöhnlichen Einblick in Newtons Arbeitsprozess gewähren. Mitunter wird das gesamte Shooting gezeigt, die spätere Entscheidung des Photographen für das eine bildwürdige Motiv kann so vom Besucher selbst nachvollzogen werden.

Helmut Newton gab, wie wir in den dokumentarischen Filmen seiner Frau sehen können, den Modellen, in welchem Genre er sich auch immer bewegte, nur wenige konkrete Anweisungen, bevor er die Kamera auslöste. Diese war stets mit analogem Filmmaterial bestückt, und das Negativ entsprach in den meisten Fällen dem späteren Abzug. Newton hat das Bildmotiv insofern bereits während des Arbeitsprozesses bestimmt und nicht etwa hinterher mit den Laboranten während der Arbeit in der Dunkelkammer. Im Vergleich mit der heutigen Praxis ist das bemerkenswert, denn inzwischen existiert wohl keine gedruckte Porträt-, Mode-, Akt- oder Werbeaufnahme mehr, die ohne anschließende digitale Bildbearbeitung auskäme. Die 1970er- und 1980er-Jahre, in denen die meisten Photographien der Ausstellung entstanden und vergrößert worden sind, können inzwischen als klassisch bezeichnet werden. Und wie wir hier sehen können, hat Newton zahlreiche Ikonen jener Zeit geschaffen.