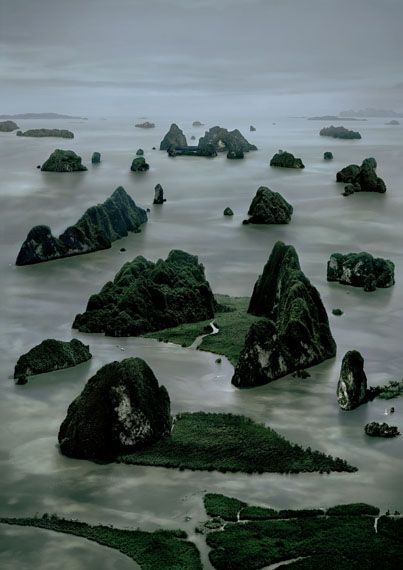 LANDSCAPE IN MY MIND
Landschaftsfotografie heute
Exhibition: 11 Feb – 26 Apr 2015

Bank Austria Kunstforum
Freyung 8
1010 Wien
+43 (0)1-537 33 26
presse@bankaustria-kunstforum.at
www.bankaustria-kunstforum.at
Mon-Sun 10-19, Fri 10-21
Landscape in my Mind
Landscape photography today: Hamish Fulton to Andrea s Gursky

Exhibition: 11 February – 26 April, 2015
In spring 2015, the Bank Austria Kunstforum Wien is presenting a comprehensive exhibition showing positions in contemporary landscape photography. »Landscape in my Mind« is a mental journey through different imaged articulations of the concept of landscape. The focus will be on contemporary neo-Pictorialist strategies: painterly tableaus in monumental format are placed in contrast to the sober objectivity of conventional black-and-white photos.

Thus Elger Esser, for instance, does not see himself primarily as an artist-photographer, but as a picture-maker and landscape painter, who realises his works using photographic media. A focus of the exhibition is on the landscape as an experiential space documented with the camera. Photographers such as the land-art artist Hamish Fulton or the former Becher pupil Axel Hütte like to think of themselves as wanderers and travellers through the world. Photography has long ceased to be simply an objective medium reproducing reality, but in the digital age has become a means of alienation and manipulation. Andreas Gursky is a master of invisible manipulation by »collaging« diverse photographs of a selected motif in one and the same work – for instance fantastical island groups that might be from a James Bond film – thus creating a new reality.

Gursky also plays with the phenomenon of escalated monumentality, of satiation and exaggerated emptiness. Cross-country runners and race cyclists shrink to become busy ant-like colonies in sublime mountain landscapes. Balthasar Burkhard's black-and-white pictures of mega- cities evoke feelings that are cosmic throughout. The rampantly growing big city is the cultural landscape and living space of twentieth- and twenty-first-century people.

In conclusion we float above the world and take to the heavens. Stellar maps as we know them for instance from Thomas Ruff's constellation pictures dissolve the landscape into gravity-free space. The »Mission Landscape« leads us ultimately to the planet of Mars – the next station in the infinite reaches of space.
"Landscape in my Mind. Landschaftsfotografie heute."
Von Hamish Fulton bis Andreas Gursky

Ausstellung: 11. Februar bis 26. April 2015
"Landscape in my Mind" ist eine Bilder-Reise durch die Landschaftsräume der aktuellen Kunstfotografie. Die Ausstellung vereint aktuelle Positionen der internationalen Landschaftsfotografie von Hamish Fulton bis Andreas Gursky. Landschaft, stets ein Beziehungsgeflecht zwischen Mensch und Natur, zeigt sich dabei als mentale Projektionsebene der Wahrnehmung unserer Umgebung.

Die Kunstwerke fungieren als "verzerrter" Spiegel der gesehenen Realität; sie sind keine reinen Dokumentationen mittels Kameraklick, sondern hybride Tableaus zwischen Fiktion und Abstraktion, Metaphern des Blicks auf die Welt und darüber hinaus. Diese Fotografien sind zumeist "mit der Kamera gemalte Bilder" im großen Format, die das Selbstbewusstsein der Neuen Fotografie ausstrahlen. Effekte der Unschärfe sowie kompositorische Qualitäten steigern den malerischen und piktorialen Wert der Tableaus.

Künstler wie Elger Esser oder Jörg Sasse sehen sich dadurch mehr als "Bildermacher" denn als Fotografen. Anstelle einer sachlichen Perzeption von Landschaft, wie wir sie etwa bei Thomas Struth finden, stellt sich ein emotionales Empfinden beim Betrachter ein, das Gefühle von Überwältigung, Melancholie, Unbehagen und schönen Schauder miteinschließt. Fotografie als "großes Kino im Kopf": waghalsige Erstbesteigungen der 8000er, turbulente Schiffsfahrten auf hoher See, Expeditionen ans Ende der Welt, Missionen ins Weltall – das fixierte Bild als Möglichkeitsraum. Dabei wechseln stets die Wahrnehmungsperspektiven: Inmitten der Monsterwellen, verstrickt im Dickicht des Urwaldes, ins Tal herabblickend oder auf Distanz zu den Dingen dieser Welt, über die MegaCitys, die Inselatolle der Ozeane und Krater der Marslandschaft hinwegschwebend.

Ein Teil der Künstlerinnen und Künstler in der Ausstellung führen Landschaftsfotografie als Erlebnis und Abenteuer vor und greifen hierbei zu manipulativen Mitteln. "Weltlandschaften" als digitale Bildcollagen entstehen, angereichert durch Found Footage aus dem Netz. Andere destruieren den schönen Schein, wenn etwa Thomas Ruff Images in gepixelter Auflösung als reine digitale Information entlarvt. Auch haben unsere Augen noch nie den Mars gesehen, sondern nur Bilder des Roten Planeten. Die Roland Barth'sche Formel der Fotografie "So ist es gewesen" löst sich im weiten Feld der Manipulation und Fiktion auf: Landschaftsfotografie als malerische Konstruktion von Wirklichkeit.

Im Verlag moderner Kunst, Bad Vöslau erschien ein Katalog: "Landscape in my Mind. Landschaftsfotografie heute. Von Hamish Fulton bis Andreas Gursky" mit Texten von Ingried Brugger, Heike Eipeldauer, Roland Lippuner, Lisa Ortner-Kreil, Christoph Ransmayr, Veronika Rudorfer und Florian Steininger – erhältlich für 29€.