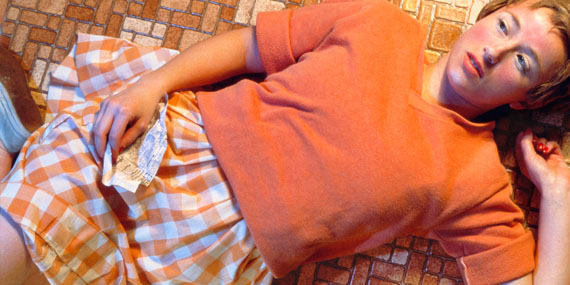 Works from the Olbricht Collection
Exhibition: – 28 Aug 2016

me Collectors Room Berlin Stiftung Olbricht

10117 Berlin
info@me-berlin.com
www.me-berlin.com
closed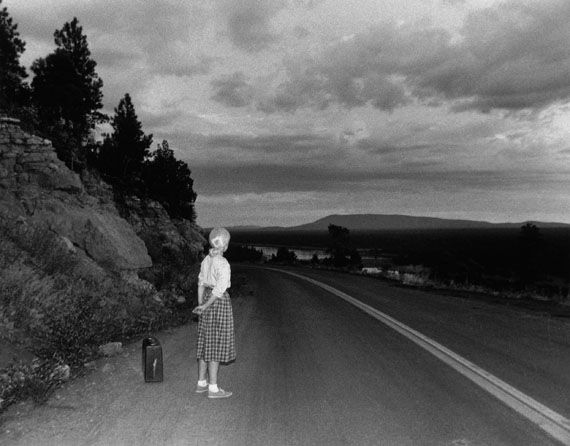 Cindy Sherman
"Works from the Olbricht Collection"

Exhibition: 16 September 2015 – 28 August 2016
The forthcoming exhibition "Cindy Sherman – Works from the Olbricht Collection" will be on view at me Collectors Room Berlin from 16 September 2015, on the occasion of Berlin Art Week, and will feature 65 photographs by the artist. Including works from almost all periods of her career, the collection provides a remarkable overview of the entire body of work.

Variously casting herself as an ingénue at the sink in black-and-white of the 1950s, a goldblonde "Maria Lactans" with a vacant expression and plastic breast, or an aging upper-class beauty wearing far too much jewelry and much too much makeup, American artist Cindy Sherman is a master of masquerade. Throughout her career she has simultaneously acted as her own actress and photographer, subject and object. And yet her portraits do not represent actual personalities. Instead they paraphrase social and cultural stereotypes with the aim of deconstructing them through the prism of cinema, classical painting, or advertising.

The artist became widely known in the 1970s with her black-and-white series "Untitled Film Stills", in which she embodied a range of stereotypical female figures from the 1940s and 1950s, posing in what appeared to be movie stills. The 1980s brought not only a shift into colour and large formats, but, with her popular "Centerfolds", her major breakthrough. Provocatively evocative of Playboy magazine angles and lighting, the series showed women in various states of mysterious emotional crisis. This enigmatic mood also dominated the "Fairy Tales" (1985) and "History Portraits/Old Masters" (1988–1990), in which Sherman recreated and distorted characters and scenes from the world of fairy tales and classical painting, often with the help of visible prostheses and puppets. Oversized teeth, plasticky blond hair, and a homemaker's simplicity embodied the figures in her next series, "Hollywood/Hampton Types" (2000–2002), while the humorously uncanny side to masquerade was captured in "Clown" (2003–2004), which culminated in the sad, vulgar portraits of ageing "Society Ladies" four years later. In all her series, Sherman presents us with a subtle analysis of contemporary cultural tropes, draws attention to the power of symbolism and the struggle of the individual against collective stereotype.
Cindy Sherman, now 61, has created an unmistakable and seminal body of work that broke new ground in photography. The accompanying extensive exhibition brochure will be published in September 2015.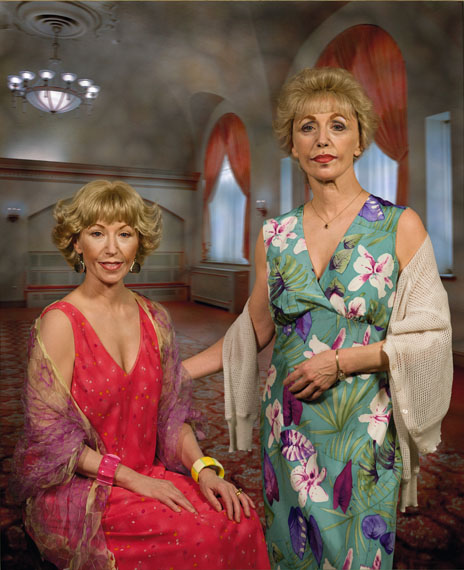 Cindy Sherman
"Works from the Olbricht Collection"

Ausstellung: 16. September 2015 bis 28. August 2016
In der retrospektiv angelegten Ausstellung "Cindy Sherman – Works from the Olbricht Collection" werden ab dem 16. September 2015, zur Berlin Art Week, 65 Fotografien der Künstlerin im me Collectors Room zu sehen sein. Mit Arbeiten aus nahezu allen Schaffensperioden gewährt die Sammlung einen beachtlichen Überblick über das Gesamtwerk der Fotokünstlerin.

Ein unschuldiger Blick vom Spültisch im Schwarz-Weiß der 50er Jahre, eine goldblonde Maria lactans mit leeren Augen und Plastikbrust oder eine alternde Upper Class-Beauty mit zu viel Schmuck und viel zu viel Make-Up, Cindy Sherman (*1954 , USA) ist eine Meisterin der Maskerade. Sie agiert als Darstellerin und Fotografin, Subjekt und Objekt in Personalunion. Doch zeigen ihre Selbstportraits keine authentischen Persönlichkeiten, sondern paraphrasieren soziale und kulturelle Stereotype, um sie durch verschiedene Möglichkeiten der Darstellung aus Kino, klassischer Malerei oder Werbung zu dekonstruieren.

Bekanntheit erlangte die Künstlerin schon in den 1970er Jahren mit der schwarz-weißen Serie "Untitled Film Stills", in denen sie klischeehafte Frauenfiguren der 40er und 50er Jahre in fiktiven Filmszenen verkörpert. Ab 1980 folgte nicht nur der Wechsel zu farbigen Abzügen und großen Formaten, sondern mit den "Centerfolds" auch der große künstlerische Erfolg. Provokant an die Bildsprache des Playboy angelehnt, zeigen sie Frauen in mysteriösen emotionalen Krisen. Dieses Rätselhafte dominiert auch die "Fairy Tales" (1985) und "History Portraits/Old Masters" (1988-1990), auf denen Sherman meist mit Hilfe sichtbarer Prothesen oder Puppen Figuren und Szenerien aus der Welt der Märchen und altmeisterlicher Gemälde verzerrt. Übergroße Zähne, plastikblonde Haare oder hausmütterliche Einfalt verkörpern die Figuren der "Hollywood/Hampton Types" (2000-2002), während sich das humoristisch Unheimliche der Maskerade in der Serie der "Clowns" (2003-2004) verdichtet, um in den traurig vulgären Porträts alternder "Society-Ladies" (2008) zu gipfeln. Alle ihre Serien liefern eine subtile Analyse, lenken den Blick auf das Ringen des Individuellen mit kollektiven Klischees und der Macht des Symbolischen.

Cindy Sherman hat ein unverwechselbares und wegweisendes Werk geschaffen, das die Formensprache der Fotografie auf ungeahnte Weise erweitert hat. Die Ausstellung begleitet eine umfangreiche Broschüre, die zur Eröffnung am 16. September 2015 erscheint.