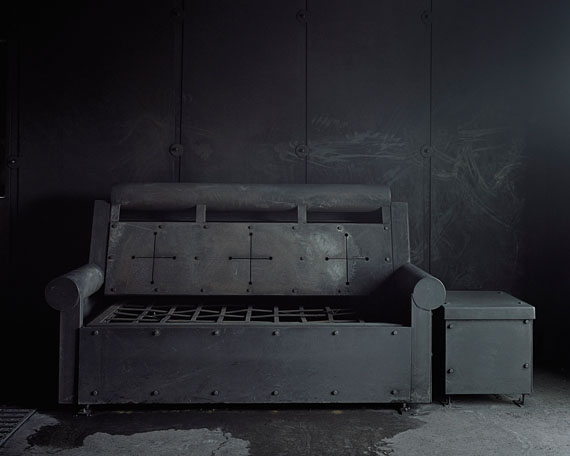 Smoke Screens
Exhibition: 8 Oct – 14 Nov 2015
Thu 8 Oct 17:00 - 19:00

Panoptikon Fotografins Hus
Slupskjulsvägen 26 c
111 49 Stockholm
+46 8-6116969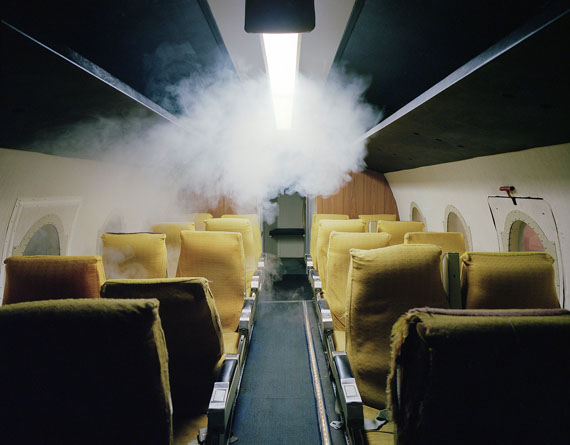 Marina Gadonneix
"Smoke Screens"

Exhibition: 8 October – 14 November 2015
Opening: Thursday, 8 October, 5-7 pm
It does not seem very daring to describe Marina Gadonneix's pictures as being depopulated. The emptiness of the places she presents, one after another, demonstrates – if not a preliminary rule characterizing the whole series, a constant which is merely foiled by rare, always ethereal apparitions. Here, a mannequin bending dangerously while levitating on his windsurf board; there, five or six half-naked bodies lying under an artificial light; somewhere else, the back of a female figure standing in front of a porthole-shaped halo; still elsewhere, a few groups seemingly made of the ambiguous fabric of dreams, tidily arranged in a row, miniatures dispersed or wavering indolently like the non-dead momentarily feasting in the hotel in Kubrick's "The Shining". On the whole, nothing that would disturb the general arrangement or not follow its order; no one inhabits these places.

However there is no hostility whatsoever in these spaces dedicated to hospitality. Why then is there a void so obvious that each element constituting the images seems selected only to accentuate it better? Is it, to borrow Benjamin's famous analysis of Atget's inventory of Parisian streets, the continuation of the detective role of photography? Remember the commentary: "It has been rightly said that he had photographed these streets like one photographs a crime scene. The crime scene, too, is deserted." It is photographed for the purpose of gathering evidence. In Atget's work, photographs start becoming evidence for the trial of History. It is there that lies their secret political significance.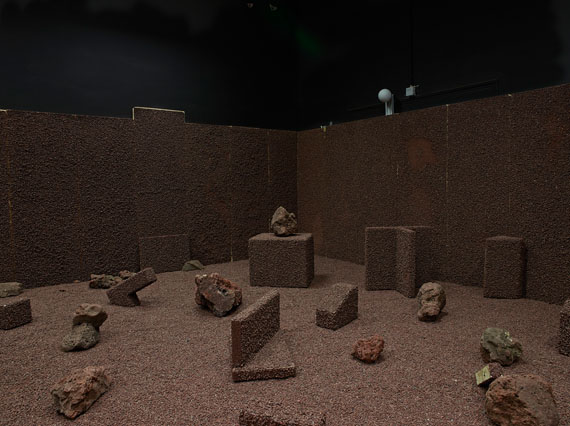 This means placing Marina Gadonneix at Lynne Cohen's side, for instance, among those who renew melancholy and invent unprecedented variations around the ancient vanitas motif. This would be fair, however it would mean ignoring that which characterizes, with a real emphasis, the last series on television studios. What is that? Color.

The crime is transported somewhere else, as Barnett Newman suspected in his famous question: "Who's afraid of red, blue and yellow?"

What is the hypothesis behind these "commissioned landscapes"? No longer a call for the insurrection of analysis affirmed by Benjamin, nor the sad denunciation of a daily life alienated and prisoner of its own recurrent funerals. Neither the cynicism of an image played in a loop, having become the only horizon of the image itself. On the contrary, what is celebrated here is the decomposition of the image itself, its disintegration into simple elements: the explosion of colorful sparks. There is definitely no melancholy here, or else like a mask for a profane joy: there is no more landscape, no more paradise – space is left free, like above bunk beds with no bedding, for light, for it to diffuse and diffract. For an instant, the fake is colored in real, and the real becomes an image that offers it to us like a chance, its "entry point". (Jean-Pierre Rehm)

Marina Gadonneix was born in 1977 in Paris where she also works. She studied at École Nationale Supérieure de la Photographie in Arles between 1996 and 2002. 2006 she was awarded Prix HSBC pour la Photographie. "Smoke Screens" is her first stand alone exhibition in Sweden.