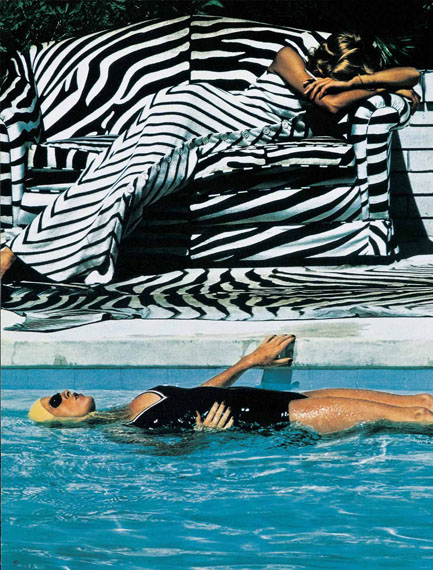 Pages from the Glossies
Exhibition: 4 Dec 2015 – 22 May 2016
Thu 3 Dec 20:00

Helmut Newton Foundation
Jebensstr. 2
10623 Berlin
+49 (0)30-31864856
info@helmut-newton-foundation.org
www.helmutnewton.com
Tue-Sun 11-19, Thu 11-20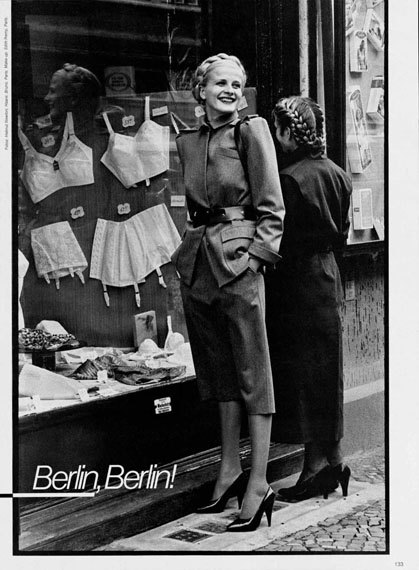 Helmut Newton
"Pages from the Glossies"

Exhibition: 4 December ‐ 22 May, 2016
Opening: Thursday, 3 December, 8pm
The exhibition "Pages from the Glossies" offers us a new perspective on many of Helmut Newton's iconic photographs. Spanning more than four decades, the images are presented as facsimiles of the original magazine pages in which they were first published, between 1956 and 1998. During this considerable length of time, Newton was regularly commissioned by publishers and editors from renowned magazines around the world to impart his version and vision of contemporary fashion. This continuity remained an exception in the otherwise fleeting fashion business.

Photographs that would later become celebrated and coveted were first published in the context of fashion editorials for the likes of Vogue, Elle, Queen, and Stern. In the 1960s and 1970s, when many of these iconic images were created and published, decisions on their use rested solely with the magazine editors. Even famous photographers like Helmut Newton had to yield to in-house design decisions concerning the single and double pages, or the final scope of the editorials. Many of his photographs were cropped, and some even overlaid with text; most of them, however, remained untouched.

In 1998, Newton compiled a selection of these high-gloss magazine images in his book, Pages from the Glossies, published by Scalo in Zurich. Long out of print, the book will be reissued this fall by TASCHEN. The Helmut Newton Foundation is presenting the first-ever exhibition of these single- and double-paged images featured in this book, exhibited as enlarged facsimiles. They include the original headlines, page numbers, commentary, and captions from the magazines they originally appeared in. This presentation remains true to its source, showcasing more than 230 magazine pages and nearly 500 individual pictures.

In many of the facsimiles we can discover motifs that Newton would later use in his exhibitions and photo books. We also encounter color and black & white images that have never before been exhibited. As published prints approved by Helmut Newton, they too are considered a legitimate part of his oeuvre.

Occasionally, for example with the now famous diptych "Sie Kommen" (Eng. "They're Coming") (1981), which was first published in French Vogue, even the black outline of the negative was printed. For insiders, this showed what type of film he used – in this case it was a 6x6 cm roll film – and the full negative format for later enlargements. We can also see how Newton originally composed his image during the shoot at the Parisian Vogue studio in camera – which is how the photographer worked in most cases. Newton's juxtaposition of nude and clothed models, which would lead to his legendary "Naked and Dressed" series, first appeared in French Vogue in November 1981. A month earlier Vogue Italy had published comparable outdoor shots taken in Brescia. This show of nude and fashion shots side by side in a fashion magazine triggered a wave of indignation. Today, the diptych "They're Coming", which caused a scandal when first published in France, is a photographic icon that has been reprinted thousands of times. As a life-sized, limited vintage print it has been auctioned at record prices.

Helmut Newton – with his depiction of women in ways that were sometimes radical yet always elegant – was often a step ahead of the zeitgeist, and influenced it over the decades. In the exhibition's chronologically arranged facsimiles of Newton's fashion photographs, visitors will recognize not only the evolution of the photographer's visual language, but also the shifting role of women in western society since the 1950s. It also becomes apparent how Newton's autonomous visual language stood out from the magazines' conventional fashion illustrations.

Magazines were nonetheless a central means of distribution for Newton. Through them, he reached an audience of millions with his fashion images, long before he found other publication and distribution channels for his visual messages through photo books and exhibitions. The Helmut Newton Foundation's posthumously produced exhibition of "Pages from the Glossies", which previously only existed as a book, traces this development. Magazines and books containing Newton's work are on display in vitrines, showing the images in their original size and the context. We become aware of the extent that Newton pushed the boundaries of his medium over the years and decades of his career, how much he experimented, and how successful he was in challenging social conventions.
Helmut Newton
"Pages from the Glossies"

Ausstellung: 4. Dezember 2015 bis 22. Mai 2016
Eröffnung: Donnerstag, 3. Dezember, 20 Uhr
In der Ausstellung "Pages from the Glossies" sehen wir viele Bildikonen von Helmut Newton neu. Die Bildmotive entstammen einem Zeitraum von mehr als vier Jahrzehnten; es sind Faksimiles aus renommierten, internationalen Modemagazinen, entstanden zwischen 1956 und 1998. Newton wurde von den wechselnden Verlegern oder Herausgebern in diesem langen Zeitraum immer wieder gebucht, um seine Versionen und Visionen der jeweils aktuellen Mode entstehen zu lassen. Diese Kontinuität blieb in dem sonst so schnelllebigen Modebusiness eine Besonderheit.

Entstanden für Magazine wie Vogue, Elle, Queen und Stern wurden die später berühmten und begehrten Motive zunächst im Rahmen eines Mode-Editorials oder einer Bildgeschichte veröffentlicht. In den 1960er- und 1970er-Jahren, als viele dieser ikonischen Aufnahmen entstanden und veröffentlicht wurden, entschieden die Bildredakteure allein über die Verwendung der Modeaufnahmen. Selbst Helmut Newton und seine berühmten Kollegen mussten sich in dieser Zeit der hausinternen Gestaltung der Einzel- und Doppelseiten oder dem Umfang des Editorials unterordnen. Manche seiner Bilder wurden beschnitten oder gar mit Schrift unterschiedlichster Typografie überzogen, die meisten jedoch blieben unangetastet.

1998 publizierte Newton eine Auswahl seiner für die Highgloss-Magazine entstandenen Modeaufnahmen unter dem Titel "Pages from the Glossies" im Züricher Scalo-Verlag, das Buch ist seit längerem vergriffen und wird in diesem Herbst von TASCHEN neu aufgelegt. In der Helmut Newton Stiftung werden nun erstmals die gesamten Einzel- oder Doppelseiten der in "Pages from the Glossies" versammelten Veröffentlichungen als vergrößerte Ausstellungsprints präsentiert, die sich aus den unterschiedlichsten Magazinquellen speisen, inklusive der individuellen Typografie, Seitenzahlen, Kommentare und Bildunterschriften. Die Präsentation der mehr als 230 Zeitschriftenseiten mit fast 500 Einzelaufnahmen bleibt insofern so authentisch wie möglich.

Von manchen Motiven entdecken wir Varianten, die Newton später in Ausstellungen und Bildbände übernommen hat. Wir begegnen aber auch einigen Farb- und Schwarz-Weiß-Bildern, die bislang noch nicht gezeigt wurden. Auch sie gehören als publizierte und insofern von Helmut Newton legitimierte Aufnahmen zu seinem Gesamtwerk.

Gelegentlich, wie etwa bei dem später berühmten Diptychon "Sie kommen" (1981), wurden bei der Erstveröffentlichung in der französischen Vogue sogar die schwarzen Umrisslinien des Negativrahmens abgedruckt. Für Insider ist dies ein Hinweis auf das verwendete Filmformat, in diesem Fall ein 6x6 cm-Rollfilm, sowie auf das in Gänze verwendete Negativformat für die Vergrößerung. Gleichzeitig sehen wir, wie Newton das fertige Bild bereits während der Aufnahme in den Pariser Vogue-Studios komponiert hat – so, wie es der Fotograf in den meisten Fällen realisierte. Die französische Vogue hatte die Gegenüberstellung von nackten und unbekleideten Modellen, die später in Newtons Werk als "Naked and Dressed"-Bildserie legendär wurde, im November 1981 abgedruckt, die italienische Vogue publizierte vergleichbare Freiluftaufnahmen aus Brescia bereits einen Monat zuvor. Es brach ein Sturm der Entrüstung los, als die Akt- und Modebilder Seite an Seite in einem Modemagazin veröffentlicht wurden. Das Diptychon "Sie kommen", das damals bei der Erstpublikation in Frankreich noch provozierte, ist heute eine Foto-Ikone – es wurde tausendfach nachgedruckt und erzielt heute als lebensgroßer, limitierter Vintageabzug Rekordpreise auf dem Auktionsmarkt.

Helmut Newton war mit seinen teilweise radikalen, aber stets sehr eleganten Frauenbildern dem Zeitgeist häufig voraus – und hat diesen gleichzeitig über Jahrzehnte mitgeprägt. Schreitet man als Besucher an Newtons chronologisch aufgereihten, faksimilierten Modeaufnahmen in den Ausstellungsräumen entlang, erkennt man nicht nur die sich verändernde Bildsprache des Fotografen, sondern vor allem die sich verändernde Stellung der Frau in der westlichen Gesellschaft seit den 1950er-Jahren. Zudem wird auf den Doppelseiten ein autonomer Bildanspruch sichtbar, der jenseits bloßer Mode-Illustration innerhalb des Magazins funktionierte.

Die Zeitschriften waren für Newton aber auch ein zentrales Distributionsmittel. Durch sie erreichte er mit seinen Modebildern ein Millionenpublikum, lange bevor er mit eigenen Bildbänden und Ausstellungen andere Veröffentlichungs- und Vertriebswege für seine visuellen Botschaften fand. Die posthum produzierte Ausstellung "Pages from the Glossies" in der Helmut Newton Stiftung, die zuvor ja nur als Buch existierte, zeichnet auch diese Entwicklung nach. In Vitrinen werden zusätzliche Magazine und Bücher von Newton präsentiert – und damit die Bildmotive in ihrer Originalgröße und dem Kontext ihres Entstehens. So werden wir auch hier wieder gewahr, wie sehr Newton über die Jahre und Jahrzehnte seines Schaffens die Grenzen des Mediums auslotete, wie sehr er experimentierte und wie erfolgreich er gesellschaftliche Regeln ausgehebelt hat.