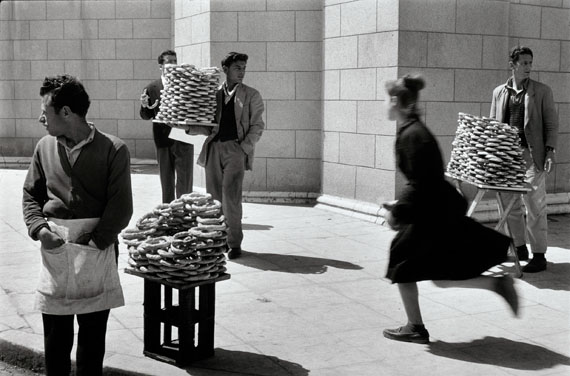 SABINE WEISS
Exhibition: 19 Nov 2016 – 19 Mar 2017
Fri 18 Nov 19:00

Museum im Bellpark
Luzernerstr. 21
6011 Kriens
+41 (0)41-3103381
museum@bellpark.ch
www.bellpark.ch
Wed-Sat 14-17, Sun 11-17
Sabine Weiss

Exhibition: 19 November, 2016 – 19 March, 2017
Opening Reception: Friday, 18 November, 7pm

Saturday, 19 November, 11:30am
Artist Talk (in French): Sabine Weiss (Photographer, Paris) in discussion with Virginie Chardin (Exhibition Curator) and chaired by Marco Meier (Freelance Publicist, Lucerne).
Sabine Weiss is considered one of the most influential photographers of the 20th century, despite the fact that her work is still relatively unknown. This exhibition provides an opportunity to rediscover the work of a photographer who alongside notable associates such as Robert Doisneau, Willy Ronis, Henri Cartier-Bresson or Édouard Boubat, was known as one of the French school of photographic humanists.

Weiss describes her relationship with the photographic medium as follows, "I photograph in order to preserve an image that in the next moment will be gone: gestures, attitudes and objects, those that bear witness to our journey." At over ninety years old, Weiss's stunning and touching images can be encountered in this exhibition, which explores her life's work and showcases documents from her personal archive, seen here for the first time.

Sabine Weiss (née Weber) was born in 1924 in Saint-Gingolph, Geneva. Following an apprenticeship with Paul Boissonas in Geneva, she completed her photography diploma and then travelled to Paris to work as an assistant to the fashion photographer Willy Maywald. From 1949 she freelanced as a photographer in advertising, architecture, portrait and documentary photography and was one of the few female photographers in France who made a living from their work.

Weiss photographed for the Rapho agency (amongst others) and traveled the world on advertising and documentary assignments. She worked for Vogue until 1961, including countless other significant assignments for magazines such as Time, Life, Newsweek and Paris Match. In the 70s she returned to black and white photography, creating an impressive body of work in her later years, of which a selection can be seen in this exhibition.

The exhibition was developed by Jeu de Paume, Paris and for this presentation in Kriens is a cooperation between diChroma photography and the Museum im Bellpark, Kriens.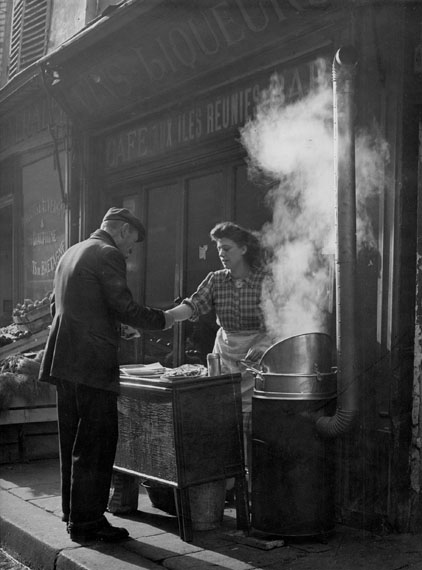 Sabine Weiss

Ausstellung: 19. November 2016 bis 19. März 2017
Eröffnung: Freitag, 18. November, 19 Uhr

Samstag, 19. November, 11:30 Uhr
Gespräch (in Französisch): Sabine Weiss, Fotografin, Paris, und Virginie Chardin, Kuratorin der Ausstellung. Moderiert von Marco Meier, freier Publizist, Luzern.
Obwohl ihr Werk nach wie vor wenig bekannt und mit der Ausstellung neu zu entdecken ist, gilt Sabine Weiss als eine der einflussreichsten Fotografinnen des 20. Jahrhunderts. Zusammen mit ihren Weggefährten und so bedeutenden Fotografen wie Robert Doisneau, Willy Ronis, Henri Cartier-Bresson oder Édouard Boubat zählt Sabine Weiss zu der "école humaniste".

Ihren Zugang zum Medium Fotografie umschreibt sie wie folgt: "Ich fotografiere, um in einem Bild zu bewahren, was im nächsten Moment vergangen sein wird: Gesten, Haltungen und Objekte, die Zeugen unserer Reise sind." Geschaffen hat sie wunderbare Bilder, die uns als Betrachter zu berühren vermögen. Die heute über neunzigjährige Fotografin gibt mit der Ausstellung Einblicke in ihr Lebenswerk und zeigt erstmals Dokumente aus ihrem persönlichen Archiv.

1924 in Saint-Gingolph am Genfersee als Sabine Weber geboren, macht sie 1945 nach einer Lehre bei Paul Boissonas in Genf ihr Diplom als Fotografin und geht kurz darauf nach Paris, wo als Assistentin des Modefotografen Willy Maywald arbeitet. Ab 1949 wird sie als freie Werbe-, Architektur-, Portrait- und Reportagefotografin tätig und ist eine der wenigen Fotografinnen in Frankreich, die von ihrer Arbeit leben können.

Unter anderem arbeitet sie für die Agentur Rapho, welche ihr zu zahlreichen Werbe- und Reportageaufträgen in der ganzen Welt verhilft. Bis 1961 ist sie für die Modezeitschrift Vogue tätig und erhält Aufträge vieler wichtiger Magazine (u.a. Time, Life, Newsweek, Paris Match). In den 70er-Jahren kehrt sie zur Schwarzweissfotografie zurück und schafft auf ihren Reisen ein eindrückliches Spätwerk, von dem in der Ausstellung eine Auswahl zu sehen ist.

Die Ausstellung wurde organisiert vom Jeu de Paume, Paris, in Zusammenarbeit mit diChroma photography und dem Museum im Bellpark für die Präsentation in Kriens.