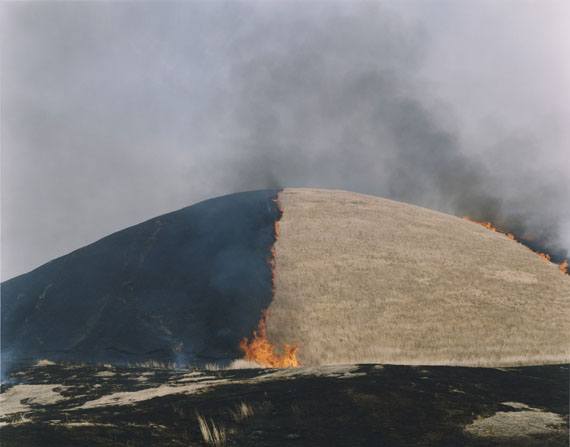 lebenswelt | life-world
Exhibition: 20 Jan – 20 Oct 2017

Alexander Tutsek-Stiftung
Karl-Theodor-Str. 27
80803 München
089-55 27 30 60
info@atstiftung.de
www.atstiftung.de
Tue-Fri 14-18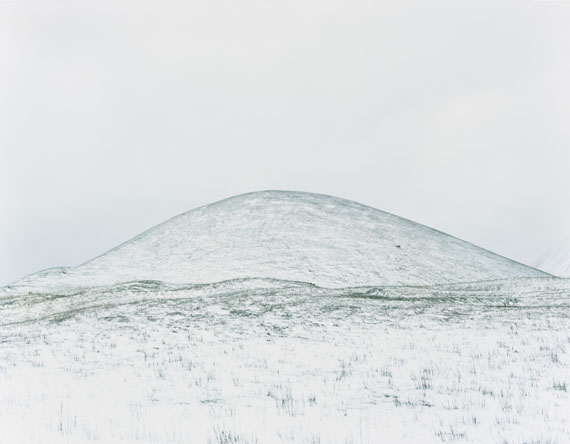 Alexander Tutsek-Stiftung
"lebenswelt | life-world"

Exhibition: 20 January ‐ 20 October 2017
Under the title "lebenswelt / life-world" the Alexander Tutsek-Stiftung in Munich shows contemporary sculptures by Japanese artists as well as photographs by Rinko Kawauchi. The subjective experience of everyday life, temporal processes in nature, and interpersonal communication are central to the artworks.

Rinko Kawauchi (born in Shiga, Japan in 1972) is a renowned artist in her native country. In Europe and the USA only insiders know her photographs, in which she transforms daily life or nature into something breathtaking and new. The exhibition shows large-scale photographs from the series "Ametsuchi". By reference to the destructive and at the same time rejuvenating power of fire, reduced landscape images depicting the traditional controlled slash-and-burn land clearance address the relationship between people, nature, and time. In addition, the exhibition presents small intimate photographs from the series "Illuminance". Here Rinko Kawauchi focuses on gentle sometimes also disturbing things or activities of daily life—based on her personal experiences. In her choice of details and perspectives and the subtle use of natural light in combination with often translucent colors, Rinko Kawauchi has found a very personal, distinctive language for her photography. Her groups of works allow viewers to see their everyday surroundings with new eyes, with greater consciousness, and a broader perspective.

The sculptures of mostly young, in the Western world not yet exhibited artists reinforce this perception. In a medium rather infrequent for art—glass, a material which allows many different techniques—the works deal with people's immediate subjective experiences.

The title of the exhibition "lebenswelt / life-world" alludes to the phenomenological concept of the same name. It is about the world as we experience it immediately and directly in the subjectivity of daily life (Edmund Husserl). This approach, perceiving everyday phenomena individually but also in their social and communicative context (Jürgen Habermas), is portrayed by the artworks selected for the exhibition.

The exhibition is being held under the auspices of the Consulate General of Japan in Munich.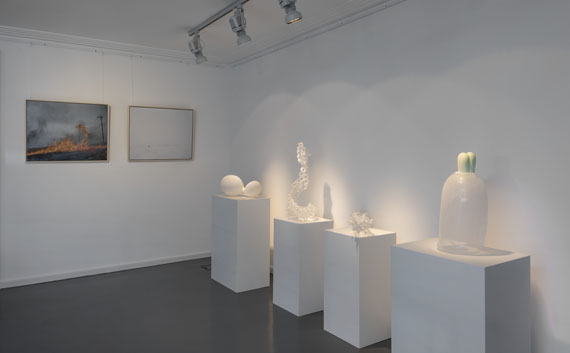 Alexander Tutsek-Stiftung
"lebenswelt | life-world"

Ausstellung: 20. Januar bis 20. Oktober 2017
Unter dem Titel "lebenswelt | life-world" zeigt die Alexander Tutsek-Stiftung zeitgenössische Skulpturen japanischer Künstlerinnen und Künstler sowie Fotografien von Rinko Kawauchi. Die Kunstwerke thematisieren subjektive Alltagserfahrungen, zeitliche Abläufe in der Natur und die zwischenmenschliche Kommunikation.

Rinko Kawauchi (geboren 1972 in Shiga, Japan) ist in ihrem Heimatland eine bedeutende Künstlerin. In Europa und den USA ist sie bisher nur Eingeweihten bekannt. In ihren Fotografien verwandelt sie Alltag oder Natur in etwas atemberaubend Neues. Aus der Serie "Ametsuchi" zeigt die Ausstellung großformatige Fotografien. Reduzierte Landschaftsbilder von traditioneller Brandrodung thematisieren anhand der zerstörerischen, gleichzeitig verjüngenden Kraft des Feuers, das Verhältnis von Mensch, Natur, Zeit. Weiterhin werden aus der Serie "Illuminance" kleine, intime Fotografien gezeigt. Hier widmet sich Rinko Kawauchi – basierend auf persönlichen Erfahrungen – sanft, teils auch verstörend, alltäglichen Dingen oder Tätigkeiten. Durch die Wahl der Ausschnitte und Perspektiven und den subtilen Einsatz von natürlichem Licht in Kombination mit oft durchscheinenden Farben hat Rinko Kawauchi in ihrer Fotografie eine ganz eigene Charakteristik und Sprache. Ihre Werkgruppen lassen den Betrachter die alltägliche Umwelt bewusster, weiter und mit veränderten Augen sehen.

Die Skulpturen von überwiegend jungen, in der westlichen Welt noch nicht ausgestellten Künstlern verstärken diese Empfindung. In einem in der Kunst eher ungewöhnlichen Medium – dem vielschichtig zu verarbeitenden Material Glas – thematisieren sie unmittelbare, subjektive Erfahrungen des Menschen.

Der Titel der Ausstellung "lebenswelt | life-world" ist eine Anspielung auf das gleichnamige Konzept in der Phänomenologie. Damit ist die Welt gemeint, wie sie unmittelbar und direkt in der Subjektivität des alltäglichen Lebens erlebt wird (Edmund Husserl). Diesen Ansatz, alltägliche Phänomene individuell aber auch in ihrem sozialen und kommunikativen Kontext (Jürgen Habermas) wahrzunehmen, visualisieren die für die Ausstellung ausgewählten Kunstwerke.

Die Ausstellung steht unter der Schirmherrschaft des Japanischen Generalkonsulats München.