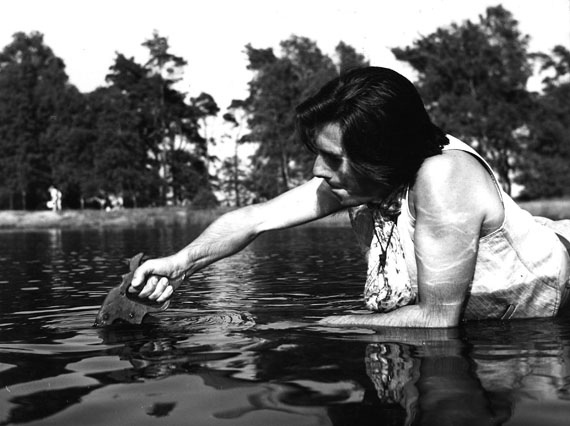 Utopia liquida & Memoria dell'acqua
Exhibition: 3 Feb – 18 Mar 2017
Fri 3 Feb 18:00 - 21:00

Beck & Eggeling International Fine Art
Bilker Str. 4-6
40213 Düsseldorf
+49 211 -4915890
info@beck-eggeling.de
www.beck-eggeling.de
Tue-Fri 10-13+14-18 . Sat 11-16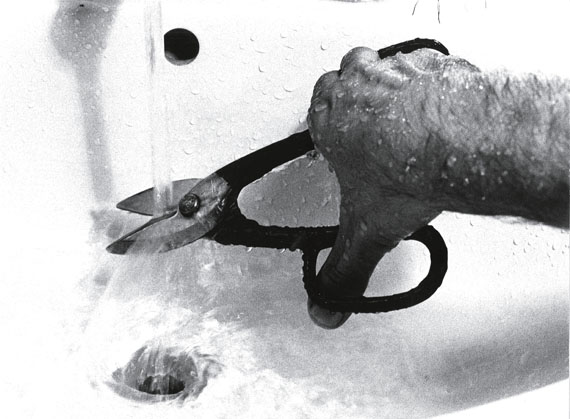 Fabrizio Plessi
"Utopia Liquida"
Beck & Eggeling International Fine Art
Bilker Str. 5, 40213 Düsseldorf

Fabrizio Plessi
"Memoria dell'acqua"
Beck & Eggeling International Fine Art
Bilker Str. 4–6, 40213 Düsseldorf

Exhibition: 3 February – 18 March 2017
Opening: Friday, 3 February, 6pm

Duesseldorf Photo Weekend 2017
Friday, 3 February, 6 – 9 pm
Saturday, 4 February, 12 – 8 pm
Sunday, 5 February, 12 – 6 pm
Beck & Eggeling International Fine Art is presenting the work of the international pioneer of video art, Fabrizio Plessi, for the first time at the Düsseldorf Photo Weekend 2017 in two exhibitions. Both exhibitions focus on the natural element of water that is the central theme of his artistic work.

The exhibition "Utopia Liquida", with selected photographs from the 1970s, gives insight into Plessi's early creative phase in which he already began to develop water as the main theme of his art. In numerous interventions, that at the time were cutting edge happenings and conceptual art, his fascination for the ancient element became a source of inspiration. It originated from the omnipresence of the water in his chosen home Venice. The photographs show document and reflect his artistic happenings; some of them were already shown at the Venice Biennale in 1978. These include Plessi cutting apart running water in a sink into a hundred equal parts with a pair of scissors (100 Pezzi D'Acqua, Azione 1973), in Paris he tried to put a hole in the Seine River (Un Buco N'ell Acqua, Azione 1973) and when he sawed the Stichter Lake by Neuenkirchen into equal halves (Segare Il Lago Stichter in due parti uguali, Azione 1975). In these absurd actions water is treated less like a natural element and more like a full-fledged aspect design element for the implementation of his imaginative ideas.

In the rooms across the way, the exhibition "Memoria dell'acqua" presents the Under Water video installation that Fabrizio Plessi produced in 2016 for the pavilion of Fondaco dei Tedeschi in Venice. Video has been his central medium since the mid 70s. Over the past 40 years, Plessi has produced more than 120 video sculptures and expansive video installations with water, combining natural materials such as wood, earth, and iron with the latest technology to create tension in the combinations that are characteristic of his works.

The video installation "Under Water" is impressive with its minimalistic production. Large screens display glowing fragments of a splendid gold and black Byzantine floor mosaic that move in wavelike motion and are accompanied by a sound composition arranged by the British composer Michael Nyman. The mosaic is the symbol of the East and references the history of the Fondaco dei Tedeschi which was the central trading place between Western Europe and the Eastern Mediterranean in the Middle Ages. Under water, the mosaic fragments are constantly changing and shifting under the movements of the flowing natural element, which for Plessi is a symbol of temporality and a metaphor for memory. The past, time, and the awareness of history are poetically brought to light in a constantly changing world. The connections between the mosaic, water and music in a room, create a total composition and an extraordinary sensory experience that sends the viewer on journeys through space and time. The simple, geometric layout of the exhibition space underscores the clear language of the video installation, which in its reduced form is reminiscent of Minimal Art and Arte Povera.

Fabrizio Plessi (born 1940 in Reggio Emilia, Italy) lives and works in Venice. Plessi has been repeatedly invited to the Venice Biennale. In 1970, he first took part in the Venice Biennale and in 1987, he also presented his monumental installation Roma at the Documenta 8. Over the last 40 years, he has created outstanding work that has been shown worldwide in important museums and institutions. Since 1977 these include, among others, the Guggenheim Museum SoHo in New York, the Center Georges Pompidou in Paris, the Fondazione Peggy Guggenheim in Venice, Folkwang Museum in Essen, Museo Guggenheim in Bilbao, Fundació Joan Miró in Barcelona, Museum Ludwig in Cologne, Fondazione Mudima in Milan, Kunsthalle Recklinghausen in Recklinghausen, and Fondaco dei Tedeschi in Venice. Additionally, Fabrizio Plessi designed stage designs for the operas The Fall of Icarus (1989) and Ex Machina (1994), a concert by Luciano Pavarotti in New York's Central Park, and Mauro Bigonzetti's ballet Romeo and Juliet.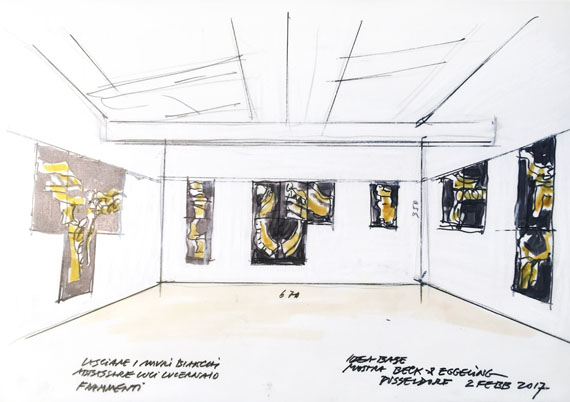 Fabrizio Plessi
"Utopia Liquida"
Beck & Eggeling International Fine Art
Bilker Str. 5, 40213 Düsseldorf

Fabrizio Plessi
"Memoria dell'acqua"
Beck & Eggeling International Fine Art
Bilker Str. 4–6, 40213 Düsseldorf

Ausstellung: 3. Februar bis 18. März 2017
Eröffnung: Freitag, 3. Februar, 18 Uhr Duesseldorf Photo Weekend:
Freitag, 3. Februar, 18-21 Uhr
Samstag, 4. Februar, 12-20 Uhr
Sonntag, 5. Februar, 12-18 Uhr
Beck & Eggeling International Fine Art präsentiert zum Duesseldorf Photo Weekend 2017 mit zwei Ausstellungen erstmalig das Werk des internationalen Pionier der Videokunst Fabrizio Plessi. In beiden Ausstellungen steht das Naturelement Wasser als zentrales Thema seiner künstlerischen Arbeit im Mittelpunkt.

Die Ausstellung "Utopia liquida" gewährt mit ausgewählten Fotografien aus den 1970er Jahren einen Einblick in Plessis frühe Schaffensphase, in der er bereits begann das Wasser zum Hauptthema seiner Kunst zu entwickeln. In seinen zahlreichen Aktionen, zur damals hoch aktuellen Aktions- und Konzeptkunst, wird seine Faszination für das Urelement – basierend auf der allgegenwärtigen Präsenz des Wassers in seiner Wahlheimat Venedig – zur Quelle der Inspiration. Die gezeigten Fotografien, die zum Teil bereits 1978 auf der Biennale von Venedig zu sehen waren, dokumentieren und reflektieren seine Aktionen. Etwa wie Plessi mit einer Schere einen Wasserstrahl im Waschbecken in 100 gleiche Stücke durchtrennte (100 Pezzi D'Acqua, Azione 1973), in Paris mit einem großen Nagel ein Loch in die Seine zu schlagen versuchte (Un Buco N'ell Acqua, Azione 1973) oder den Stichter See bei Neuenkirchen in zwei gleiche Teile zersägte (Segare il Lago Stichter in due parti uguali, Azione 1975). Absurde Handlungen in denen das Wasser weniger als Naturelement sondern vielmehr als vollwertiges Gestaltungselement behandelt wird für die Umsetzung seiner einfallsreichen Ideen.

In den gegenüberliegenden Räumen widmet sich die Ausstellung "Memoria dell'acqua" mit der Präsentation der Videoinstallation Under Water, die Fabrizio Plessi 2016 für den Pavillon der Fondaco dei Tedeschi in Venedig produziert hat, dem seit Mitte der 70er Jahre in seiner Kunst zentralen Medium Video. In den letzten 40 Jahren hat Plessi weltweit mehr als 120 Videoskulpturen und raumgreifende Videoinstallationen zum Thema Wasser realisiert. In diesen verbindet er Naturmaterialien wie Holz, Erde oder Eisen mit modernster Technologie zu einer für seine Werke charakteristischen, spannungsvollen Gesamtheit.

Die Videoinstallation "Under Water" beeindruckt durch ihre minimalistische Inszenierung. Auf großformatigen Bildschirmen sind leuchtende Fragmente eines prächtigen, byzantinischen Bodenmosaiks in Gold und Schwarz zu sehen, die sich in Begleitung einer Klangkomposition, arrangiert von dem britischen Komponisten Michael Nyman, wellenförmig bewegen. Als Sinnbild des Ostens steht das Mosaik für die Geschichte der Fondaco dei Tedeschi als zentraler Handelsplatz zwischen Westeuropa und dem östlichen Mittelmeerraum im Mittelalter. Unter Wasser liegend wandeln und verändern sich die Mosaikfragmente stetig unter den wogenden Bewegungen des fließenden Naturelements, das für Plessi Sinnbild der Zeitlichkeit und Metapher für Erinnerung ist. Auf poetische Weise wird Vergangenes, Zeit und Geschichtsbewusstsein angesichts einer sich stets wandelnden Welt thematisiert. Die Verbindung von Mosaik, Wasser und Musik zu einer raumfüllenden Gesamtkomposition bewirkt eine außergewöhnlich sinnliche Wahrnehmungserfahrung und schickt den Betrachter auf Reisen durch Raum und Zeit. Der einfache, geometrische Grundriss des Ausstellungsraums unterstreicht die klare Formensprache der Videoinstallation, die in ihrer Reduziertheit Anklänge der Minimal Art und Arte Povera erkennen lässt.

Fabrizio PLessi (*1940 in Reggio Emilia, Italien) lebt und arbeitet in Venedig. Plessi wurde mehrfach zur Biennale von Venedig geladen. 1970 nahm er erstmals an der Biennale von Venedig teil sowie 1987, mit der Präsentation seiner monumentalen Installation Roma, an der Documenta 8. In den letzten 40 Jahren hat er ein herausragendes Werk geschaffen, das seit 1977 weltweit in bedeutenden Museen und Institutionen gezeigt wird: u.a. Guggenheim Museum SoHo (New York), Centre Georges Pompidou (Paris), Fondazione Peggy Guggenheim (Venedig), Folkwang Museum (Essen), Museo Guggenheim (Bilbao), Fundació Joan Miró (Barcelona), Museum Ludwig (Köln), Fondazione Mudima (Mailand), Kunsthalle Recklinghausen, Fondaco dei Tedeschi (Venedig). Ausserdem hat Fabrizio Plessi Bühnenentwürfe etwa zu den Opern "The Fall of Icarus" (1989) und "Ex machina" (1994), zu einem Konzert von Luciano Pavarotti im New Yorker Central Park und Mauro Bigonzettis Ballett Romeo und Julia gestaltet.