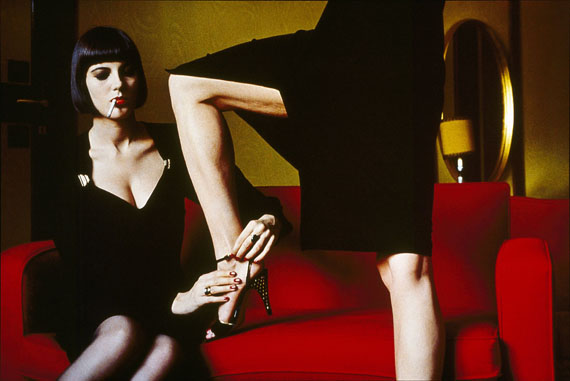 Icônes
Exhibition: 17 Feb – 28 May 2017

Musée de la Photographie Charles Nègre
1, Place Pierre Gautier
06300 Nice
+33(0)4-97 13 42 20
theatre.photo@wanadoo.fr
museephotographie.nice.fr
Tue-Sun 11-18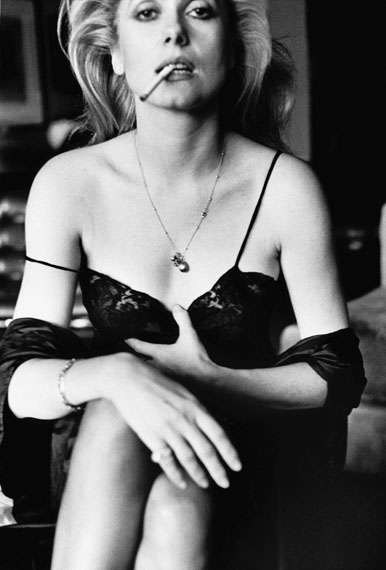 Helmut Newton
"ICÔNES"

17 February - 28 May 2017

The exhibition has been organized in close collaboration with the Helmut Newton Foundation in Berlin.
There is no doubt that Helmut Newton is one of the foremost photographers of the 20th century; his extraordinary fashion and nude photographs and portraits continue to be shown to this day. Due to this fact, we also see all three main genres of this photographer here. Moving beyond traditional forms of narration, Newton's fashion photography is imbued with luxurious elegance and subtle seduction, cultural citations, and a surprising sense of humor. While living in Paris and Monte Carlo in the 1970s and 1980s the photographer developed his inimitable style, including the play with or total disregard for taboos.

Newton worked for numerous international magazines and also directly with designers and fashion houses. It is common knowledge that women's fashion aims to seduce and that photographers are hired to support this. In the 1970s, Newton took a decided step further by using reluctant or pure nudity within the visual world of fashion. In ambient luxurious hotels, he would suggestively slide down the model's shoulder strap to reveal her nipple, while for a night shot in a Parisian alleyway alongside a model clad in an Yves Saint-Laurent tuxedo he posed a second woman naked. While such unusual pictures both astonished and provoked the scene, above all, they revolutionized fashion photography. Furthermore, Newton's photographs reflected on the transformation of the role of women in Western society at that time.

Helmut Newton's creative potential was already present in his fashion work of the 1960s, and as we know today, there was room to grow. The ingenious images he produced time and again did more than just portray fashion; they offered commentary and interpretation as well. This applies especially to his later commissions for Yves Saint Laurent, Thierry Mugler, and Blumarine. Newton staged fashion in the streets, in public spaces or, as he said, "in life," more often than in the studio. He placed women on a metaphorical pedestal, which in contrast to earlier fashion photography, no longer consisted of gallantry, but rather of female self-confidence. Some of his black-and-white prints remind us of scenes from Hitchcock films, while his color photographs could pass for precursors to the later movies by David Lynch.

Newton portrayed women as active and attractive, assertive and erotic creatures, who seem to dominate the scenery as well as the men who appear in the occasional motif. His fascination for strong women reached its zenith in the 1980s with the famous series of the larger-than-life "Big Nudes". The unconventional idea of presenting contemporary fashion with clothed as well as unclothed models in diptychs was something he had already been working on in the mid-1970s. With his Big Nudes and the subsequent life-sized images from his "Naked and Dressed" series, Newton had opened up a new dimension of the photographic human image. The latter series was realized en plein air in spring 1981 for the Italian Vogue, followed by studio shots for the French Vogue a few months later.

There are also samples of these series within the Icones show in Nice. One part of the show is taken from Newton's retrospective show "Work", organized on the occasion of his 80th birthday. Another part of Icones are the so-called "Private Property Suites", consisting of 45 well-known black-and-white photographs selected by Newton himself in 1984.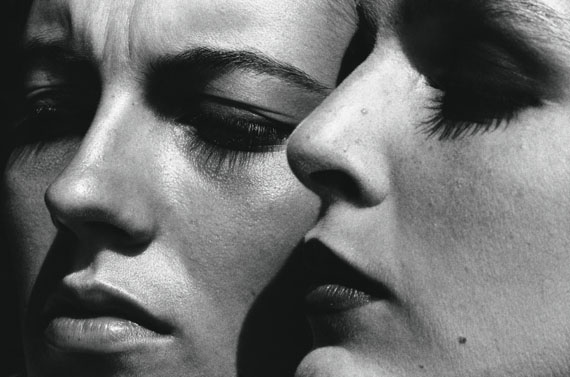 The Musée de la Photographie is pursuing its mission to develop its approach to photography through temporary monographic exhibitions, featuring leading names in photography, and theme-based exhibitions presenting all the trends ranging from historical photography to digital images.

The museum has introduced a new tool, "la galerie du musée" (museum gallery), dedicated first and foremost to the collection (1,700 images and 220 objects), but also to photographic projects in partnership with the educational authority and, occasionally, young photo artists. Running concurrently with the Newton exhibition, this gallery will show works from the 19th century taken from the collection. "Nice à la Belle Époque" brings together some sixty original photographs taken between 1865 and 1910 by celebrated photographers such as Charles Nègre, Eugène Degand, the Neurdein brothers, Jean Gilletta, and more.