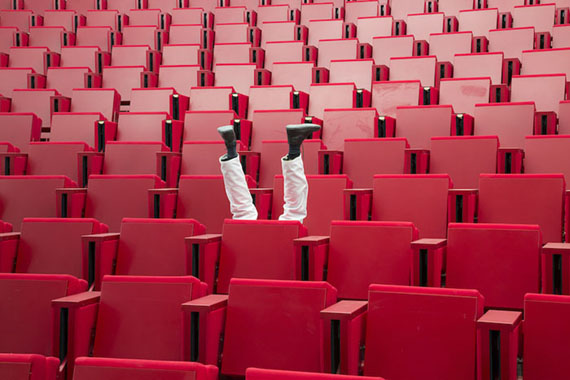 Footlights
Exhibition: 4 Apr – 6 May 2017

Galerie Esther Woerdehoff
36 rue Falguière
75015 Paris
+33(0)9-51 51 24 50
galerie@ewgalerie.com
www.ewgalerie.com
Tue-Sat 14-18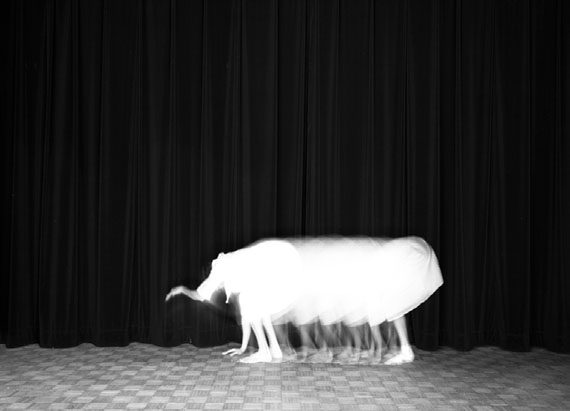 Guillaume Martial
Footlights
Exhibition: 4 April – 6 May 2017
Opening reception: Tuesday April 4th 2017, from 6 pm to 9 pm, the artist will be present

Footlights exhibition is part of the Mois de la Photo du Grand Paris.

Intense Week-end South-West of the Mois de la Photo du Grand Paris
Saturday 22nd and Sunday 23rd April 2017
The gallery will be open all week-end, from 10 am to 6 pm
The artist, Guillaume Martial and Florence Pillet, guide-lecturer will offer mini-tours of the exhibition through the day.
Book signing by Guillaume Martial of his book, Slap-Stick, edited by Actes-Sud (text in English).
Like the ringmaster Monsieur Loyal, Guillaume Martial introduces us to his new show, a playful and offbeat universe of photography filled with the magic of movement and the illusion of reality. So - drum roll! - the red curtain opens up and we enter Footlights!

Footlights is the title chosen by French photographer Guillaume Martial for this exhibition, which presents several of his recent series. It is also the original title of Charlie Chaplin's only novel : it was unpublished during his lifetime but became the screenplay for his last film shot in America, finally retitled Limelight.

The choice of this title shows how much the photographer is engaged in this cinematographic tradition. He studied cinema and has always admired Jacques Tati to the point of spending several months in residency on the shooting location of Jour de Fête. Since then, he has been adding a touch of burlesque in each of his series.
Guillaume Martial created a character, his fictional double. This slender silhouette, instantly recognizable and sculpted by the practice of high-level figure skating, animates each scene and transforms an outwardly documentary photography into an illusionist performance.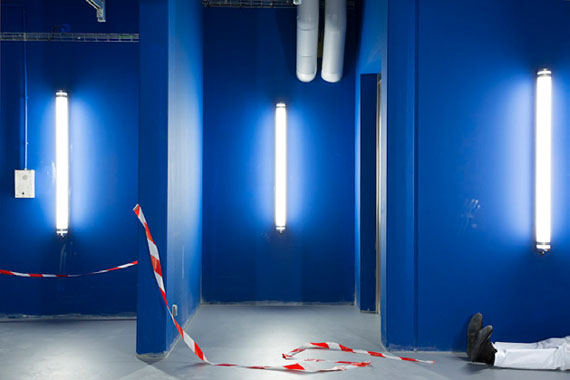 The first part of Footlights pays tribute to the inventors of the early motion picture and special effects. For the series Animalocomotion, Guillaume Martial uses the chronophotography technique developed by Eadweard Muybridge and Étienne-Jules Marey, a predecessor to cinema. In these photographs presented in light boxes, the photographer turns into various animals by the magic of camerawork, twisting and moving under a simple white sheet. In some other ones, he becomes a fakir or an illusionist, in a theater framed with red curtains or a juggler of chairs in an outdoor field.

The second part of Footlights plunges us into an architecture reclaimed by a disoriented athlete or a dreaming researcher. Guillaume Martial questions his environment: a sports field, a wall in the grass, a building under construction... Acrobat, rope-dancer, contortionist, his character boldly answers by absurdity to the incongruity of urbanism and questions the place left to humans in the contemporary urban landscape. With high precision, each photograph manages to freeze his physical experiment of space in a burlesque snapshot.

Text: Florence Pillet