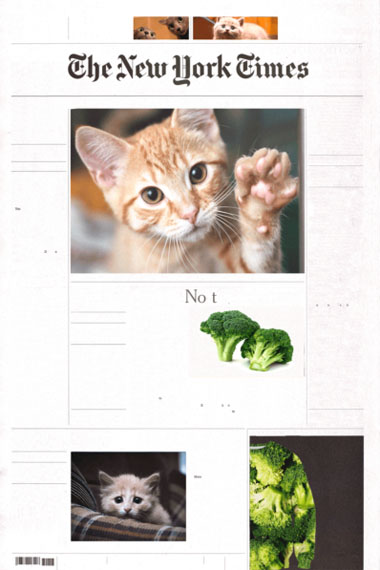 SITUATION #80 - #82
Exhibition: 20 May – 17 Sep 2017
Fri 19 May 18:00

Fotomuseum Winterthur
Grüzenstr. 44+45
8400 Winterthur
+41 (0)52-2341060
fotomuseum@fotomuseum.ch
www.fotomuseum.ch
Tue-Sun 11-18, Wed 11-20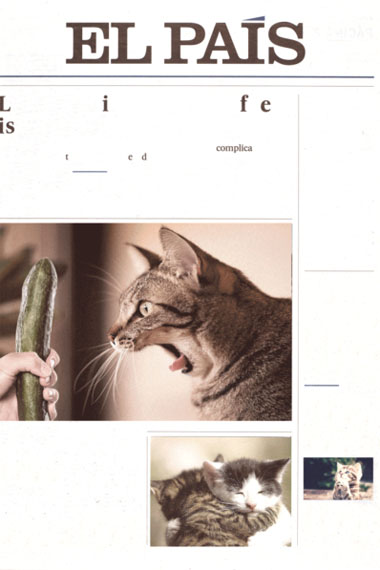 SITUATION #80: Cristina de Middel, EXTRA! EXTRA!, 2017

Responding to an invitation by Fotomuseum, Cristina de Middel created an installation that recalls a time when the printed newspaper still enjoyed an ostensibly unwavering trust and was regarded as the medium for forming opinion; an installation that sets the critical status of physically distributed printed matter against the fluid yet no less problematic parameters of online news portals with their modification and postproduction of images and text. EXTRA! EXTRA! is the cry of the newspaper vendor trying to sell the once huge print runs on a busy high street. EXTRA! EXTRA! also resonates through the channels of digital media in the battle for likes, clicks, shares and comments. One is under the impression that, in the competition for reader attention, a global canon of keywords and key images has emerged in the last few years, one only too willingly followed by the newspaper-makers themselves.


SITUATION #81: Edmund Clark, Letters to Omar, 2010

In Letters to Omar, Edmund Clark examines the strict monitoring and control mechanisms in the Guantanamo Bay detention camp. The work comprises postcards and letters received by the (unjustly convicted) British prisoner Omar Deghayes during his six-year term in the camp. Some are from family members, some are from his lawyer, others are from people around the world who had never met him. To prevent dangerous substances from entering the complex, every document, each individual page, even the backs of envelopes are scanned and given an official stamp and reference number. Omar never saw the original letters and postcards. The documents he received – copied, controlled and censored by the bureaucratic process – were his only bridge to the external world, one that became more removed and abstract with each reproduction and intervention; a strategy that wilfully contributes to the mental dissociation and disorientation of the prisoners.


SITUATION #82: Forensic Architecture, Bomb Cloud Atlas, 2016

Forensic Architecture is a research agency based at Goldsmiths, University of London, that is focused on advanced architectural and media research for political and legal use. Their works explore spaces of conflicts, analyzing battlefields as media environments that can be reconstructed and used as evidence by international prosecutors, human rights organizations and political justice groups. As the digital photographic document becomes instantly distributed and connected through online networks, big clusters of images from different sources can be merged to create a new notion of visual evidence that goes beyond the frames of individual pictures. From citizens sharing their photos on Twitter to journalistic reports and state media, all of this data can be collected and analyzed – a collection of fragments that together forms a new image-space of an event. In Bomb Cloud Atlas, collected data from different moments of the conflict in Syria from 2015, like the bombings of the MSF Hospital in Ma'arat al-Numan, is used to create 3D printed models of the events. Next to the 3D reconstructions, the cluster will also feature a video that provides insight into the process behind Forensic Architecture's work.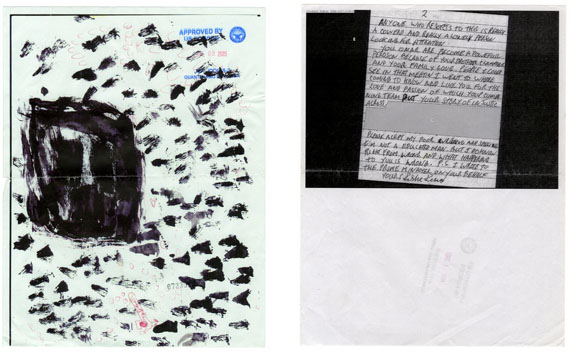 SITUATION #80: Cristina de Middel, EXTRA! EXTRA!, 2017

In Reminiszenz an Zeiten, in denen die gedruckte Tageszeitung noch ein scheinbar ungebrochenes Vertrauen genoss und als Leitmedium hoch angesehen war, entwickelte Cristina de Middel auf Einladung des Fotomuseums eine räumliche Installation, die den kritischen Nochzustand der physisch vertriebenen Drucksachen mit den fliessenden, nicht minder problematischen Parametern von Online-Nachrichtenportalen und der daran gekoppelten Transformation und Postproduktion von Bildern und Texten verbindet. EXTRA! EXTRA! ist das Geschrei der Zeitungsverkäufer_innen an einer belebten Strassenkreuzung um den Abverkauf der einstmals hohen Auflage. EXTRA! EXTRA! schallt ebenso durch die digitalen Kanäle um die Gunst der Likes, Klicks, Shares und Comments. Es erweckt den Anschein, dass sich in den letzten Jahren ein globaler Kanon von Schlüsselbildern und Schlagwörtern im Wettbewerb um die Gunst der Leserschaft entwickelt hat, dem alle Blattmacher_innen nur zu gerne folgen.


SITUATION #81: Edmund Clark, Letters to Omar, 2010

In Letters to Omar untersucht Edmund Clark die strengen Überwachungs- und Kontrollmechanismen im Gefangenenlager Guantanamo. Die Arbeit besteht aus Postkarten und Briefen, die der britische (und zu Unrecht verurteilte) Häftling Omar Deghayes während seiner sechsjährigen Gefangenschaft von Familienangehörigen, seinem Anwalt und von fremden Menschen aus der ganzen Welt erhalten hat. Damit sich keine gefährlichen Substanzen einschleichen können, wird in Guantanamo alles gescannt – jede einzelne Seite, jedes Dokument, selbst die Rückseiten von Couverts werden gescannt und erhalten einen offiziellen Stempel und eine Referenznummer. Die Originalbriefe und Karten hat Omar nie gesehen; nur die im bürokratischen Prozess kopierten, kontrollierten, zensierten Dokumente bilden seine Brücke zu einer Aussenwelt, die mit jeder Reproduktion und jedem Eingriff abstrakter wird und weiter entfernt rückt – und so gezielt zu einer mentalen Verfremdung und Desorientierung des Häftlings führen soll.


SITUATION #82: Forensic Architecture, Bomb Cloud Atlas, 2016

Forensic Architecture ist eine Forschungseinrichtung am Goldsmiths, University of London, die neue Formen der Architektur- und Medienforschung für politische und rechtliche Zwecke entwickelt. Die Gruppe untersucht Konflikträume und analysiert Kampfzonen als mediale Landschaften, die sie rekonstruieren und die von internationalen Strafverfolger_innen, Menschenrechtsorganisationen und Institutionen, die sich für politische Gerechtigkeit einsetzen, als Beweismaterial eingesetzt werden. Durch die Digitalisierung und augenblickliche Verbreitung und Verknüpfung von fotografischen Dokumenten über Online-Netzwerke können Bilder aus ganz unterschiedlichen Quellen zu grossen Bildclustern zusammengefügt werden. Daraus entwickelt sich ein erweitertes Verständnis von visuellem Beweismaterial, das über die jeweiligen Ausschnitte einzelner Bilder hinausgeht. So lassen sich beispielsweise Fotografien, die von Privatpersonen auf Twitter geteilt werden, mit Berichten von Journalist_innen oder staatlichen Medien zusammenfügen und analysieren – sämtliche Daten aller einzelnen Fragmente lassen sich zu einer Sammlung verknüpfen, aus der sich in ihrer Gesamtheit ein Ereignis als Bild-Raum modellieren lässt. Bomb Cloud Atlas liegen gesammelte Daten von verschiedenen Ereignissen im Syrienkonflikt im Jahr 2015 zugrunde, aus denen 3D-Modelle rekonstruiert wurden, wie beispielsweise der Luftangriff auf das Krankenhaus der Ärzte ohne Grenzen in Maarat an-Numan. Zusätzlich zu den 3D-Rekonstruktionen wird im Rahmen des aktuellen Clusters auch ein Video gezeigt, das einen Einblick in den Arbeitsprozess von Forensic Architecture gibt.