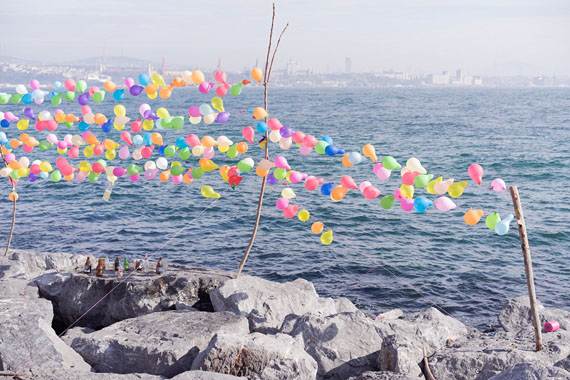 PHE17 - Matemáticas
Exhibition: 1 Jun – 31 Jul 2017
In this new work Mathematics, Peter Fraser draws inspiration from an idea which fascinated Aristotle and Pythagoras in the fourth century BC, and Galileo nineteen centuries later, that at the deepest level, reality is mathematical in nature.

More recently, Massachusetts Institute of Technology (MIT) professor of physics Max Tegmark has proposed that at the most fundamental level "not only does maths describe the world we live in, it is the world we live in. If you grant that both space and everything in space is mathematical, then it begins to sound less insane that everything in mathematical."

This exhibition puts us in contact with and expounds the following notion: that mathematics can explain the world, or at least describe it in a way that approaches an explanation. With these photographs Fraser invites us to give form to everything we see, and thereby to provide an answer to the initial question.


Peter Fraser
Born 1953 Cardiff, Wales, and attended schools in Cardiff, Glamorgan and the Rhondda Valley. He acquired his first camera at the age of 7, and after a false start studying Civil Engineering, at 18, began studying photography at Manchester Polytechnic the following year. In the summer of 1974 he lived in New York and worked at the Laurel Photography Bookstore at 32nd St and 6th Avenue which significantly expanded his sense of photography's expressive possibilities. He graduated in 1976 after repeating his 3rd year due to major illness while photographing in West Africa.

Fraser lived in Holland and Hebden Bridge, West Yorkshire, before moving back to Manchester in 1981. He then began working with a Plaubel Makina camera in 1982 which led to an exhibition with William Eggleston at the Anolfini, Bristol in 1984, and a move to that city. In summer 1984 Fraser travelled to Memphis, USA to spend nearly two months with William Eggleston which confirmed for him the desire to commit his life to working with colour photography.'

He then worked on several series of photographs, often with support from the Arts Council, leading to a first publication, 'Two Blue Buckets', which won the 'Bill Brandt' Prize in London (the precursor of the CitiBank International Photography Prize), in 1988. He moved to London in 1990, subsequently publishing several new bodies of work, including 'Ice and Water' 1993, 'Deep Blue' 1997, 'Material' 2002, and 'Peter Fraser' (Nazraeli Press) 2006.

In 2002, The Photographers' Gallery, London, staged a 20 year survey exhibition of Fraser's work, and he was short listed for the Citigroup International Photography Prize in 2004. In 2006 he was invited to be an Artist in Residence at Oxford University, England and produced new work for permanent installation in their new Biochemistry building.

In 2009 Fraser was given a major commission by The Ffotogallery, Wales, to return to his country of birth, to make new work for a solo exhibition at the gallery, which opened in March 2010, with a new publication, 'Lost For Words'.
In 2008 Fraser began working on 'A City In The Mind' a new series of photographs in London, which was shown at Brancolini Grimaldi Gallery, London in May 2012 accompanied by a Steidl Publication.

From January to May 2013, Tate St Ives held a retrospective of Fraser's career, and Tate published a major monograph on the whole of Fraser's career with a text by David Chandler.

In 2014 Fraser was awarded an Honorary Fellowship by the Royal Photographic Society, UK. Fraser has taught widely in the UK on Photography and Fine Art courses at all levels since 1982, including Central St Martins, London, Belfast, Nottingham, Brighton, Cardiff, Bristol, Edinburgh, Stockport, Newport, Swansea, Sheffield, Plymouth, Southampton, Bournmouth, Exteter, Hull, Leicester, Canterbury and Falmouth. Additonally he has given presentations on his work in venues ranging from Manchester City Art Gallery and the 2010 Brighton Photography Biennial to Tate Britain, London.