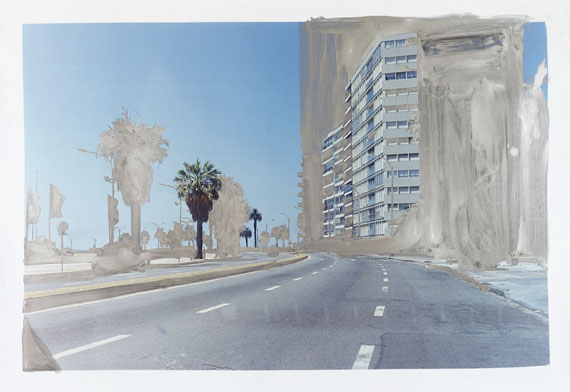 SILVER
Exhibition: 16 Sep – 18 Nov 2017
Fri 15 Sep 18:00 - 21:00

Galerie Springer Berlin
Fasanenstr. 13
10623 Berlin
+49 (0)30-3157220
office@galeriespringer.de
www.galeriespringer.de
Tue-Fri 12-18, Sa 12-15 +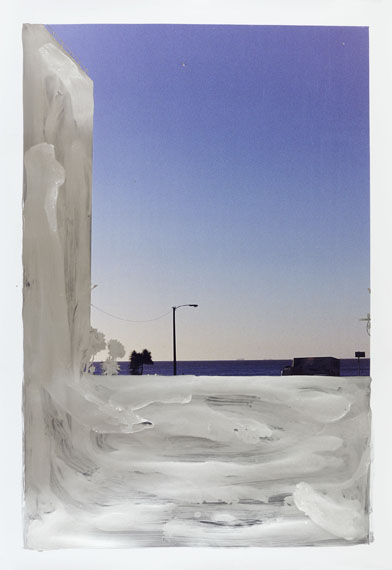 Peter Klare
"SILVER"

Exhibition: 15 September - 18 November 2017
Vernissage: Friday, 15 September, 6 pm
Artist Peter Klare appears for the first time at Gallery Springer. His series of large size, painted-over photographs, entitled "Silver," forms part of an extensive collection of urban and natural landscape photos which the artist, using the medium of painting, has altered in different ways. Montevideo, Los Angeles, Berlin and London, but also beaches and forests, become the studio for his technique of overpainting. As a result of the employment of this technique, each place unleashes a distinctive palette of colors and painting composition– photograph and painting reciprocally illuminate each other. Los Angeles is dominated by a golden bronze tone, Berlin carries the color of cheap sneakers, the forest features delicately nuanced natural shades and Montevideo overflows in a silver.

Strictly speaking, the technique of painting over photographs as employed in the series "Silver" achieves a "painting-away" of the world, of visible objects, which seem to Peter Klare to be unnecessary for the photographic image. The technique deliberately evokes notions of a particularly awkward manner of retouching. The application of the silver gouache is relaxed and freehanded and appears as an independent composition set against the photo. Thus the light-reflecting, metallic color bonds with the photographic background at the same time that it retains its own integrity as an image, counteracting the angles of perspective of the photograph.

By way of these immediate and obvious interferences a picture emerges that is no longer either a photograph or a pure painting. Developed by hand, Klare has enlarged the original motifs to such a degree that not only the smallest details become visible but also the grain of the film. Consequently, the photographic image can be understood as matter. The sparkling color seduces one to touch the picture and to experience a merging into the surface of a photo fluctuating and full of light. Once "immersed", unexpected questions arise about the free space that has opened up between photo and gouache: "What was suppressed? What was not supposed to be?" and "What is possible?"

Painting is the medium that leads to this free space whose dimensions it moreover creates. Retrospectively, the act of painting interferes with the photographic testimonies of place and time and, under the silver cloak, enables the viewer to superimpose a separate image. Altogether, the scenes appear like deflated and distorted theatrical spaces while the shining of the silver color reaches out of the picture into the room. Thus the shadowy image spaces, with their physical presence can almost be grasped as objects. The hazy screens evoke another group of works by Peter Klare, which he calls "Shapes". Much larger in format than the painted over photos, the works of "Shapes" are abstract, asymmetrically-shaped wooden frames covered with canvas and mostly painted in a single color. Like the silver threads within the photos, the sculpted canvases initially blend naturalistically into the real world. However, in seeing them as abstract fragments of an imaginary set design, one has already entered the hidden area that lies behind the shadowy screens. This interplay is characteristic for all of Peter Klare's works. The starting point is always the art of painting which serves as a means to question materiality.

Peter Klare's art of painting is a critical method for reformulating the world and world views and for putting perception up for discussion.

Peter Klare was born 1969 in Jena. He studied painting in Montevideo and at the Academy of Fine Arts, Munich. In 1998 he completed the MFA degree at the University of California, Los Angeles. Peter Klare's works have been exhibited by Deitch Projects in New York City, at the Gallery Leyendecker in Santa Cruz, the Gallery Loevenbruck in Paris and the Union Gallery in London, among other venues.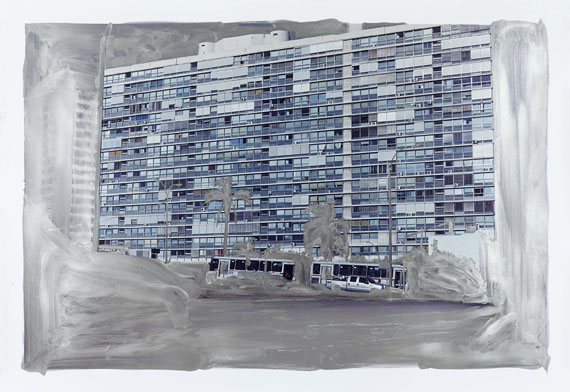 Peter Klare
"SILVER"

Vernissage: Freitag, 15. September 2017, 18 Uhr
Ausstellung: 16. September bis 18. November 2017
Zum ersten Mal präsentiert die Galerie Springer den Künstler Peter Klare. Die ausgestellte Serie großformatiger Fotoübermalungen trägt den Titel »Silver« und ist Teil einer umfangreichen Werkgruppe von Stadt- und Landschaftsfotografien, in die der Künstler auf unterschiedliche Weise malerisch eingreift. Montevideo, Los Angeles, Berlin und London, aber auch Strand und Wälder macht sich Klare auf diese Weise für seine "Übermalungen" zum Atelier. Dabei entfesselt jeder Ort eine eigene Farbigkeit und Malweise – Foto und Malerei beleuchten sich wechselseitig. Los Angeles etwa wird von Goldbronze beherrscht, Berlin trägt die Farben billiger Turnschuhe, der Wald fein nuancierte Naturtöne und das am Rio de la Plata gelegene Montevideo überfließt in silberner Farbe.

In der Serie "Silver" ist die Bemalung der Fotografien genau genommen ein Wegmalen von Welt, von sichtbaren Gegenständen, die Peter Klare für das fotografische Bild als unnötig erscheinen. Bewusst evoziert die Technik den Gedanken an eine besonders ungeschickte Art der Retusche. Der Farbauftrag der silbernen Gouache ist locker und freihändig, wirkt als eigenständige Setzung mit und gegen das Foto. So verbindet sich die metallische Farbe lichtreflektierend mit dem fotografischen Untergrund. Dennoch bleibt sie dabei ein eigener Bildplan, der das Perspektivische der Fotografie konterkariert. Durch die unmittelbaren und offensichtlichen Eingriffe entsteht so ein Bild, das nicht mehr nur Foto ist, noch zu reiner Malerei wird.

Per Hand abgezogen, hat Klare die Ausgangsmotive so stark vergrößert, dass nicht nur kleinste Einzelheiten, sondern auch die Körnung des Films selbst sichtbar wird. Das fotografische Bild lässt sich so wiederum als Materie begreifen. Die glitzernde Farbe verführt dazu, das Bild berühren zu wollen und mit ihrem Fluss und Licht in die fotografische Oberfläche quasi einzutauchen. Einmal "eingetaucht" stellen sich unerwartet die Fragen nach diesem unbestimmten Freiraum, der sich dem Betrachter zwischen Foto und Gouache auftut: "Was wurde ausgeblendet? Was sollte nicht sein?" und "Was ist möglich?"

Die Malerei ist das Medium, das zu diesem Freiraum führt, dessen Dimensionen sie überdies selbst hervorbringt. Sie greift im Nachhinein in die fotografischen Zeugnisse von Ort und Zeit ein und ermöglicht es dem Betrachter, unter ihrem silbernen Deckmantel ein eigenes Bild einzublenden. Insgesamt wirken die Szenerien bühnenhaft entleert und verfremdet, während das Glänzen der Silberfarbe aus dem Bild heraus in den Raum greift. So lassen sich die schemenhaften Bildflächen in ihrer physischen Präsenz fast wie Gegenstände auffassen.

Die schemenhaften Bildflächen erinnern an eine weitere Werkgruppe von Peter Klare, die er "Shapes" nennt. Vom Format ungleich größer als die Fotoübermalungen, sind die »Shapes« abstrakte, asymmetrisch geformte Holzrahmen, die klassisch mit Leinwand bespannt und meist monochrom bemalt werden. Wie die silbernen Flächen innerhalb der Fotografie, fügen sich die geformten Leinwandbilder zunächst ganz selbstverständlich in die Realwelt ein. Sieht man sie aber als abstrakte Bruchstücke eines imaginären Bühnenbilds, dann hat man bereits das im Verborgenen liegende Gebiet hinter den schemenhaften Bildflächen betreten. Dieses Wechselspiel ist kennzeichnend für alle Arbeiten von Peter Klare. Dabei ist der Ausgangspunkt meist die Malerei, die als Mittel zur Befragung von Dinglichkeit dient. Peter Klares Malerei ist ein kritisches Verfahren, Welt und Weltbetrachtung umzuformulieren und Wahrnehmung zur Diskussion zu stellen.

Peter Klare wurde 1969 in Jena geboren. Er studierte Malerei in Montevideo und an der Münchner Kunstakademie. 1998 absolvierte er den MFA Studiengang der University of California, Los Angeles. Seine Arbeiten wurden u.a. bei Deitch Projects in New York, Galeria Leyendecker in Santa Cruz, Galerie Loevenbruck in Paris und Union Gallery in London gezeigt.