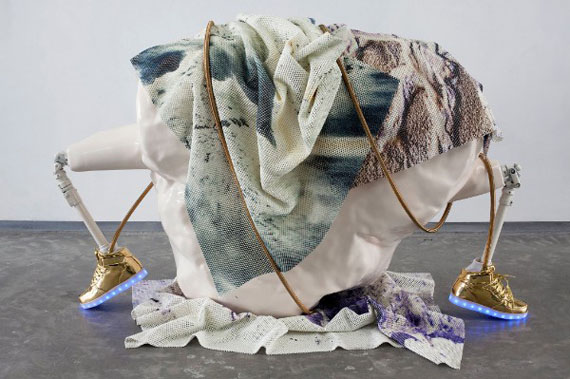 ¡Aguas!
Exhibition: 17 Nov 2017 – 28 Jan 2018
Thu 16 Nov 17:30

Foam Fotografiemuseum Amsterdam
Keizersgracht 609
1017 DS Amsterdam
+31 (0)20-5516500
pressoffice@foam.org
www.foam.org
Sat-Wed 10-18 . Thu, Fri 10-21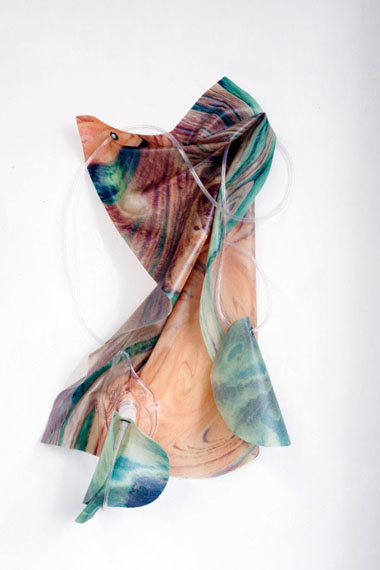 Foam presents the first major solo museum exhibition by Anouk Kruithof (1981, Dordrecht) as part of the exhibition series Next Level.

The work of Kruithof is a refreshingly original contribution to contemporary photography. Approaching the medium from a great variety of angles, her works are equally versatile, ranging from photo collages to video animations, installations, sculptures, publications, performances and public interventions. Common premise is a fascination for the online representation of societal issues. Kruithof subjects these to critical scrutiny by extracting existing imagery from the digital sphere, and translating the photographs into her own three-dimensional visual idiom.

Foam commissioned Kruithof to create an entirely new body of work consisting of (photo) sculptures, a video projection and an animation. The works explore the complex relationship of man to nature in a post-internet era. Kruithof printed images of environmental disasters on latex and rubber anti-slip mats and draped these over sculptures made up of artificial appendages of the human body, such as walking frames, crutches and prostheses. She also combined vividly colored photographs of oil spills and toxic waste with structures made from oxygen masks and anesthetic masks. These unusual carriers refer to the technological accomplishments of the human race, while simultaneously expressing the artificiality, numbness and ultimate disregard that may be the consequence. Through her abstract works, Kruithof reminds us of how disastrous realities are aestheticized and shared unthinkingly on the internet. A video compilation of amateur recordings of melting and collapsing glaciers functions as a metaphor for a collective degradation. The falling ice originally found its way online in the form of sensationalist posts; sequenced by Kruithof they form a confrontational and relentless indictment. By incorporating such images into a both colourful and apocalyptic installation, Kruithof wittily queries the culture of the spectacle and our digitally mediated relationship to the physical environment.

Kruithof's hybrid sculptures are a seductive representation of an uncomfortable reality in which man finds itself increasingly trapped in a state of chaos and decay. The exhibition title – ¡Aguas! – refers both to the element of water that largely makes up the world and the human body, and to a commonly used Latin American warning cry: '¡Aguas!' also means 'Watch out! Beware!' The exhibition constitutes an alarming visualisation of how the incessant flow and consumption of digital images gradually alienates us from the physical reality that surrounds us.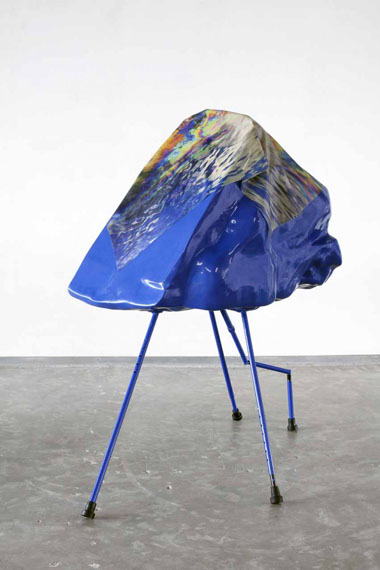 Anouk Kruithof's work has been included in group exhibitions at renowned institutions such as the Stedelijk Museum Amsterdam and the Museum of Modern Art in New York. She has had solo exhibitions in galleries both in the Netherlands and internationally. In 2016 Kruithof won the Volkskrant Beeldende Kunstprijs public's award, and in 2014 the Charlotte Köhler Prize. She won the Hyères Photography Jury Grand Prize in 2011 and in 2012 the International Center for Photography in New York awarded her the Infinity Award. In 2006 her collaborative project with Jaap Scheeren was exhibited at Foam, and she was selected as Foam Talent in 2009. Kruithof has published eleven artist's books and is founder of The Anamorphosis Prize, an international award for self-published photobooks. Anouk Kruithof lives and works alternately in the Netherlands, Mexico City and New York.

NEXT LEVEL
Since the autumn of 2015, Foam presents the exhibition series Next Level, with the support of Ammodo. The series is aimed at introducing the wider public to innovative art by relatively young artists who are making radically new use of the medium of photography.

Next Level: Anouk Kruithof - ¡Aguas! is supported by Ammodo and the Mondriaan Fund. Foam thanks Stichting Foam Friends and Foam Fund for their generous support of this exhibition.

Foam is supported by the BankGiro Loterij, De Brauw Blackstone Westbroek, Delta Lloyd, the City of Amsterdam, Olympus and the VandenEnde Foundation.