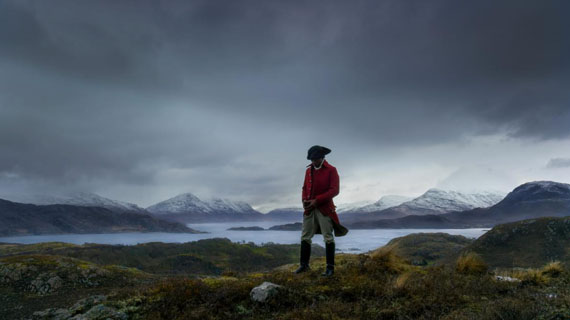 Vertigo Sea
Exhibition: 21 Oct 2017 – 27 Jan 2018
Fri 20 Oct 19:00

Talbot Rice Gallery
Old College, South Bridge
EH8 9YL Edinburgh
+44 (0)131-650 2210
info.talbotrice@ed.ac.uk
www.ed.ac.uk/about/museums-galleries/talbot-rice
Tue-Sun 10-17, Sat 12-17
Vertigo Sea is an exhibition featuring two remarkable installations by acclaimed artist and filmmaker John Akomfrah. Recognised internationally for work that engages with the human condition, winning the 2017 Artes Mundi Award, his films are powerful visions of global diaspora, expansive historical narratives and lamentations on individual mortality.

At Talbot Rice Gallery 'Vertigo Sea' (2015), which lends its title to the exhibition, is shown alongside 'At the Graveside of Tarkovsky' (2012), a monumental video and sound installation that exemplifies Akomfrah's move from film and television to embrace the possibilities of the gallery environment. Part-filmed in Scotland, both films elegise the sea and use it as a metaphor for those lost to both recent and historic memory. Evolving from his work with the Black Audio Film Collective (beginning in 1982) they embody a political desire to allow those forgotten, displaced or repressed by history to haunt the present in order to inform alternative futures.

'Vertigo Sea' (2015), one of the stand-out works at the 2015 Venice Biennale, is a three-screen installation that epitomises the vast beauty and cruelty of the sea. Weaving together narratives of slavery, whaling and the current refugee crisis it is comprised of new footage, archival footage – with breath-taking selections from the BBC Natural History Unit – and literary sources, including Heathcote Williams' 'Whale Nation' (1988) and Herman Melville's 'Moby Dick' (1851). Initially prompted by a radio interview with a group of young Nigerian migrants, who had survived an illegal crossing of the Mediterranean, it expresses the feeling of what it is like to be at the mercy of something vast. Overwhelming, ever changing, and with unfathomable depths, the film represents both the physical and intellectual sense of 'vertigo' embodied by the sea.

'At The Graveside' sees Talbot Rice's Georgian Gallery filled with pebbles, from wall to wall. Created with long-time collaborator Trevor Mathison, the work builds upon extracts from various Andrei Tarkovsky films to create a tapestry of sound memories from the islands of Skye (in the Hebrides) and Maui (in Hawaii). A meditation on disappearance, memory and death, the work is at once a personal lament – Akomfrah suffering loss at this time of his first visits to the islands – and an ode to the great Russian director who inspired Akomfrah as a young filmmaker.

In the face of recent political travesty, Vertigo Sea presents an opportunity to meditate upon our place within the world, against the immense spaces and epic timescales evoked by the films. It reminds us of our interconnectedness and the diverse, ghostly community that shapes who we are.


Vertigo Sea is presented at Talbot Rice Gallery, Edinburgh, with the support of Arts Council England, through the Strategic Touring Fund, and Creative Scotland. The Vertigo Sea UK Tour is led and managed by Arnolfini, Bristol. Produced by Smoking Dogs Films and supported by Lisson Gallery.