ENGIADINA
Exhibition: 4 Feb – 18 Feb 2018
Sat 3 Feb 18:00 - 21:00
Forum Paracelsus
Plazza Paracelsus 2
St. Moritz-Bad
Mon-Sun 16-20

BILDHALLE
Stauffacherquai 56
8004 Zürich
+41 (0)44-5520918
info@bildhalle.ch
www.bildhalle.ch
Wed-Fri 12-18:30, Sat 11-16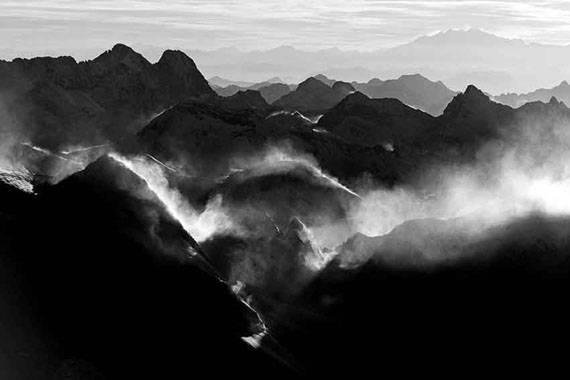 Robert Bösch
"ENGIADINA"

GRAND OPENING IN ST. MORITZ: 3 February, 6–9 pm
Exhibition: 4 – 18 February, 2018
Forum Paracelsus, Piazza Paracelsus 2, St. Moritz-Bad (near Hotel Kempinski)
Mon to Sun from 4-8 pm / Or by appointment: +41 76 303 16 19

A selection of the exhibition will be shown at the gallery Bildhalle in Zurich:
Exhibition: 1 – 24 February, 2018
The "ENGIADINA" exhibition features mountain and landscape photographs by internationally renowned photographer Robert Bösch: all images have been taken in the past two years, with many exhibited here for the first time.

Hardly any other mountain and landscape photographer captures the iconic nature of mountains so impressively. Bösch's mountains are magical places: They rise up before us like sculptures, shrouded in light, mist and weather, often in ways we have never witnessed before. At the same time, Robert Bösch recognizes the power of abstraction. Silhouettes, snow formations, rocky structures, fields of light: Bösch's mountains are more than geographical locations. They are the setting for awe-inspiring atmospheres and beauty at its most elementary.

The fact that Bösch succeeds in portraying the mountains in this way is also testimony to the mental and physical strength that is characteristic of him as a lifetime mountaineer. Stamina, experience, foresight and the constant desire to discover new places: together, they enable Bösch to find new ways of seeing the world as well as surprising and unusual perspectives.

Robert Bösch (*1954, CH), photographer, geographer, mountain guide, has worked for 30 years as a freelance photographer in the fields of advertising, tourism and industry. His photos are regularly published in such magazines as Stern, GEO and Der Spiegel. Besides, Bösch has published numerous books. His work has been included in national and international exhibitions. He is Ambassador of the company Nikon. In the year 2009 he was awarded the Eiger Special Award fo his long-term commitment to alpine photography. On his expeditions, he travels the seven continents. In 2001 he climbed the Mount Everest in his function as photographer and cameraman. He has dedicated himself to landscape photography over the last few years.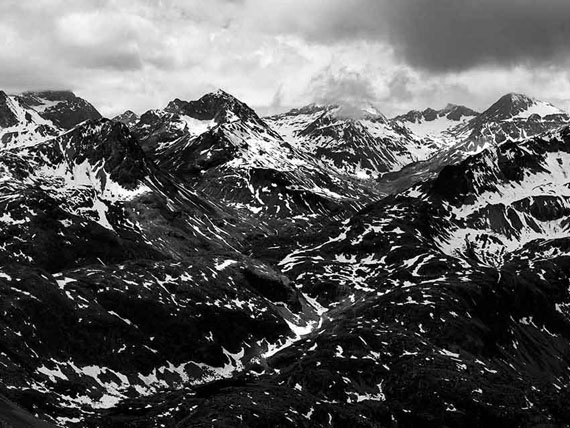 Robert Bösch
"ENGIADINA"

Grand Opening in St. Moritz
Samstag, 3. Februar, 18-21 Uhr im Forum Paracelsus
Ausstellung: 4. bis 18. Februar 2018

Forum Paracelsus, Piazza Paracelsus 2, St. Moritz-Bad (neben Hotel Kempinski)
Öffnungszeiten: Mo-So, 16-20 Uhr oder nach Vereinbarung: +41 76 303 16 19

Die Bildhalle zeigt zeitgleich einen Teil der Präsentation in Zürich
Donnerstag, 1. Februar, 12-18:30 Uhr geöffnet
Ausstellung: 1. bis 24. Februar 2018
Die Ausstellung "ENGIADINA" zeigt Berg- und Landschaftsbilder des international renommierten Fotografen Robert Bösch. Bilder, die in den letzten zwei Jahren entstanden sind und größtenteils zum ersten Mal ausgestellt werden.

Kaum ein anderer Berg- und Landschaftsfotograf vermag es, die Berge auf so ikonische und eindrückliche Art und Weise zu zeigen. Böschs Berge sind Kraftorte, die zu besteigen man sich sehnt und uns zugleich vor Augen führen, wie erfahren wir dafür sein müssten. Sie erheben sich wie Skulpturen vor uns, in Licht, Nebel und Wetter getaucht und nicht selten so, wie wir sie noch nie gesehen haben. Dabei erkennt Robert Bösch auch die Stärke der Abstraktion: Silhouetten, Schneeformationen, Felsstrukturen, Lichtfelder... Böschs Berge sind mehr als geographische Orte, sie sind Schauplatz eindrücklicher Stimmungen und elementarer Schönheit.

Dass es Bösch gelingt, die Berge so zu zeigen, hat auch mit einer mentalen wie körperlichen Stärke zu tun, wie sie Alpinisten wie ihm eigen ist: Ausdauer, Erfahrung, Voraussicht und der Wunsch, immer wieder neue Routen zu entdecken. All das führt Bösch zu neuen Sichtweisen und überraschenden Perspektiven.

Robert Bösch, Fotograf, Geograf, Bergführer, ist seit 30 Jahren als freischaffender Berufsfotograf tätig. Neben Aufträgen aus Industrie, Werbung und Tourismus arbeitet er für Zeitschriften wie Stern, GEO, und Spiegel. Er veröffentlichte zahlreiche Bildbände. Robert Bösch ist Ambassador der Firma Nikon. 2009 erhielt er den «Eiger Special Award» für sein langjähriges Schaffen im Bereich der Alpinfotografie. Seine Reisen und Expeditionen führten ihn auf alle sieben Kontinente. 2001 bestieg er für einen Auftrag als Fotograf und Kameramann den Mount Everest.

In den letzten Jahren beschäftigte sich Robert Bösch intensiv mit der Landschaftsfotografie und stellte diese in Galerien und in Museen im In- und Ausland aus. Die Jahre 2015 und 2016 waren geprägt durch das aufwendige Projekt «Aus den Bündner Bergen». Daraus entstand der im NZZ-Verlag erschienene gleichnamige Bildband und eine erfolgreiche Ausstellung in der Bildhalle in Zürich. Die Ausstellung "ENGIADINA" zeigt zum grossen Teil neue, noch nicht ausgestellte Bilder aus dem Engadin.