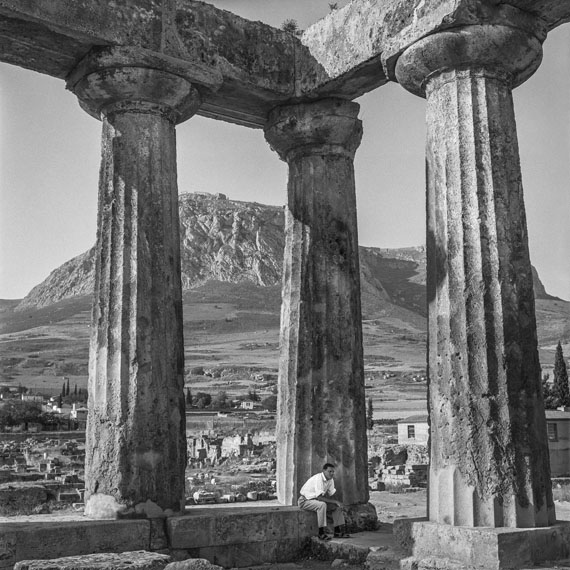 The Photography Show 2018 presented by AIPAD
Greece, Images of an Enchanted Land, 1955-1965
Fair Presentation: 5 Apr – 8 Apr 2018
Wed 4 Apr
Pier 94
12th Avenue and 55th Street
New York


galerie Sit Down
4, rue Sainte-Anastase
75003 Paris
+33 (0)1-42 78 08 07
by appointment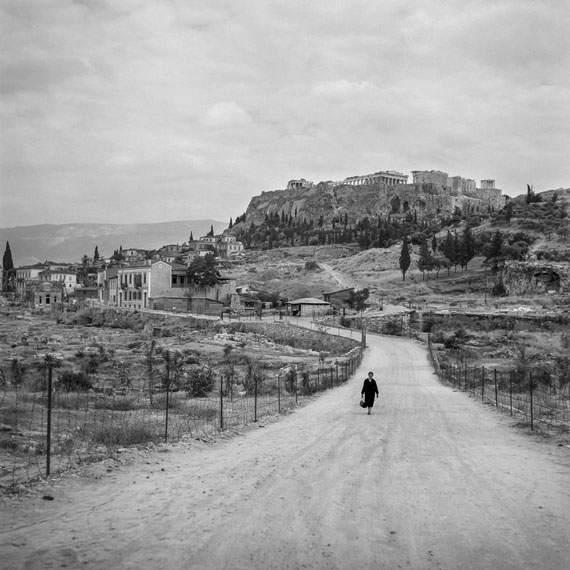 The Photography Show 2018 presented by AIPAD
Pier 94, New York Booth 705
Presentation : April 5 - April 8
Vernissage Wednesday April 4
Sit Down gallery for its first participation in The Photography Show will present the work of an American photographer, Robert A McCabe, who began taking photographs in Greece in the 1950s, before mass tourism, and when the islands and villages each still maintained their unique traditional culture.

In his pictures, McCabe has captured authentic scenes of Aegean life that can never be duplicated. He also photographed many archaeological sites and has a unique record of their condition after the War.

The gallery will present analog silver gelatin prints ranging from 50 x 50 cm to 100 x 100 cm as well as vintage prints by the photographer which will be exhibited for the very first time. There will also be on display prints made by Modernage Labs for an exhibition in 1967 at the Onassis Olympic Gallery in New York.

"Through his artistic vision, the art of Robert McCabe brings us back to an older Greece, when the light was stronger, clearer, and the monuments appeared to be revealed for the first time." Dr Vasileios Petrakos (General Secretary of the Archeological Society of Athens and General Secretary of the Academy of Athens) Excerpt from text for the exhibition of Mr McCabe's photos on the occasion of the 180th anniversary of the Society.

"All of us have different criteria for judging photographs. For me, the subject must be compelling and the composition artful. And the image must reward me each time I see it. It must add something to my understanding of the world and the human condition – some universality. And unless it is a photograph of devastation or human suffering, it must be an image I would want to see often – one I could live with on my walls. So how is it that Robert McCabe, in his early twenties, traveled to Greece and created so many images that fulfill my criteria? How did a young man with a camera hit the ground running, producing some of the most indelible and satisfying photographs most of us have never seen? Where did McCabe develop such a certain eye? He will tell you he spent much of his early life looking at photographs in newspapers and magazines, and began taking pictures with a Kodak Brownie when he was six. Well, so did I, but I've never made the beautiful and engaging images you see here. ... McCabe, for reasons that I do not fully understand, has given us a treasure trove of images, each one thoroughly rewarding. How fortunate we are to have this collection by a photographer whose name is not well known, but should be." James L. Mairs Publisher, Quantuck Lane Press

"...You have the quality and the freshness of the artist's eye, and of an honest man. No superfluous effects, a frank vision in mastered composition, and an empathy in the view of the people you have met." Letter from Willy Ronis to Robert McCabe

"... The images ennoble this cradle of western culture and exalt its values and traditions. The documentary interest of the work of Robert McCabe is undeniable, tied to a strong sense of nostalgia. Through their generous square format the photographs offer minute detail, and reveal a country displaying a very rural character, and an antiquity which has not yet been taken over by mass tourism. Robert McCabe encountered a society that was often poor but always dignified. He shows the Acropolis before it was hemmed in by the city. The photographer meets archaeologists who are working with means which today might seem rudimentary. As for the landscapes, they are delivered here in all their purity. There is no place where the sea light has an equivalent and the way Robert McCabe presents it in a precise and nuanced black and white underlines even more their exceptional visual properties. This photographic voyage translates the enthusiasm, the pleasure of discovery: precious happiness which gives us the feeling that until now is has been shared with very few." Gabriel Bauret, Curator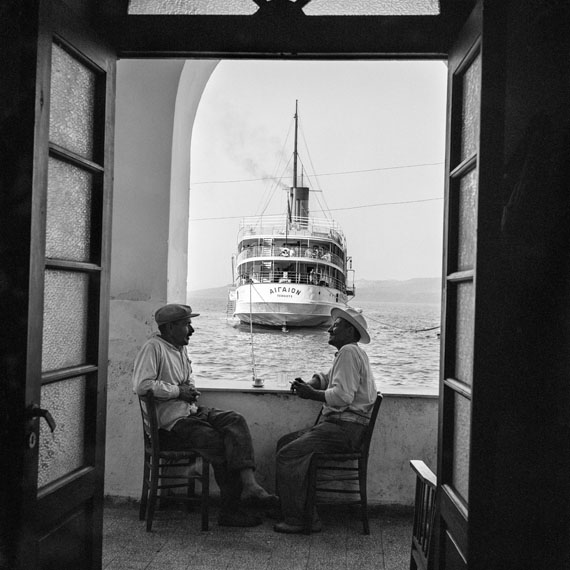 "For me, the most successful photographs represent a form of poetry (...) Just as a short poem can create a vivid emotional experience, so too can an image." Robert McCABE

Robert McCabe was born in Chicago in 1934 and grew up in Rye, New York. His father worked for the New York Daily Mirror in New York, and as the result of his father's gift of a Kodak Baby Brownie in 1939, McCabe started taking photographs when he was five. His first photographs of Europe were the result of a trip in 1954 to France, Italy, and Greece. He returned to Greece in 1955 and 1957 and photographed the Cyclades for National Geographic. His published books cover subjects and locations in Greece, France, Italy, New York City, New England, Havana, China, and Antarctica. Currently Robert McCabe is working on several projects including books: Portraits of the Greeks 1954-2017; The Greeks and Their Seas (with Margarita Pournara); Mykonos in my Dreams; The Last Monk of the Strophades (with Katerina Lymperopoulou). In celebration of the 180th anniversary of the Archaelologial Society of Athens, an exhibition of Robert McCabe's photographs will be held in 2018. The images will feature Greek Archaeological sites in the 1950s. A catalogue of these photographs may be published to coincide with the exhibition.

Robert McCabe's photographs, primarily though not exclusively taken in Greece, have been exhibited publicly in many locations since as far back as the 1950s. His first three exhibitions were held at Princeton University in 1955 and 1956 under the auspices of the Graphic Arts Department and the Map Department.