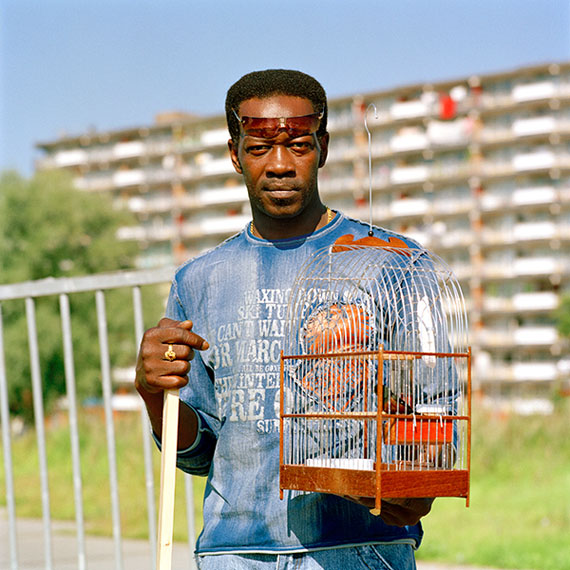 Photo Route Bijlmer: Cityscapes + Birdmen
Cityscapes from Paramaribo and portraits of Surinamese Birdmen
Exhibition: 22 Jun – 5 Aug 2018
Thu 21 Jun 17:00 - 19:00
Bijlmer Parktheater
Anton de Komplein 240
1102 DR Amsterdam
+31 20 -311 3933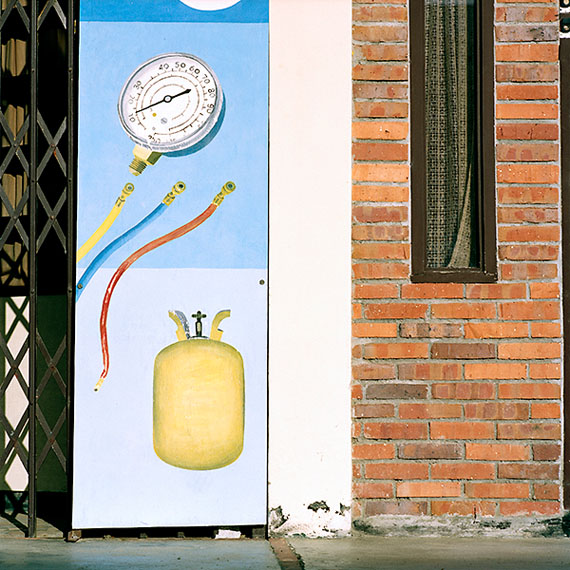 Photo route Bijlmer
Jacquie Maria Wessels: Cityscapes + Birdmen
Cityscapes from Paramaribo and portraits of Surinamese Birdmen
June 22 - August 5, 2018
Celebrating its 50th birth year, the Bijlmer shows the outdoor exhibition Cityscapes + Birdmen by the photographer Jacquie Maria Wessels. The route will take you to Paramaribo and a corner of Suriname in Amsterdam ZO. On both sides of the Atlantic, Wessels portrayed Surinamese birdmen who are obsessed with their songbird. Along the photo route, at various outdoor locations in the Bijlmer, the portraits are alternated with cityscapes from Paramaribo dominated by typical Surinamese murals. The result is a layered image of two characteristic elements from Surinamese culture and society. The heart of the route is the Bijlmer Parktheater where you can also see an exhibition.

Birdmen
Jacquie Maria Wessels made portraits, in Suriname and The Netherlands, of many macho Surinamese men with their tinkering birds. The 'caged bird' is the leading actor in songbird contests.
In this 'most popular sport in Suriname' men from all segments of the population come together amiably, in peaceful combat over which bird sings the best and who wins the first prize.
After the independence of Suriname in 1975 this pastime came to The Netherlands along with the Surinamers. Both in Suriname and in The Netherlands, the contests are held very early on Sunday mornings: in Paramaribo on Independence Square over to the Suriname river, and in The Netherlands in various Dutch cities including the Amsterdam Bijlmer.
Stereotypical male attributes such as clothing, cars and motorcycles play an important role in this lifestyle too but in the photographs by Wessels the men also reveal another side of themselves.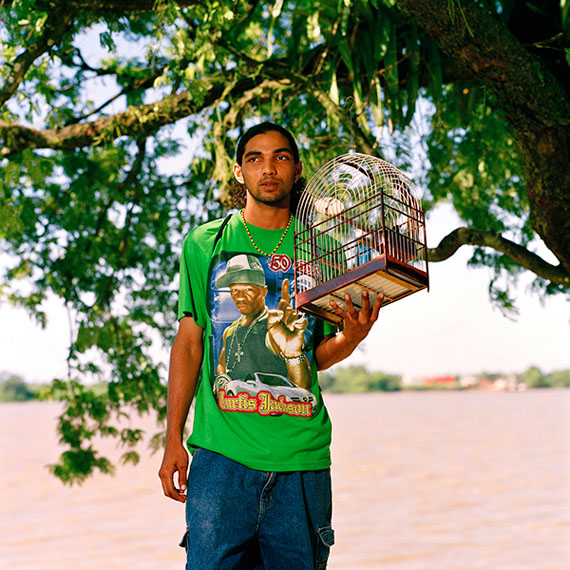 Cityscapes
In Paramaribo, Wessels also photographed cityscapes dominated by typical Surinamese murals. This carefully composed photo series is sometimes alienating and surreal. The works show how residents of the city appropriate the space and capture a cultural and economic image of time in Paramaribo. The hand-painted advertisements contain hyper-realistic images of, among other things, tools, soup cans, oatmeal, sausages and incentives such as 'Do your best at school' .....


Jacquie Maria Wessels lives and works in Amsterdam. Wessels has developed into an autonomous/documentary photographer who likes to immerse herself in a topic for a longer period of time. Her subjects often serve as a framework for investigating the various social conditions and the environment of people.

Publication
With the photo series Cityscapes + Birdmen the photo book of the same name was published in 2010 with a selection of 160 photographs in full color.

Further information photo route
Dates: 22 June to 5 August 2018 | Opening June 21 from 17-19h
Bijlmer Parktheater, Anton de Komplein 240, Amsterdam ZO

Outside locations: Hoekenrodeplein (Bijlmer ArenA station), Bijlmerplein, around Anton de Komplein and the Bijlmer Parktheater (with exhibition inside)
www.jacquiemariawessels.nl