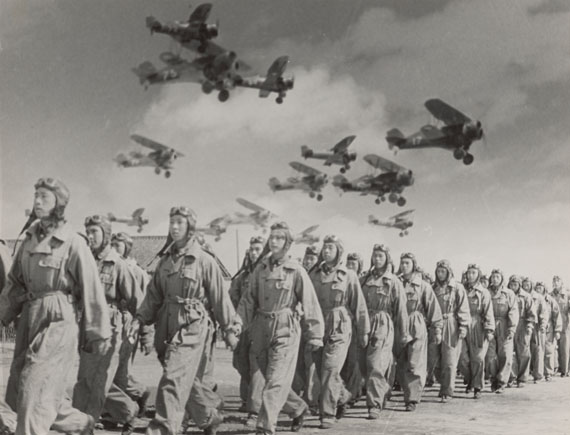 The race for China / Wettlauf um China
Exhibition: 22 Sep 2018 – 10 Feb 2019
Fri 21 Sep 18:00

Fotostiftung Schweiz
Grüzenstr. 45
8400 Winterthur
+41 52 -234 10 30
info@fotostiftung.ch
www.fotostiftung.ch
Tue-Sun 11-18, Wed 11-20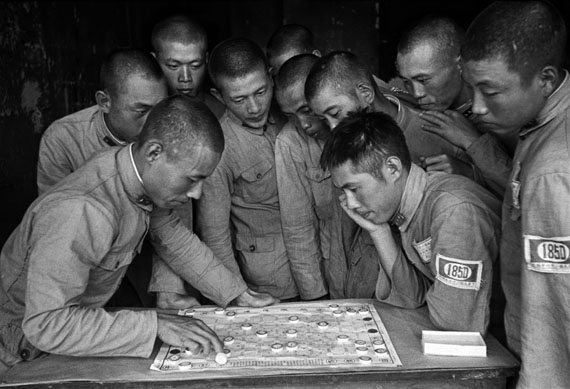 Walter Bosshard / Robert Capa
"The race for China"

Exhibition: 22 September 2018 – 10 February, 2019
Opening: Friday, 21 September, 6pm
Walter Bosshard (1892–1975) was the first Swiss photojournalist to become internationally famous as a result of his reportage. As early as 1930, his photo reports had already reached an audience of millions. From 1931, Bosshard concentrated on China.As a photographer and writer, he followed the devastating war with Japan and the power struggle between nationalists and communists, but also dedicated himself to everyday life and street scenes. As well as the classics, this exhibition by the Fotostiftung Schweiz also presents many unknown photographs, which have only recently come to light. These are juxtaposed with China photos by the star reporter Robert Capa. Capa worked in the same places as his friend Walter Bosshard and competed with him for features in the magazine Life.

Walter Bosshard laid the foundations for his career in 1927/28 as a photographer for the German Central Asia Expedition, which took him to the Himalayas and the Taklamakan desert. As early as 1930, he received a large commission from the Münchner Illustrierte Presse and the then-leading Berlin Dephot photo agency. Over the course of eight months or so, he was able to travel all over India in order to report on the independence movement. During this period, he succeeded in capturing a number of sensational portraits of Gandhi, which were published all over the world. In 1933, Bosshard relocated to Beijing and became one of the most productive and highly regarded Asia correspondents of his time. His most important platforms were the Berliner Illustrierte Zeitung and sister titles from the publisher Ullstein, the Münchner Illustrierte Presse and the Zürcher Illustrierte. Later followed American and British media such as Life and Picture Post, before he finally accepted a permanent position as correspondent for the Neue Zürcher Zeitung (NZZ) (NZZ).

Bosshard's regular activity as a special correspondent in China began in 1931. The opening of the first Chinese National Assembly, the advance of the Japanese plus the power struggle between the nationalists and communists offered exciting material for the international media. More so than most other reporters, Bosshard followed the developments in the Sino-Japanese war from close quarters. He took photographs on the front, and was committed to informing his readership, but he also took portraits of the most important politicians, generals and warlords; not only on the Chinese side but the Japanese side too. He was among the first to report on the great Japanese offensive of 1937, which saw the Japanese capture, one after the other, the major cities of Beijing, Tianjin, Shanghai and Nanjing.

1938 was a key year in Bosshard's photojournalistic career. Like other western correspondents, he resided in Hankou, the temporary Chinese capital, which for months was subjected to the most severe Japanese bombing. Hankou was without doubt the media hotspot of that time. One of the observers was the already-famous photographer Robert Capa. He was especially interested in the communists' resistance struggle against the nationalist Kuomintang government. In this movement he saw a far eastern extension of the antifascist movement, which he had already followed at close quarters in the Spanish civil war. He succeeded in producing some shocking reports – about the constant air strikes, the fear of the civilian population, the Chinese refugee flows and the daily struggle for survival. It was in Hankou that Robert Capa developed a friendly relationship and playful rivalry with Walter Bosshard. Both had the ambition of seeing their stories published in the renowned American magazine Life. In 1938, the two photojournalists competed for the first reports from the extremely remote 'red capital' Yan'an, where the communists under Mao Zedong were gathering their forces and preparing for guerrilla war against the Japanese. The western media were eager for news from Mao's camp. And it came to pass that, in July 1938, Walter Bosshard became the first European correspondent to reach Mao, accompanied by his friend Archibald Steele, China correspondent for the Chicago Daily News. Beside an extensive interview with the mastermind of the new China, Bosshard also shot a film featuring probably the first moving images of Mao, as well as photographing the everyday life of the communists, who had organised in loam caves at Yan'an. Life published the results in an article partially printed in colour, whereas the NZZ presented the sensational material as a six-part series, always featured on the front cover, in July and August 1938. After this coup, Robert Capa admitted defeat and returned home frustrated.

Thanks to his great familiarity with the local situation and an excellent network, Bosshard was always able to secure advantages for himself, which he harnessed to quickly and efficiently achieve his objective. In 1937, Archibald Steele wrote of his Swiss colleague: "Anyone who finds themselves in the far east with a camera and notebook is familiar with the problems that chroniclers face. Despite censorship, bureaucratic obstacles and stubborn officials, Bosshard, succeeds in practising his trade without falling out with the Japanese, Manchurian or Chinese officials. These days, you need to be a diplomat to be successful with a camera as a correspondent and artist… All the bigwigs in Asia know Bosshard; diplomats, statesmen and the military, because he loves taking their portraits in their private surroundings."

From an international point of view, there are only a few photojournalists who followed and portrayed that difficult time of the Japanese occupation of China so consistently and with such great intensity as Walter Bosshard. For audiences in Switzerland and in the west in general, he was an authority for a number of years, at least until the end of the second world war. However, this fame gradually faded, as Bosshard concentrated more and more on writing. And in 1953, after an accident in Korea, he retired from journalism altogether. After his death in 1975, this once-famous name sank into complete obscurity. It is clear that Bosshard's reportage has stood the test of time well. Even today, they put ourselves right in the middle of those dramatic happenings in the far east. Bosshard's photojournalistic legacy is a unique, fascinating and vivid source for immersing ourselves into that decade in China's history which so momentously changed our world.

An exhibition by the Fotostiftung Schweiz in partnership with the Archives of Contemporary History (ETH Zurich), ullstein bild Berlin and ICP New York.

To accompany the exhibition, Limmat Verlag will be publishing the following book: Walter Bosshard – China brennt. Bildberichte 1931–1939. ('Walter Bosshard – China burns. Photo reports 1931–1939'). Edited by Peter Pfrunder, Fotostiftung Schweiz. German language, 290 pages, approximately 150 photographs and illustrations.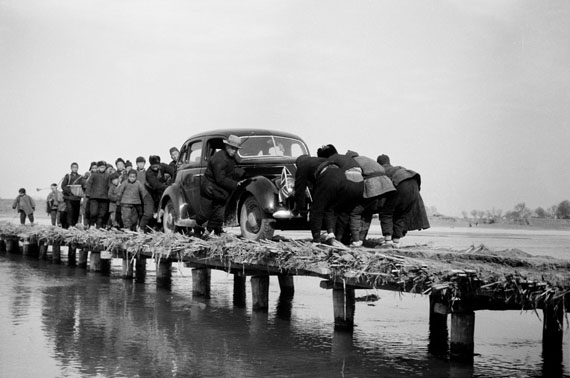 Walter Bosshard / Robert Capa
"Wettlauf um China"

Ausstellung: 22. September 2018 bis 10. Februar 2019
Eröffnung: Fraitag, 21. September, 18 Uhr
Walter Bosshard (1892–1975) ist der erste Schweizer Fotojournalist, der mit seinen Reportagen international berühmt wurde. Schon um 1930 erreichten seine Bildberichte ein Millionenpublikum. Ab 1931 konzentrierte sich Bosshard auf China: Fotografierend und schreibend verfolgte er den verheerenden Krieg gegen Japan und den Machtkampf zwischen Nationalisten und Kommunisten, er widmete sich aber auch dem Alltag und dem Leben auf der Strasse. Die Ausstellung der Fotostiftung Schweiz präsentiert neben Klassikern auch viele unbekannte Fotografien, die erst in jüngster Zeit zum Vorschein gekommen sind. Diese werden den China-Bildern des Starreporters Robert Capa gegenübergestellt – Capa arbeitete an denselben Orten wie sein Freund Walter Bosshard und wetteiferte mit ihm um Auftritte in der Zeitschrift Life.

Den Grundstein für seine Karriere legte Walter Bosshard 1927/28 als Fotograf der Deutschen Zentralasien Expedition, die ihn in den Himalaya und die Taklamakan-Wüste führte. Schon 1930 erhielt er von der Münchner Illustrierten Presse und der damals führenden Berliner Fotografenagentur Dephot einen grossen Auftrag: Während rund acht Monaten konnte er Indien bereisen, um über die Unabhängigkeitsbewegung zu berichten. Dabei gelangen ihm einige sensationelle Gandhi-Porträts, die um die Welt gingen. 1933 verlegte Bosshard seinen Wohnsitz nach Beijing und wurde zu einem der produktivsten und angesehensten Asien-Korrespondenten seiner Zeit. Seine wichtigsten Plattformen waren die Berliner Illustrirte Zeitung und weitere Medien des Ullstein-Verlags, die Münchner Illustrierte Presse und die Zürcher Illustrierte. Später kamen amerikanische und englische Medien wie Life und Picture Post dazu, bevor er schliesslich eine feste Stelle als Korrespondent der Neuen Zürcher Zeitung annahm.

Der Beginn von Bosshards regelmässiger Tätigkeit als "Sonderberichterstatter" in China fällt ins Jahr 1931. Die Eröffnung der ersten chinesischen Nationalversammlung, der Einmarsch der Japaner sowie der Machtkampf zwischen Nationalisten und Kommunisten boten spannenden Stoff für die internationalen Medien. Wie kaum ein anderer Reporter verfolgte Bosshard die weitere Entwicklung des Sino-Japanischen Kriegs aus der Nähe: Er fotografierte an der Front und leistete engagierte Aufklärungsarbeit, er porträtierte aber auch die wichtigsten Politiker, Generäle und Warlords sowohl auf japanischer als auch auf chinesischer Seite. Er gehörte zu den ersten, die über die 1937 gestartete Grossoffensive der Japaner berichteten, bei der sie nacheinander die grossen Städte Beijing, Tianjin und Shanghai besetzten, um schliesslich am 13. Dezember die Hauptstadt Nanjing zu erobern.

Ein Schlüsseljahr in Bosshards fotojournalistischer Karriere war das Jahr 1938. Wie andere westliche Korrespondenten hielt er sich in der temporären chinesischen Hauptstadt Hankou auf, die monatelang heftigsten japanischen Bombardierungen ausgeliefert war. Hankou war zweifellos der mediale Hotspot jener Zeit. Zu den Beobachtern gehörte auch der schon damals berühmte Fotograf Robert Capa. Besonderes Interesse hatte er am Widerstandskampf der Kommunisten gegen die nationalistische Kuomintang-Regierung. Er sah darin eine fernöstliche Erweiterung der antifaschistischen Bewegung, die er schon im spanischen Bürgerkrieg aus nächster Nähe verfolgt hatte. Ihm gelangen einige erschütternde Reportagen: über die permanenten Luftangriffe, die Angst der Zivilbevölkerung, die chinesischen Flüchtlingsströme oder den täglichen Kampf ums Überleben. In Hankou entwickelte Robert Capa auch eine freundschaftliche Beziehung und spielerische Rivalität zu Walter Bosshard – beide hatten sie den Ehrgeiz, ihre Geschichten in der renommierten amerikanischen Zeit-schrift Life veröffentlicht zu sehen.

1938 wetteiferten die beiden Fotojournalisten um die erste Reportage aus der weit abgelegenen "Roten Hauptstadt" Yan'an, wo die Kommunisten unter Mao Zedong sich für den Guerilla-Kampf gegen die Japaner rüsteten. Die westlichen Medien waren begierig auf Neuigkeiten aus Maos Lager. Tatsächlich fand Walter Bosshard im Juli 1938 als erster europäischer Korrespondent den Weg zu Mao – zusammen mit dem befreundeten China-Korrespondenten der Chicago Daily News, Archibald Steele. Neben einem ausführlichen Interview mit dem Vordenker des Neuen China drehte Bosshard auch einen Film mit den vermutlich frühesten Bewegtbildern von Mao und fotografierte den Alltag der Kommunisten, die sich in den Lösshöhlen von Yan'an organisiert hatten. Life publizierte das Resultat in einer teilweise farbigen Reportage, während die Neue Zürcher Zeitung den sensationellen Stoff in einer sechsteiligen Serie jeweils auf ihrer Frontseite präsentierte. Nach diesem Coup gab sich Robert Capa geschlagen und kehrte frustriert nach Hause zurück.

Dank grosser Vertrautheit mit den lokalen Verhältnissen und einem exzellenten Netzwerk konnte sich Bosshard immer wieder Vorteile verschaffen, mit denen er schnell und effizient sein Ziel erreichte. 1937 schrieb Archibald Steele über seinen Schweizer Kollegen: "Jeder, der im Fernen Osten mit Kamera und Notizblock unterwegs ist, weiss um die Probleme, denen die Chronisten ausgesetzt sind. Trotz Zensur, behördlichen Hindernissen und sturen Beamten gelingt es Bosshard, sein Handwerk auszuüben, ohne es sich mit den Japanern oder den mandschurischen und chinesischen Behörden zu verderben. Man muss auch Diplomat sein, um dieser Tage als Korrespondent und Künstler mit der Kamera erfolgreich zu sein ... Alle hohen Tiere in Asien kennen Bosshard, Diplomaten, Staatsmänner und Militärs, denn er liebt es, sie in ihrem privaten Umfeld zu porträtieren."

Es gibt, international gesehen, nur wenige Fotojournalisten, welche die schwierige Zeit der japanischen Besetzung Chinas so konstant und in so grosser Intensität verfolgten und abbildeten wie Walter Bosshard. Für das Publikum im Westen und in der Schweiz war er während Jahren eine Instanz – jedenfalls bis zum Ende des Zweiten Weltkriegs. Dieser Ruhm verblasste allmählich, als sich Bosshard mehr und mehr auf das Schreiben konzentrierte und sich 1953, nach einem Unfall in Korea, ganz aus dem Journalismus zurückzog. Nach seinem Tod 1975 geriet der einstmals berühmte Name ganz in Vergessenheit. Es zeigt sich, dass Bosshards Reportagen die Zeit gut überdauert haben. Auch heute noch versetzen sie uns mitten ins dramatische Geschehen im Fernen Osten. Bosshards fotojournalistisches Vermächtnis ist eine einzigartige, packende und anschauliche Quelle, um in jenes chinesische Jahrzehnt einzutauchen, das unsere Welt so folgenschwer verändert hat.

Eine Ausstellung der Fotostiftung Schweiz in Zusammenarbeit mit dem Archiv für Zeitgeschichte (ETH Zürich), ullstein bild Berlin und ICP New York.

Zur Ausstellung erscheint eine Publikation im Limmat Verlag: Walter Bosshard – China brennt. Bildberichte 1931–1939. Herausgegeben von Peter Pfrunder, Fotostiftung Schweiz. 290 Seiten, gebunden, etwa 150 Fotografien und Abbildungen.