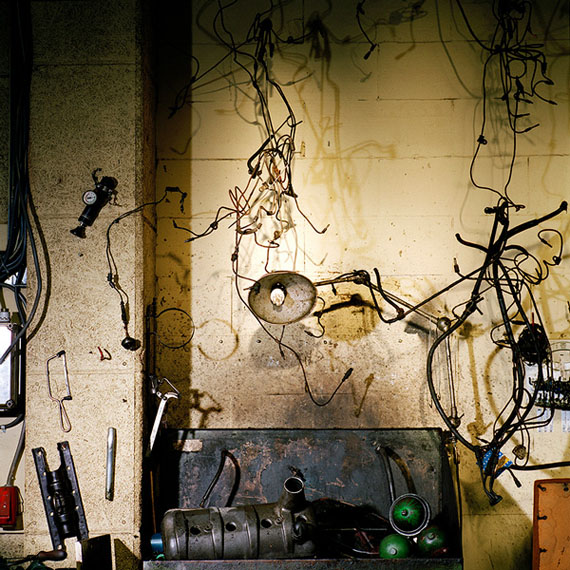 Garage Stills
Exhibition: – 27 Oct 2018
Sun 16 Sep 14:00

Galerie Baudelaire
Plantin en Moretuslei 119
2140 Antwerp
+32(0)3-2272640
info@galeriebaudelaire.be
www.galeriebaudelaire.be
Sat 14-18, Mon-Fri by appt.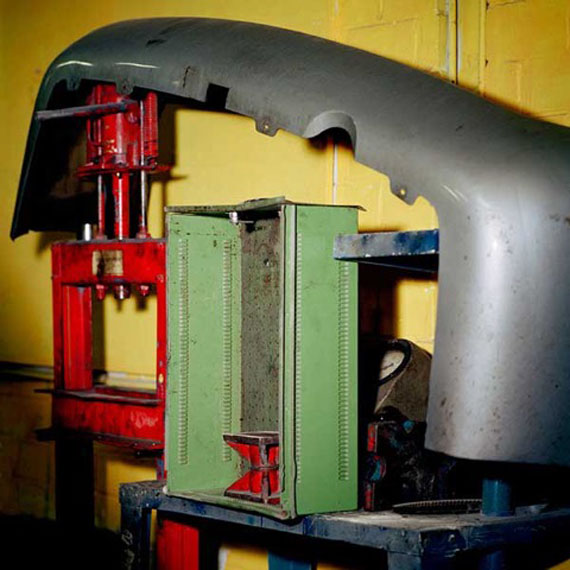 Jacquie Maria Wessels – Garage Stills
Solo exhibition at Galerie Baudelaire, Antwerpen

September 16 – October 27, 2018
Opening: Sunday September 16, 14.00 – 17.00h
For her Garage Stills project, Jacquie Maria Wessels is looking for classic car repair garages all over the world. She is fascinated and intrigued by the shapes and colours of the mysterious, to her completely unknown objects she discovers in this wonderful world. With the found attributes she creates still lifes on the spot, which she captures with an analogue camera. By extracting the objects from their everyday context and arranging them in a completely new way, Wessels gives them a totally different dimension in her surprising compositions.

Wessels approaches this series with her documentary background in mind, however in this male dominated world of rough-around-the-edges garages she takes the liberty to move objects or to remove them and to highlight her staged still life. In the interiors of the old garages she stages her newly discovered materials into a collage-like image. The still lifes that arise subsequently are remarkable in terms of colour and an often playful beauty.

Because of science and technical development, cars have developed into computer-controlled machines. As a result, the former 'personal and organized chaos' in the garages is being replaced by sterile order, as a result of which contemporary garages increasingly start to resemble scientific laboratories. The traditional garages where manual labour is still central are slowly dying out. In the Garage Stills series you can feel the presence of the mechanics even though they are not in the picture, the atmosphere and the hustle and bustle of their working environment are frozen in a fixed picture. The old garages, which previously stood for progress and are now being overtaken by new technologies, have been recorded in this series before they will disappear.

Slowly Wessels also began to capture the garages' environment by looking for the meagre bits of nature in the immediate vicinity. With the intensive work in the garages, Wessels looked forward to nature in the long run - the counterpart of the car industry, which in some places even slowly takes over the old garages.
Jacquie Maria Wessels lives and works in Amsterdam and studied photography at the Gerrit Rietveld Academy and Social Psychology at the Vrije Universiteit, both in Amsterdam. Wessels has developed into an autonomous/documentary photographer who likes to explore a topic for a longer period of time. Her subjects often serve as a framework for investigating the various social conditions and the environment of people.

An earlier Wessels project is Cityscapes + Birdmen with the book of the same name, for which she immersed herself in the fascinating world of tough Surinamese birdmen and made cityscapes in which typical Surinamese murals dominate. Recently, this series was on show in the Fotoroute Bijlmer, an outdoor exhibition with 50 large format photographs in Amsterdam Zuid-Oost and last year in a solo exhibition in the Surinamese Museum in Paramaribo.

A number of works from the Garage Stills series are included in the collection of Huis Marseille, the museum for photography in Amsterdam. The Garage Stills were selected for the group exhibition 'Photography Extended', which showed the latest development in the area of Dutch staged photography in Museum het Valkhof in Nijmegen and were chosen for the photography festival Encontros da Imagem 2017 in Braga (Portugal), with a special presentation.
A book will shortly be published on the Garage Stills series.

www.jacquiemariawessels.nl