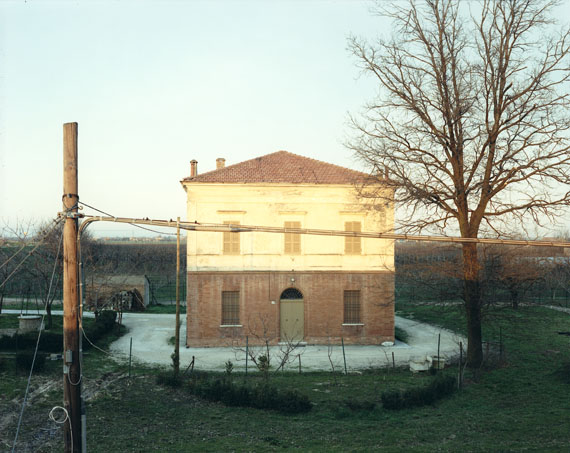 Per Strada
Exhibition: 12 Oct – 21 Dec 2018
Large Glass
392 Caledonian Road
N1 1DN London
+44 (0)20-76099345
info@largeglass.co.uk
www.largeglass.co.uk
Wed-Sat 11-18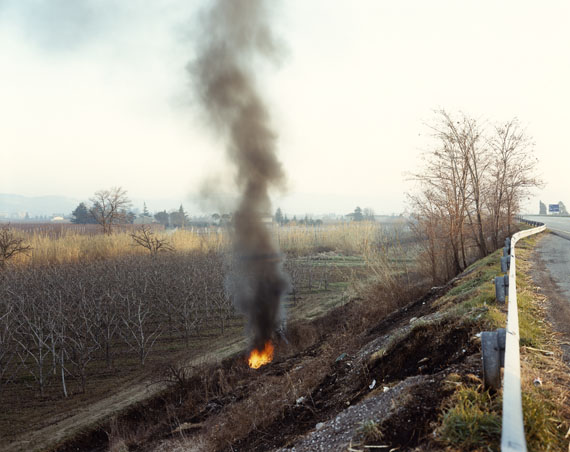 Guido Guidi
"Per Strada"

Exhibition: 12 October – 21 December 2018
Large Glass is delighted to exhibit a selection of 27 prints by Italian Photographer Guido Guidi, to coincide with the exceptional publication "Per Strada", published by MACK at the end of October.

The via Emilia (the road) is the Roman road that runs from Milan to Rimini, via Bologna, through Guido Guidi's home city Cesena. It is also the road that Guidi has travelled along since he was fifteen and is the thread that joins the 285 photographs, taken between 1980 and 1994, illustrated in the three-volume book.

His close observation of the ordinary things is what constitutes beauty and life both on and around the via Emilia, as he remarked in the accompanying interview: "It is a way of bowing down before things. And that is the religious aspect, a respect for things, for the blade of grass and wanting to give back by means of a precise photograph, where the execution of the detail is perfect, absolute, with no grain. The photograph must be absolute, transparent and cannot be corrected and reviewed later. As Didi-Huberman says, for the ancient painters of the 1400s, the act of imitagere or copying nature was in itself an act of devotion. Not necessarily mastery or technical virtuosity but an act of devotion towards things, the 'things which are nothing' as Pasolini says."

Guido Guidi is one of Italy's most respected photographers and over a career spanning more than four decades, Neorealist film and conceptual art have had a significant role in shaping his unsentimental but also intensely personal images.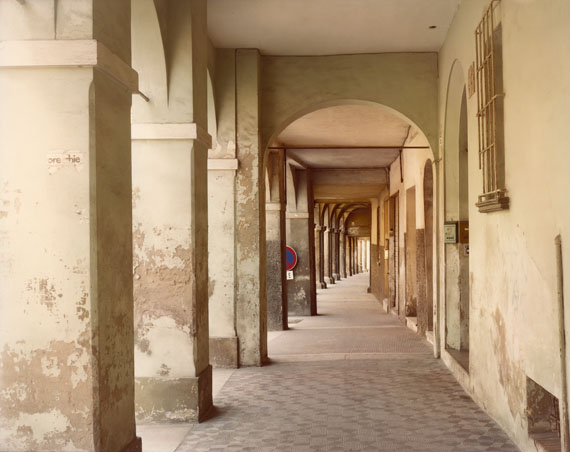 Guido Guidi was born in 1941 in Cesena, Italy. He studied architecture in Venice at the beginning of the sixties. He has explored the life and death of the Modern Movement through projects on the works of Carlo Scarpa, Le Corbusier and Mies van der Rohe. His work was included in the seminal exhibition "Viaggio in Italia" curated by Luigi Ghirri in 1984 and has been shown at the Venice Biennale, Centre Georges Pompidou (Paris), Guggenheim Museum (New York), MAXXI (Rome) and most recently, a retrospective of his work "Veramente" toured from the Henri Cartier-Bresson Foundation (Paris) to Huis Marseille (Amsterdam) and finally to the Museo d'Arte della città (Ravenna).

A great number of his photographs are part of International public, as well as private collections including, the Bibliothèque National and Centre Pompidou, Paris; Fondazione Sandretto Re Rebaudengo, Turin and ICCD in Rome; Fondation A Stichting in Brussels; National Gallery of Aesthetic Arts in Beijing; Canadian Centre for Architecture in Montréal and San Francisco Museum of Modern Art.