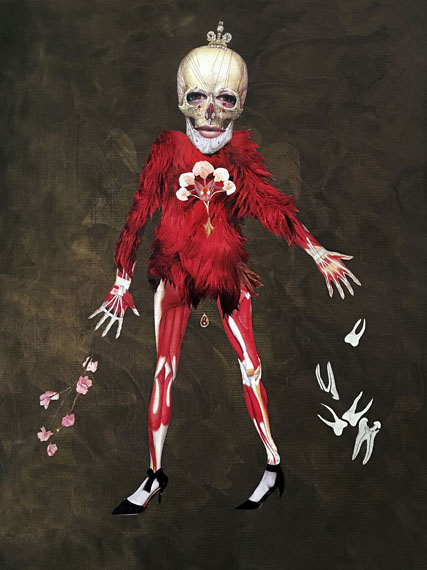 Life In The Ruins
Exhibition: 5 Oct – 4 Nov 2018
Thu 4 Oct 18:00 - 20:00

Fabian & Claude Walter Galerie
Rämistrasse 18
8001 Zürich
+41 44-4404018
galerie@fabian-claude-walter.com
www.fabian-claude-walter.com
Wed-Fri 14-18:30, Sat 12-16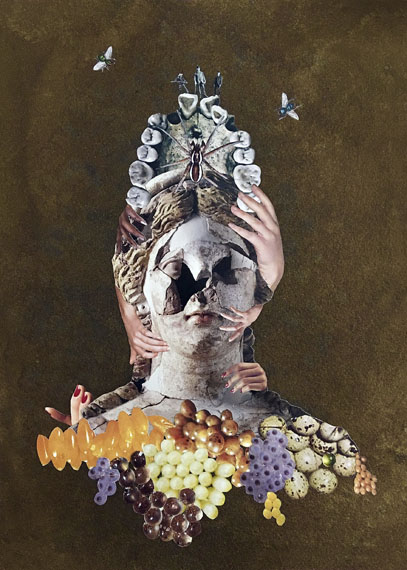 Deborah Kelly
"LIFE IN THE RUINS"

Exhibition: 5 October – 4 November 2018
Opening: Thursday, 4 October 2018, 6-8 pm
"Life in the Ruins" at Fabian & Claude Walter Galerie in Zurich is Deborah Kelly's first solo exhibition in Switzerland, curated by Daniel Blochwitz.

Discarded books and encyclopedias are as much source material for Deborah Kelly (*1962) as her avid studies, her boundless curiosity and vivid imagination. She describes it as her "obsession with constructing new possibilities for the symbolic order from abandoned books, and their sorrowful status as the ruins of a civilization – which is ours."

As the Australian artist travels the globe from residency to biennial to workshop to arts festival and back home, she investigates local folklore, religious imagery, stories and personal experiences while picking up wildly diverse printed materials on her way. It's as if she collects fragments of the world's memory, which she reassembles into eloquent, spirited and allegorical fantasies, audacious proposals and cautionary tales that speak to the state of this very world.

The resulting artworks seem like exercises in resistance: refusing the vanishing of our material, corporeal, social, and natural world that threatens to become a digital, virtual, asocial, asexual and man-made dystopia. They also seem like lessons in dissent: protesting the loss of voice and agency, but also the erosion of liberty and solidarity. After all, collages and photomontages always appear in times when other modes of artistic expression fail to capture the mood and urgency of crises. Deborah Kelly presents us in Life in the Ruins with her-story, showing us that another world is not just possible, but has always been there.

Deborah Kelly's works have been included in the Biennales of Singapore, Venice, Thessaloniki, Tarra Warra and Sydney. Her solo and collaborative works have been shown in galleries, museums, streets and cinemas around the world. Her work is held in numerous important private and museum collections. She is also the recipient of several awards, including the National Works on Paper Acquisition Award, Mornington Peninsula Regional Gallery, VIC, Albury Art Prize, NSW, and the Fisher's Ghost Art Award, Campbelltown Arts Centre, NSW. She lives and works in Sydney, Australia.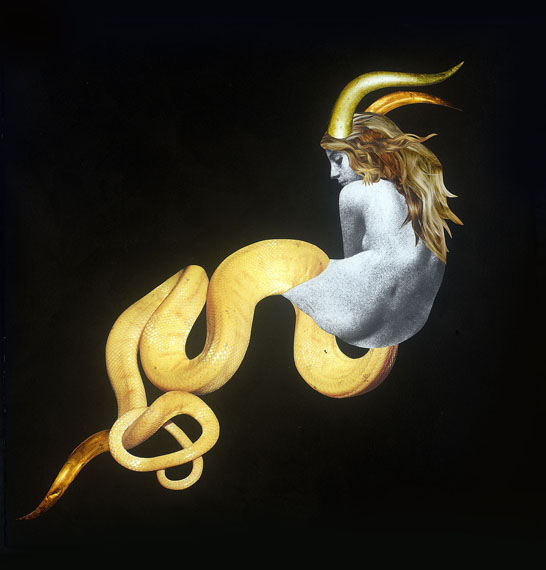 Deborah Kelly
"LIFE IN THE RUINS"

Ausstellung: 5. Oktober bis 4. November 2018
Eröffnung: Donnerstag, 4. Oktober, 18-20 Uhr
"Life in the Ruins" in der Fabian & Claude Walter Galerie ist Deborah Kellys erste Einzelausstellung in der Schweiz, die von Daniel Blochwitz kuratiert wird.

Ausrangierte Bücher und Enzyklopädien sind für Deborah Kelly (*1962) ebenso Ausgangsmaterialen wie ihr ureigener Wissensdrang, ihre ungebremste Schaulust und lebendige Vorstellungskraft. Sie beschreibt es selbst als ihre "Obsession mit der Gestaltung neuer Möglichkeiten für die symbolische Ordnung von ausgedienten Büchern und ihrem traurigen Zustand als Ruinen einer Zivilisation - nämlich unserer eigenen."

Auf ihren Reisen um die Welt — von Künstlerresidenzen über Biennalen und Workshops zu Kunstfestivals und zurück nach Hause — erkundet die australische Künstlerin angetroffene lokale Folklore, religiöse Symbolik, Geschichten und eigene Erlebnisse, während sie unterwegs auch gleichzeitig die verschiedensten Druckmaterialien aufliest. Es ist als ob sie Fragmente eines Weltgedächtnisses sammelt, um diese dann in eloquenten, temperamentvollen und allegorischen Fantasien, kühnen Anregungen und belehrenden Geschichten wieder neu zusammenzufügen und als solche zu eben dieser Welt sprechen zu lassen.

Die entstandenen Kunstwerke erscheinen dabei wie eine Übung der Gegenwehr: sie verweigern sich dem Verschwinden unserer materiellen, körperlichen, gesellschaftlichen und natürlichen Welt, bedroht von einer digitalen, virtuellen, asozialen, asexuellen und synthetischen Dystopie. Sie scheinen aber auch Dissenzlektionen zu sein: sie verwahren sich sowohl gegen den Stimmund Handlungsverlust als auch gegen die Aushöhlung von Freiheiten und gesellschaftlicher Solidarität. Collagen und Photomontagen erlangen ja immer dann erhöhte Bedeutung, wenn andere künstlerische Strategien die Stimmung und Dringlichkeit von Krisen nicht mehr adäquat darzustellen vermögen. Deborah Kelly präsentiert uns in Life in the Ruins ihre Geschichte, und zeigt uns so, dass eine andere Welt nicht nur möglich ist, sondern eigentlich schon immer auch da war.

Deborah Kellys Arbeiten waren auf den Biennalen von Singapur, Venedig, Thessaloniki, Tarra Warra und Sydney zu sehen. Ihre eigenen Werke und kollaborativen Projekte wurden weltweit in Galerien, Museen, im öffentlichen Raum und in Kinos gezeigt. Ihre Arbeiten sind in zahlreichen wichtigen Privat- und Museumssammlungen vertreten. Des Weiteren erhielt sie verschiedene Preise, wie den National Works on Paper Acquisition Award der Mornington Peninsula Regional Gallery, den VIC, den Albury Art Prize, NSW, und den Fisher's Ghost Art Award des Campbelltown Arts Centre, NSW. Kelly lebt und arbeitet in Sydney, Australien.