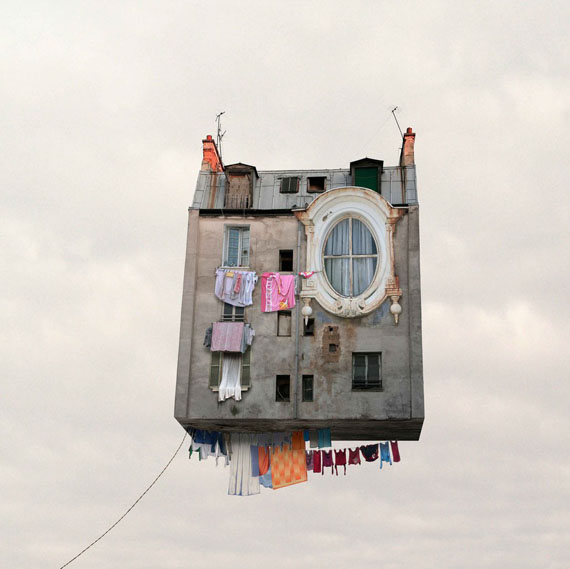 Flying Houses
Exhibition: 15 Nov 2018 – 19 Jan 2019

Persiehl & Heine
Bergstr. 11
20095 Hamburg
+49 (0)40-74320520
info@persiehl-heine.de
www.persiehl-heine.de
Tue-Fri 11-18, Sat 11-16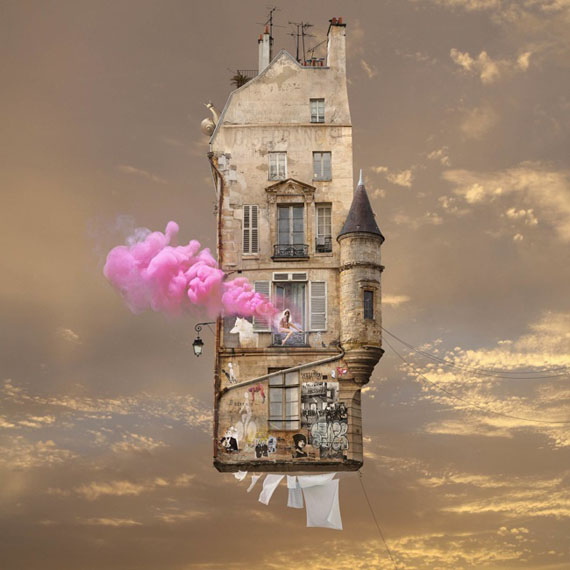 Laurent Chéhère
"Flying Houses"

Exhibition: 15 November, 2018 – 19 January, 2019
The "Flying Houses" are a surrealistic and poetic vision of old Paris, inspired by Jules Verne, Albert Robida, Moebius, Hayao Miyazaki, William Klein, Wim Wenders, Federico Fellini, Serge Gainsbourg, Martin Scorsese, Marcel Carné, Jean Cocteau and more. These buildings are also inspired by poor and cosmopolitan neighborhood of the French capital where lives Laurent Chéhère.

The author isolates these buildings of their urban context and releases them from the anonymity of the street to tell the life, the dreams and the hopes of these inhabitants. The images are photomontage of hundred of elements like roof, windows, gutter, fireplace, characters, antennas, graffiti and sky, captured and assembled afterward like a puzzle. In gallery, the images are shown in large format and let the curious observer to discover details and hiden references of these accurate reconstructions by proposing a double reading, one by far and one closely.

The artist uses this distance to propose a different point of view and alert against preconceived ideas and prejudices. All the ingredients are there, the comedy, the drama, the poetry, the darkness, the onirism, the laughter and the tears... everything becomes entangled. The author gives some keys, but these flying houses remain open to the interpretation, it's finally the people who will make his own way.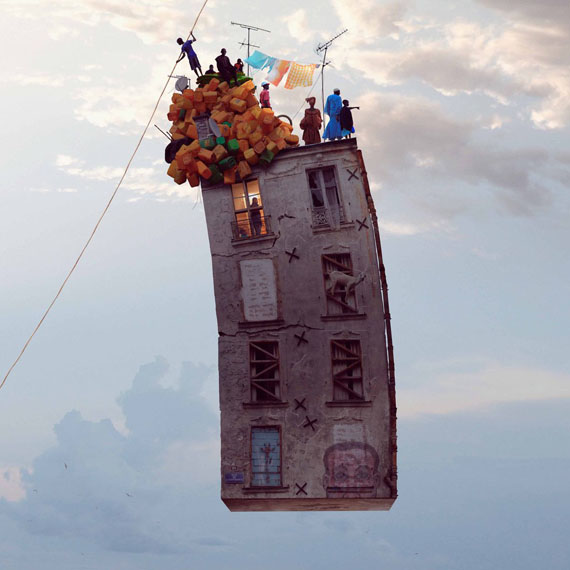 Laurent Chéhère
"Flying Houses"

Ausstellung: 15. November 2018 bis 19. Januar 2019
"Flying Houses" sind eine surreale und poetische Vision des alten Paris. Wohnen, Architektur und Geschichte, Kino, Popkultur und Straßenkunst – Laurent Chéhère kreiert diverse Themen, sinnvolle aber auch sinnfreie. Für ihn hat die Stadt zwei Seiten: "Ich rede von Paris, das dich träumen lässt, und von Paris, das dich nicht träumen lässt."

Seine schwebenden Häuser sind inspiriert von armen und kosmopolitischen Vierteln. An jeder Straßenecke dieses heutigen Babels beflügeln ihn Gerüche, Parfums, eine Würze oder ein Akzent. Auf den ersten Blick erscheinen die "Flying Houses" unbeschwert und verträumt, bei genauerem Hinsehen offenbaren Details eine komplexere Geschichte: "In gewisser Weise versuche ich, Schwierigkeiten und Sorgen einer verarmten Gesellschaft aufzuzeigen. Diese Häuser sind Zeugen einer zeitgenössischen Realität. Aus ihrem städtischen Kontext gelöst und von der Anonymität der Straße befreit, erzählen die Gebäude eine Geschichte über Leben, Träume und Hoffnungen ihrer Bewohner", erklärt Laurent Chéhère.

Die Fotomontagen sind wie ein Puzzle aus Hunderten von Elementen zusammengesetzt. Die großen Formate der Bilder erlauben dem Betrachter verborgene Komponenten dieser genauen Rekonstruktionen zu entdecken, eine doppelte Deutung entsteht – von Weitem und von Nahem betrachtet. Die Distanz bietet einen anderen Blickwinkel und der Künstler warnt vor Vorurteilen.