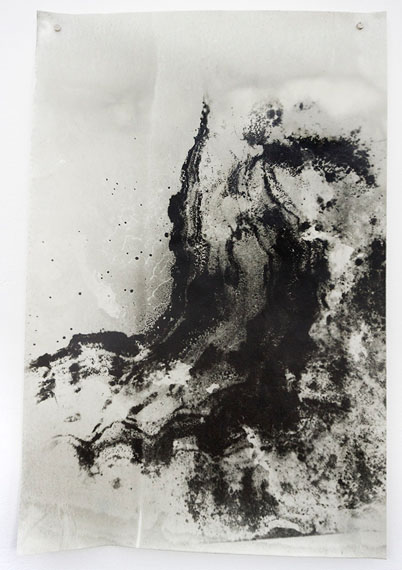 sporenland
Exhibition: 23 Nov – 9 Dec 2018
Thu 22 Nov 19:00

fotodiskurs
Bergstr. 12-1
86199 Augsburg
+49 (0)821-6507180
mail@fotodiskurs.info
www.fotodiskurs.info
Thu-Sun 17-19+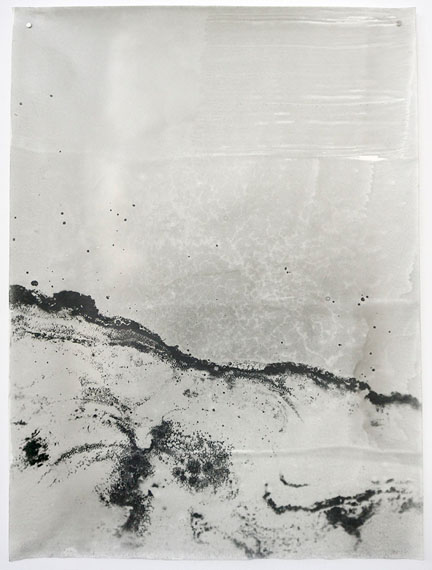 Sayako Sugawara
"sporenland"

Exhibition: 23 November – 9 December, 2018
Opening: Thursday, 22 November, 7pm
fotodiskurs presents sporenland, the frst solo exhibition in Germany of the London based artist Sayako Sugawara.

Via a family friend in Graz, Austria, she came across a photo archive dating back over 100 years: around 300 glass negatives by alpine photographer Heinrich Schildknecht (1848 Hamburg - 1959 Graz). The negatives had sufered from mould and water damage. As the marks left by these natural processes were examined they appeared to create new landscapes, strangely referring back to the original content of the images created by Heinrich Schildknecht.

Intrigued by the drawing-like efect of how the marks evoke traditional Chinese and Japanese landscape ink paintings, Sugawara printed these on the Japanese paper made for such paintings, coating each sheet with photo emulsion by hand.

Sayako Sugawara uses photographic process to investigate the impact of chance encounters with objects on memory and emotions. Her working process follows the cognitive associations generated by these encounters until new entities begin to form.

Sporenland is the frst edition of the work made as a result of these encounters with Heinrich's glass negatives, further editions and investigations are planned.

fotodiskurs, as part of the artist's workshop of Christof Rehm, is a place for artistic photography and for dialogue about photography in Augsburg, Germany. In the exhibitions the works of a photo artist are always confronted by a single work of a diferent artist.

To keep the discourse going there are further events, which take up, deepen, expand and look at the current topic from diferent perspectives. Therefore not exhibitory artists exchange their views about the presented art in the 'Jour fxe' (9 December, 2018, 5pm).

Again a booklet, edited by Wolfgang Mennel and Christof Rehm, with literary and visual food for thoughts, showing not only the photographs but also excerpts of diferent sources (this time with Bisson Frères, Hiroshige, Franz von Stuck and others), is released to go with the exhibition.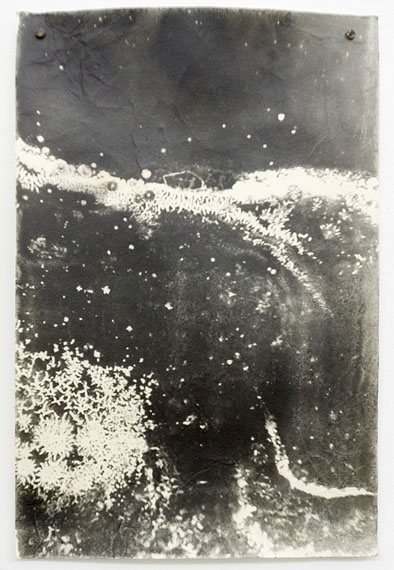 Sayako Sugawara
"sporenland"

Ausstellung: 23. November bis 9. Dezember, 2018
Eröffnung: Donnerstag, 22. November, 19 Uhr
fotodiskurs zeigt mit "sporenland" die erste Einzelausstellung der in London lebenden Künstlerin Sayako Sugawara in Deutschland. Durch einen Freund der Familie stieß sie in Graz auf ein über hundert Jahre altes Fotoarchiv von etwa 300 Glasnegativen des Bergfotografen Heinrich Schildknecht (1848 Hamburg – 1959 Graz).

Diese Negative sind durch Wasser und Schimmel stark in Mitleidenschaften gezogen. Bei genauerem Hinsehen erkannte Sugawara, dass sich durch diese Aufösungsprozesse landschaftsgleiche Formen zeigen, die mit den ursprünglichen Motive der Fotografen korrespondieren. Gefesselt von den zeichnungsartigen Gebilden, die wie traditionelle Chinesische oder Japanische Tuschmalerei erscheinen, vergrößert Sugawara diese auf Japanpapier. Dafür beschichtet sie von Hand eben solche Papiere, wie sie für die Tuschmalerei traditionell verwendet werden, um im Dunkelkammerprozess ihre Bilder zu generieren. Inspiriert vom Oval des fotodiskurses kombiniert sie die einzelnen Blätter in ihrer Installation zu einem Bergpanorama von schwebender Leichtigkeit.

fotodiskurs, eigentlich ein Atelierraum von Christof Rehm, ist ein Ort für künstlerische Fotografe und für Gespräche über Fotografe in Augsburg. In den Präsentationen wird den ausgestellten Werken eines Fotokünstlers ein einzelnes Werk eines anderen Künstlers gegenübergestellt. Um den Diskurs im Fluss zu halten, gibt es weitere Veranstaltungen, die das jeweilige Thema aufgreifen, vertiefen, erweitern und von verschiedenen Seiten beleuchten. Dazu gehört beispielsweise der "Jour fixe" (9. Dezember, 17 Uhr).

Auch zu dieser Ausstellung erscheint wieder ein von Wolfgang Mennel und Christof Rehm herausgebrachtes Heft, das neben den Fotografen weitere Bilder und Textbeiträge z.B. von Hiroshige, den Brüdern Bisson oder Franz von Stuck versammelt und Anstoß gibt zum Weiterdenken.