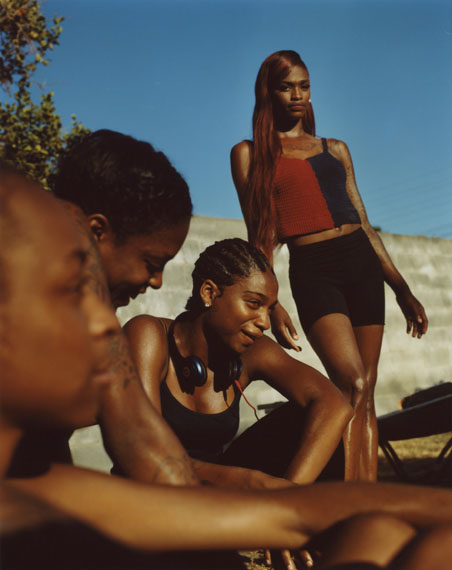 Foam Talent photographers 18/19
20 photographers selected for Foam Magazine Talent issue
New issue:
Sat 1 Dec 20:00

Foam Fotografiemuseum Amsterdam
Keizersgracht 609
1017 DS Amsterdam
+31 (0)20-5516500
pressoffice@foam.org
www.foam.org
Sat-Wed 10-18 . Thu, Fri 10-21
Foam Talent: announcing selected photographers
20 photographers selected for Foam Magazine Talent issue

Foam is delighted to announce the names of the 20 young artists, whose work will feature in the upcoming Foam Magazine #52: Talent, which will be published in December 2018. Successively, in 2019 the Foam Talent Programme with talks, events and a large-scale presentation will travel internationally to San Francisco, New York, London, Paris and Frankfurt.
Each year, Foam invites photographers to submit their portfolios via the Talent Call, an international search for exceptionally talented photographers under the age of 35. Selected photographers gain international exposure and recognition within the photography industry through a number of career-building opportunities offered by Foam, including publication in Foam Magazine, participation in a travelling group exhibition. and the opportunity for their work to be added to the prestigious Art Collection Deutsche Börse of the Deutsche Börse Photography Foundation in Frankfurt, funding partner of the programme. This year Foam received 1853 portfolio's from 74 different countries including new entries like Somalia, Mozambique, Lebanon and Angola.
The selected photographers for Foam Magazine #52: Talent are:
Florian Amoser (Switzerland), He Bo (China), Valentine Bo (Ukraine), Maisie Cousins (United Kingdom), Sylvain Couzinet-Jacques (France), Jalan&Jibril Durimel (France), Sophie Gabrielle (Australia), Eric Gyam133984fi (Ghana), Thomas Hauser (France), Gregory Eddi Jones (USA), Stelios Kallinikou (Cyprus), Takashi Kawashima (Japan), Dima Komarov (Russia), Lilly Lulay (Germany), Jaya Pelupessy (The Netherlands), Daniel Shea (USA), Senta Simond (Switzerland), Salvatore Vitale (Italy), Carmen Winant (USA) and Chen Zhe (China).

STATE OF AFFAIRS IN PHOTOGRAPHY
For the editors of Foam Magazine and the curators of Foam the Talent Call is one of the central sources to navigate the state of contemporary photography. The submissions, coming from all over the world, create a map of the ever changing, and very well alive, photographic medium. Again, the selection committee was pleased by the wide variety and high quality of all submissions. Next to floating trends and tendencies, artists keep on focusing steadily on social, political and environmental concerns very often intertwined with identity and personal representations. Today's emerging photographers keep crossing the borders with striking ease. The making of classic two-dimensional representations is interchangeable with object installations, making the experience of the work as important as its vision. Archival materials and camera-less imagery keep having a very important role in the creation process, together with multi-layered long-term researches.

PUBLICATION
In the next months the editors of Foam Magazine will work with the 20 artists to select works from their portfolios and devote an issue of the magazine to these talented photographers. Foam Magazine #52: Talent, featuring this work will be published early December 2018.

TALENT STAMP
For selected photographers, the ''Talent stamp' functions as a springboard for the international photo industry, earning them global recognition and praise. This is the 12th Foam Talent Call. Previous Foam Talents are Lucas Blalock, Raphaël Dallaporta, Jessica Eaton, Sam Falls, Melinda Gibson, Noémie Goudal, Ina Jang, Shane Lavalette, Alex Prager, Peter Puklus, David Benjamin Sherry and Daisuke Yokota amongst others.
> Check the video here
> Check website
> Check past Foam Magazine Talent Issues here