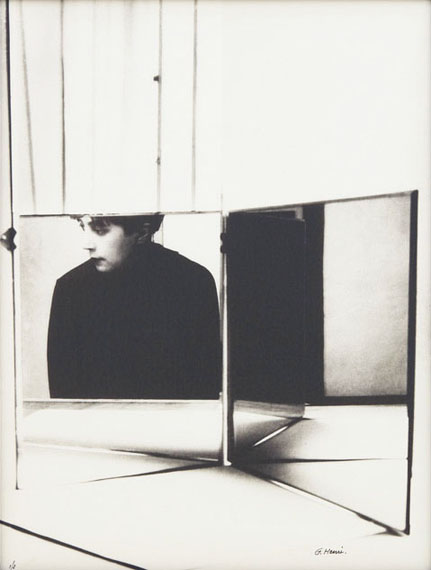 REFLECTING BAUHAUS: Photographs & Paintings
Exhibition: 28 Mar – 18 May 2019

Atlas Gallery
49 Dorset Street
W1U 7NF London
+44 (0)20-72244192
info@atlasgallery.com
www.atlasgallery.com
Mon-Fri 10-18 . Sat 11-17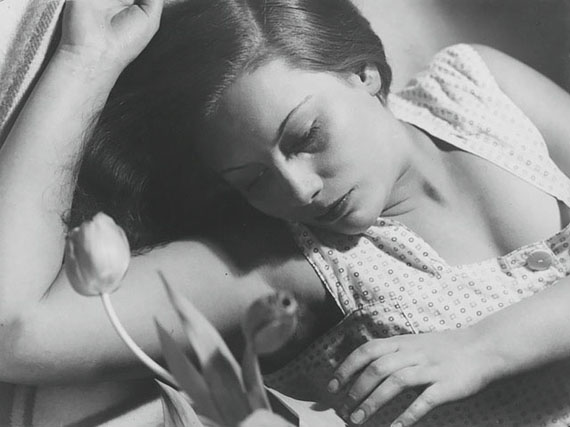 Florence Henri
"Reflecting Bauhaus"
Photographs and Paintings

Exhibition: 28 March – 18 May 2019
Atlas Gallery is pleased to present an exhibition of photographs and paintings by Bauhaus artist and photographer Florence Henri (1893-1982). Florence Henri's work has featured in major institutional exhibitions worldwide, but this is the first time in many years that such a large body of the artist's work is available for sale.

Despite enjoying considerable popularity in the 1920s and 1930s, Henri's work was forgotten until it resurfaced through a fortuitous series of discoveries in the mid-1970s that led to a thorough study of her work and the creation of her archive.

Henri trained first as a pianist in Rome and then as a painter under Fernand Léger, from whom she adopted the visual language of Cubism. At the Bauhaus in Weimar in 1924, she was also taught by Paul Klee and Wassily Kandinsky. Henri enrolled at the Bauhaus school of art, design and architecture in Dessau in 1927 at which point she turned solely to photography. With the encouragement of Hungarian constructivist artist László Moholy-Nagy (1895-1946) and his wife, Lucia Moholy (1894-1989), she explored the latest art movements – Constructivism, Surrealism, Dadaism and De Stjil. Henri experimented with 'New Vision' photography as practised by Moholy-Nagy, Man Ray and Aleksander Rodchenko. The influence of her association with El Lissitzky and Piet Mondrian was also significant and is reflected her grid-like compositions of this period (1928-29).

Henri quickly became one of the most celebrated photographers associated with the Bauhaus, appearing in seminal exhibitions such as Film und Foto at Stuttgart in 1929. Displayed among other of her remarkable contemporaries including: Moholoy-Nagy, Kurt Schwitters, Hans Richter, Germaine Krull, Man Ray, Cecil Beaton and many more, it was Henri and Krull who were singled out as true avant-garde photographers. Henri was also included in Foto Auge, edited by Franz Roh, one of the most important works on 20th-century photography.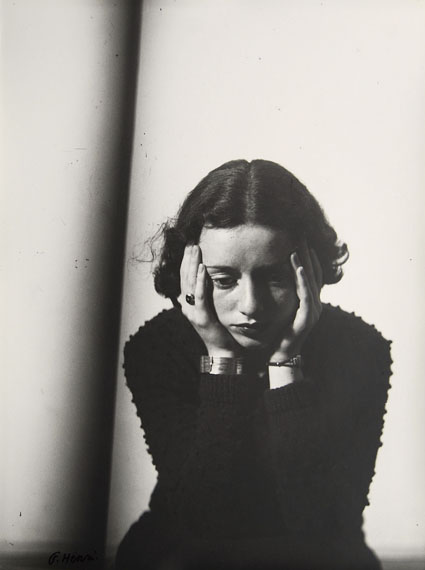 Henri subverted the formal elements of photography to construct the image surface at will. Between 1928 and the late 1930s, Henri produced her most celebrated works, often using mirrors to manipulate reality to create multifaceted works that expanded the conventional spatial planes and, in doing so, the identity of her subjects. Henri used mirrors for portraits of friends – including Jean Arp, Nelly Van Doesburg, Sonia Delaunay, Wassily Kandinsky, Fernand Léger and Margarete Schall – as well as self-portraits.

In 1929, Henri left the Bauhaus and returned to Paris to open a studio and school of photography. She produced many still life collages, sensual female nudes that included natural elements such as shells and plants, and a major series of photomontages based on prints she obtained on a trip to Rome. Many of her pupils went on to become renowned photographers: Gisèle Freund, Ilse Bing and Lisette Model. Henri herself gave up photography and returned to painting in the 1950s-60s, when she moved to Picardie where she lived until her death in 1982. A selection of her paintings from this period will be on display.

Henri's photographs were included in seminal international exhibitions, such as Fotografie der Gegenwart (1929), and Das Lichtbild (1931), as well as Film Und Foto (1929) that positioned her at the heart of the development of avant-garde photography of the era. Recently she has featured in museum exhibitions including MoMA (the first in 2007, the most recent in 2015), at the Centre Pompidou (2010) and in a major retrospective, Mirror of the Avant-Garde, at the Musée du Jeu de Paume in 2012 that included 130 images from her archive. Henri was also included in the Tate exhibition, Shape of Light (2018).