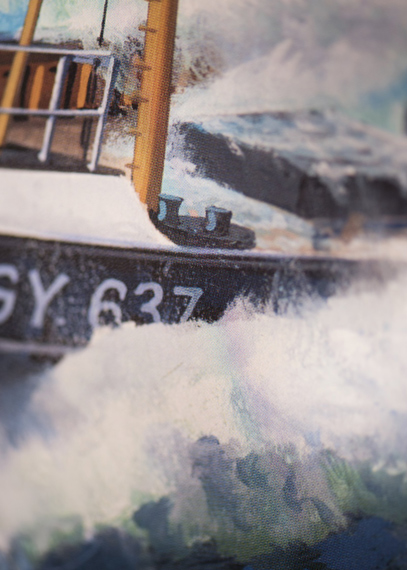 CHARISMA
Exhibition: 21 Jun – 17 Aug 2019
Wed 19 Jun 20:00

Galerie—Peter—Sillem
Dreieichstr. 2
60594 Frankfurt
+49 69-61995550
info@galerie-peter-sillem.com
www.galerie-peter-sillem.com
Wed 10-16, Thu 10-18, Fri 10-16, Sat 14-16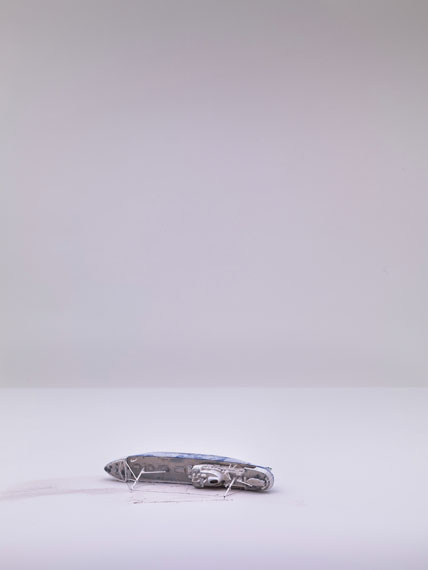 Malte Sänger
"CHARISMA"

Exhibition: 21 June — 17 August, 2019
Opening reception: Wednesday, 19 June, 6—8 pm

Introduction: Anne-Marie Beckmann, Deutsche Börse Photography Foundation
Malte Sänger is interested in the traces people leave behind in their lives. His latest photographic work, "CHARISMA", is based on the discovery of a can of tinned fish. In addition to the standardized code of origin, he also found the name of the fishing vessel CHARISMA on it. It turned out that the batch from which the can came was the last one the ship brought ashore before any trace of the vessel's whereabouts disappeared in the vast North Sea. Suddenly, the mass product of an exploitative consumption became the relic of the last signs of human life.

In his work "Partition", which will be shown in its entirety for the first time in this exhibition, Malte Sänger shows photographs of 19 hard drives that he bought at commodity prices. Restored, the hard drives turned into a treasure trove for the private, for worries, hardships, e-mails, sexual fantasies, medical findings — information of an immense quality that fundamentally opposes the trivial materiality of the data carrier.

Malte Sänger (born 1987) studied photography at the Hochschule für Gestaltung in Offenbach with Martin Liebscher and philosophy and aesthetics with Juliane Rebentisch (Diploma 2018). He is a 2018/19 prize winner for "Gute Aussichten - New German Photography". In 2015 he received the Deutsche Börse Photography Foundation and HfG Award. For his book "Shifting Baselines" he was awarded the German Photo Book Prize 2018/19 in silver.

Malte Sänger's works can already be found in various collections, including the Art Collection of the Deutsche Börse Photography Foundation and the Klingspor Museum Offenbach. He has also been awarded various scholarships and residencies, such as the Johannes Mosbach Foundation and the Frankfurter Künstlerhilfe, a catalogue grant from the Dr. Marschner Foundation, the second prize of the Marianne Brandt Competition, and the Casa Piccola Residency in Colloro, Italy, 2018.

Anne-Marie Beckmann is an art historian and curator. Since August 2015 she has been Director of the Deutsche Börse Photography Foundation.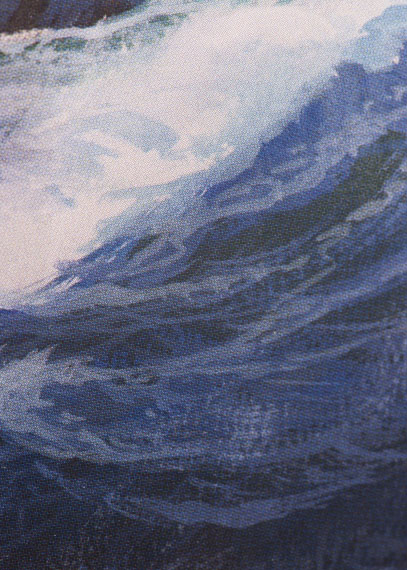 Malte Sänger
"CHARISMA"

Ausstellung: 21. Juni bis 17. August 2019
Eröffnung: Mittwoch, 19. Juni, 18—20 Uhr

Einführung: Anne-Marie Beckmann, Deutsche Börse Photography Foundation
Malte Sänger interessiert sich für die Spuren, die Menschen in ihrem Leben hinterlassen. Seine neueste Fotoarbeit CHARISMA basiert auf der Entdeckung einer scheinbar alltäglichen Fischkonserve. Neben dem standardisierten Herkunftscode fand er darauf auch den Namen des Fangschiffs "Charisma". Es stellte sich heraus, dass die Charge, aus der die Dose stammte, die letzte war, die das Schiff an Land brachte, bevor sich jede weitere Spur der "Charisma" in den Weiten der Nordsee verlor. Plötzlich wurde das Massenprodukt eines ausbeuterischen Konsums zum letzten Zeichen menschlichen Lebens.

In seiner Arbeit "Partition", die in dieser Ausstellung erstmals vollständig zu sehen ist, zeigt Malte Sänger Fotografien von 19 Festplatten, die er zu Rohstoffpreisen gekauft hatte. Wieder hergestellt, wandelten sich die Festplatten zu einer Fundgrube für Privatestes, für Sorgen, Nöte, E-Mails, sexuelle Phantasien, Krankheitsbefunde, Kontodaten von Menschen — Informationen von einer immensen Qualität, die der trivial gewordenen Materialität des Datenträgers fundamental entgegen steht.

Malte Sänger (Jg. 1987) studierte an der Hochschule für Gestaltung in Offenbach Fotografie bei Martin Liebscher und Philosophie und Ästhetik bei Juliane Rebentisch (Diplom 2018). Er ist Preisträger 2018/19 bei "Gute Aussichten — Junge deutsche Fotografie". 2015 erhielt er den HfG Fotoförderpreis der Deutsche Börse Photography Foundation, für sein Buch "Shifting Baselines" wurde er mit dem Deutschen Fotobuchpreis 2018/19 in Silber ausgezeichnet.

Malte Sängers Werke befinden sich bereits in verschiedenen Sammlungen, so u.a. in der Kunstsammlung der Deutsche Börse Photography Foundation und im Klingspor Museum Offenbach. Zusätzlich zu den erwähnten Preisen ist er mit verschiedenen Stipendien und Künstlerresidenzen ausgezeichnet worden, so z.B. mit den Stipendien der Johannes-Mosbach-Stiftung und der Frankfurter Künstlerhilfe, einer Katalogförderung der Dr.-Marschner-Stiftung, dem 2. Preis des Marianne-Brandt-Wettbewerbs und der Künstlerresidenz Casa Piccola in Colloro, Italien, 2018.

Anne-Marie Beckmann ist Kunsthistorikerin und Kuratorin. Seit August 2015 ist sie Direktorin der Deutsche Börse Photography Foundation.