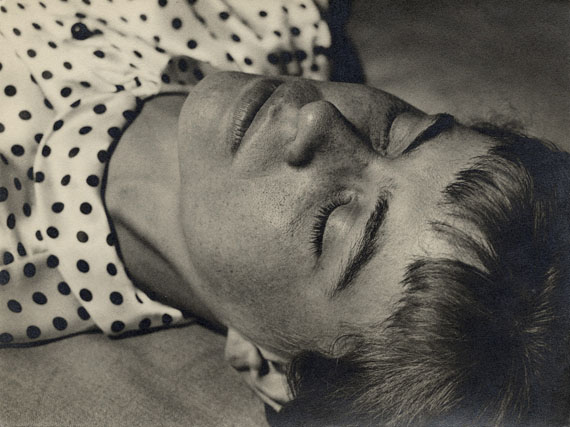 Schule des Sehens / School of Seeing
Exhibition: 22 Jun – 10 Aug 2019
Fri 21 Jun 18:00

Galerie Julian Sander
Cäcilienstr. 48
50667 Köln
+49 (0)221-170 50 70
galerie@galeriejuliansander.de
www.galeriejuliansander.de
Tue-Fri 12-18, Sat 12-16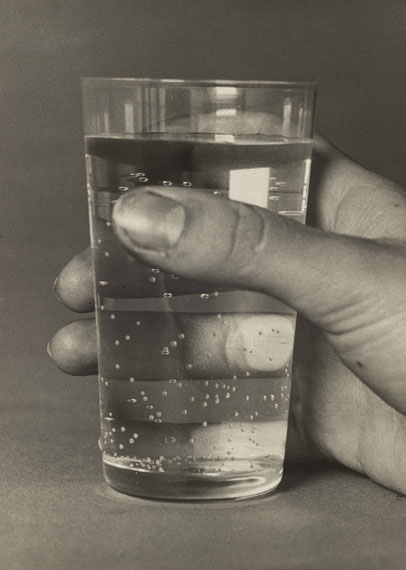 Elfriede Stegemeyer
"Schule des Sehens"

Exhibition: 22 June – 10 August, 2019
Opening: Friday, 21 June, 6-9pm
On the occasion of the 100th anniversary of BAUHAUS, Gallery Julian Sander presents a selection of photographs by the artist Elfriede Stegemeyer. Under the title "Schule des Sehens" ("School of Seeing"), Stegemeyer's photographs will be accompanied by works of some of her companions, who will give insight into her life and work. Elfriede Stegemeyer's interest in everyday objects, their formative and creative potential, as well as material structures and connections, form the core of her photographic oeuvre. She explored new ways of seeing by, for example, playing with different perspectives or close-up views. During her six-year involvement with the medium of photography Elfriede Stegemeyer developed a remarkable intellectual continuity and artistic expression.

Her preference for the Bauhaus came from the admiration for the work of Herbert Bayer, who taught master-classes at the Bauhaus until 1928. Due to the escalation of the political situation and the associated hostility against the Bauhaus Dessau, she studied Photography at the Staatliche Kunstschule Berlin from c. 1930. In 1932 she followed Otto Coenen to Cologne and began studying at the Kölner Werkschulen. The close contact, but also the intellectual and artistic exchange with the Kölner Progressiven (Cologne Progressives), as well as the study of the magazine a bis z (a to z) had a strong influence on her live and work, unfolded her constructivist image concepts and also aroused her joy of experimentation.

The encounter with the photographer Raoul Hausmann in Paris in 1935 was both formative and private. During Stegemeyer's and Hausmann's time together in Ibiza, they took pictures of the island, especially of the island's architecture. Elfriede Stegemeyer was inspired by Hausmann's interest in regional architecture, and their close collaboration strengthened her sense of ethnological peculiarities. Her attention lay more on the formal and surface language of the buildings, which she juxtaposes with her nature photographs in an almost philosophical way. That brings up their structural similarities in a graphic-artistic way. This reflects her interest in constructivist vision, which stands in contrast to Hausmann's rather documentary style. This is also evident in later further processed shots of prickly pears, which are assembled into surrealist, constructively inspired montages (o. T. (Kakteen), 1937). Also preserved is a photo album "Original Photos Ibiza", which will be accessible during the exhibition in digital form.

The series of glasses Elfriede Stegemeyer produced between 1934 and 1938 represents an important development in her work. Industrially manufactured everyday objects, which are given a sculptural and often abstract aesthetic by a specific play with light, shadow and perspective, are examples of Stegemeyer's photographs, as well as pictures like "Orange, 1933". The leitmotiv of this "still life" is the interplay of space and surface as well as surface structures and a linear background.

The title of this exhibition "Schule des Sehens" not only describes the title of an unpublished book of the series of glasses, but can also be considered a heading for her entire photographic work.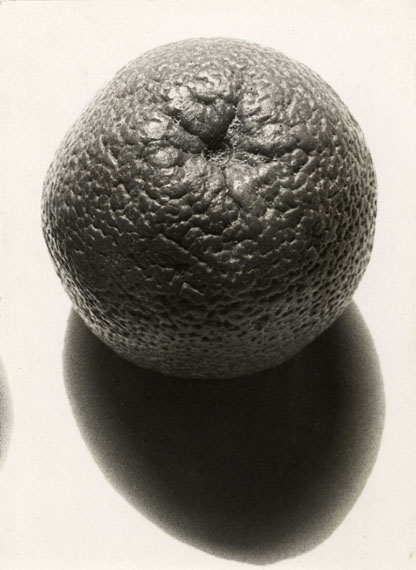 Elfriede Stegemeyer
"Schule des Sehens"

Ausstellung: 22. Juni bis 10. August 2019
Eröffnung: Freitag, 21. Juni, 18-21 Uhr
Anlässlich des 100-jährigen BAUHAUS Jubiläums zeigt die Galerie Julian Sander eine Auswahl an Fotografien der Künstlerin Elfriede Stegemeyer. Unter dem Titel "Schule des Sehens" werden neben Stegemeyers Fotografien auch Werke ihrer Wegbegleiter zu sehen sein, die einen kleinen Einblick in ihr Leben und Werk geben. Elfriede Stegemeyers Interesse für Alltagsgegenstände, deren Form- und Gestaltungspotential, sowie auch materielle Strukturen und Verbindungen bilden den Kern ihres fotografischen Œuvres. Sie ergründete neue Sehweisen in der Fotografie, indem sie beispielsweise mit unterschiedlichen Perspektiven oder der Nahansicht spielte. Während ihrer 6-jährigen Beschäftigung mit dem Medium Fotografie entwickelte Elfriede Stegemeyer eine beachtliche intellektuelle Kontinuität und künstlerische Ausprägung.

Ihre Vorliebe für das Bauhaus kam aus der Bewunderung für die Arbeiten von Herbert Bayer, der bis 1928 Meister am Bauhaus war. Aufgrund der Zuspitzung der politischen Lage und der damit einhergehenden Anfeindungen gegen das Bauhaus Dessau, studierte sie jedoch ab c. 1930 Fotografie an der Staatlichen Kunstschule Berlin. 1932 folgte sie Otto Coenen nach Köln und begann dort ein Studium an den Kölner Werkschulen. Der enge Kontakt, aber auch der geistig-künstlerische Austausch mit den Kölner Progressiven, sowie das gründliche Studium der Zeitschrift a bis z hatten einen starken Einfluss auf ihr Leben und Werk, entfalteten ihre konstruktivistischen Bildvorstellungen und weckten ihre Experimentierfreude.

Prägend war die Begegnung mit dem Fotografen Raoul Hausmann in Paris im Jahre 1935 in fotografischer wie auch privater Hinsicht. Während Stegemeyers und Hausmanns gemeinsamer Zeit auf Ibiza sind einige Aufnahmen der Insel, vor allem der inseltypischen Architektur, entstanden. Elfriede Stegemeyer ließ sich von Hausmanns Interesse für die regionale Architektur inspirieren und durch die enge Zusammenarbeit verstärkte sich ihr Sinn für ethnologische Eigentümlichkeiten. Ihre Aufmerksamkeit lag dabei mehr auf der Formen- und Flächensprache der Gebäude, die sie auf fast philosophische Weise ihren Naturaufnahmen gegenüberstellt. Auf eine grafisch-künstlerische Art werden so deren strukturelle Gemeinsamkeiten aufgezeigt. Hier spiegelt sich ihr Interesse für das konstruktivistische Sehen wider, was dem eher dokumentarischen Stil Hausmanns gegenübersteht. Dies wird auch in später weiterverarbeiteten Aufnahmen von Feigenkakteen deutlich, die zu surrealistisch, konstruktiv inspirierten Montagen zusammengefügt sind (o. T. (Kakteen), 1937).

Eine wichtige Entwicklung in Elfriede Stegemeyers Werk stellt zudem die Werkreihe von Gläsern dar, die sie zwischen 1934 und 1938 anfertigte. Diese Reihe von industriell hergestellten Alltagsgegenständen, denen, durch gezieltes Spiel mit Licht und Schatten und der Perspektive, eine skulpturale und oft auch abstrakte Ästhetik verliehen wird, stehen beispielhaft für Stegemeyers Sachaufnahmen, wie auch "Apfelsine, 1933". Leitmotiv dieser "Stillleben" ist das Wechselspiel von Raum und Fläche sowie von Oberflächenstrukturen und geradlinigem Untergrund.

Der Titel dieser Ausstellung "Schule des Sehens" beschreibt nicht nur den Titel eines nicht veröffentlichten Buches der Gläser-Serie, sondern kann auch als Überschrift für ihr gesamtes fotografisches Werk betrachtet werden.