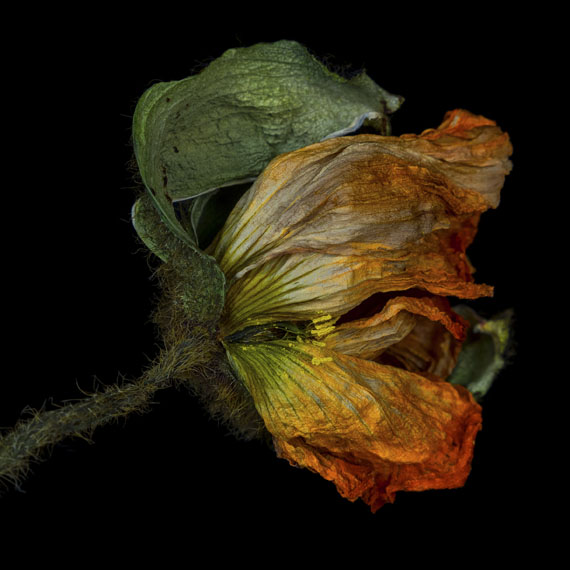 LUMINESZENZEN
Exhibition: 13 Jul – 14 Sep 2019
Fri 12 Jul 19:00

Galerie Springer Berlin
Fasanenstr. 13
10623 Berlin
+49 (0)30-3157220
office@galeriespringer.de
www.galeriespringer.de
Tue-Fri 12-18, Sa 12-15 +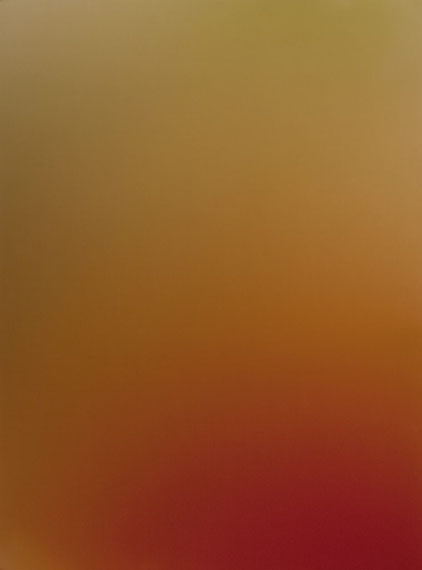 "LUMINESZENZEN"
Maria Jauregui Ponte & Kathrin Linkersdorff

Exhibition: 13 July – 14 September, 2019
Opening: Friday, 12 July, 7pm
With the exhibition "LUMINESCENCES", Galerie Springer Berlin is introducing two artists who will be expanding the gallery's programme from now on. The two photographers complement each other in the exhibition in an impressive way. Both have been working and experimenting with light and shadow, and colour and darkness for many years. The results of this process are to some extent very different, but they come together in a stunning combination in the exhibition.

In the group of works Überstrahlungen (Overexposures), Maria Jauregui Ponte has worked without a camera. The artist has exposed photographic paper in a specially built dark box with colourful light sources, producing unique photographs that are reduced to an interaction of colour tone, brightness and saturation, and in their colourful abstraction are reminiscent of the monochromatic colour surfaces in Mark Rothko's paintings. (excerpt from a text by Barbara Esch Marowski)

Ponte plays with light - and (almost) blindly! This creates images in which colors, lights and lines of light arise a mysterious world. However, her work is the result exactly planned photographic processes. While the Überstrahlungen series has emerged in the laboratory without the use of a camera, the group of works entitled Nachtgestalten (Figures of the Night) features camera shots. Inspired by the darkness of the photo lab, the artist has gone out to take photographs at night, the natural motifs illuminated solely by torchlight. Although darkness dominates the pictures, bifurcations are visible: you see the green, brown or yellow of nature; you recognise earthiness, grassiness and the reflections of bluish or violet light. These fleeting creatures of the night are hard to discern: blades of grass evoke small fireflies or dancing elves; leaves evoke bats frozen in fear or forest spirits. The pictures develop their own secret life – in the viewers themselves. (excerpt from a text by Dr. Katharina Hausel)

The exhibition is also showing works from Jauregui Ponte's 2019 series Phosphor (Phosphorus). In ancient Greek, phosphorus means "light-bearing". The light bearer in this case is a luminescent foil again lit up by torchlight. "In a darkened room, I use the light from the torch to draw pictures on the foil, as with a pen on paper. As soon as the torch is off, these images continue to radiate before gradually disappearing within a few minutes. The short period of time in which the light drawings are visible is enough to capture the images photographically with the camera before they disappear completely and the foil can be irradiated again." The results of this experiment are fascinating, amorphous and fabulous creatures that appear to have arisen from a 1980s science fiction film.

Maria Jauregui Ponte was born in Hondarribia in the Basque Country in 1972 and has been living and working in Berlin since 1996. She came into photography as a self-taught artist, developed her skills further in internships and assistantships, and completed her training at the New School for Photography in 2013.

The photographer Kathrin Linkersdorff essentially orders her works in open series: open inasmuch as the series are continually being processed further. They are repeatedly adjusted, supplemented, "tightened up" and renewed. Rather than altering the character and expression of the individual series, this process redefines them time and again. Each series consists of a high level of coherence and through this profile has a wholly different interaction with the other series, whose focus then becomes particularly evident in the boundaries between them.

The titles WABI SABI I, II and III denote related series of photographs in which each one is dedicated to the portrait of a flower. Collectively, these works are characterised by the fact that all the plants undergo a careful drying process in the studio before being photographed. Storage and dosage of UV irradiation give the process a direction and leave traces that become visible in the pictures. Contrary to expectations, rather than indictors of resolution, these traces are instead intensive colours, filigree folds and edges, and pollen and leaf veins. The dead flowers appear more alive than ever, an effect enhanced by the deep dark and shadow-free background. The WABI SABI series are a pool of motifs and a key in equal measure.

The term "Wabi Sabi" refers to an aesthetic sensation that is a deeply rooted cultural tradition in Japan. It is neither a verbally formulated artistic concept nor a manifesto or an explanatory model, and as a title it suggests no interpretation of the photographs. Instead, it is the portraits of the wilted flowers that interpret this term for us. It is worth focusing one's attention on the interplay of glow and darkness, and to look for the shadow play that unfolds, in the truest sense of the word, between colour and form. It is the interstitial space that is the real conveyor of meaning here. A glow shines out of the deep darkness, giving the already lapsed flowers a beauty that perhaps they never possessed at the height of their bloom.

The latest series brings together the watery element that was introduced in FLORISZENZ and the grouping that characterises the works in TRIPTYCHON. The seemingly alive, dead flowers give off their colour to the life-giving water and thereby dedicate themselves to the ultimate perishing of substance. Or is it maybe resuscitation? This is a decision for the viewers to make, and they can already be surprised at how the plants' journey continues. (Text by Daniela Nicklas).

Kathrin Linkersdorff was born in Berlin in 1966 and lives and works in the city. She completed her studies in architecture in 1996. She studied in Tokyo from 1993–1995 (DAAD Foreign Exchange Scholarship). She studied photography under Robert Lyons at the Fotografie am Schiffbauerdamm school from 2006–2007.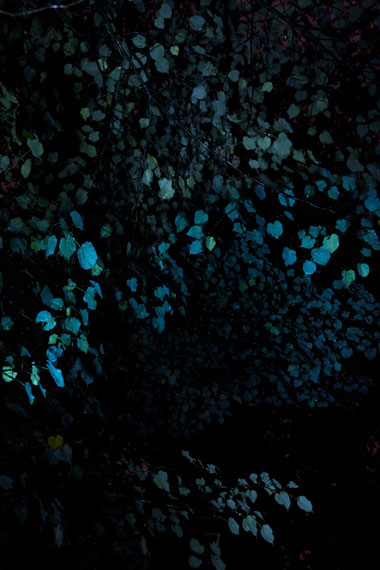 "LUMINESZENZEN"
Maria Jauregui Ponte & Kathrin Linkersdorff

Ausstellung: 13. Juli bis 14. September 2019
Eröffnung: Freitag, 12. Juli, 19 Uhr
Die Galerie Springer Berlin stellt mit der Ausstellung "LUMENISZENZEN" zwei Künstlerinnen vor, die von nun an das Programm der Galerie erweitern. Die beiden Fotografinnen ergänzen sich in der Ausstellung auf beeindruckende Weise. Beide arbeiten und experimentieren seit Jahren mit Licht und Schatten, Farbe und Dunkelheit. Die Ergebnisse dieser Prozesse, die in der Ausstellung präsentiert werden, sind im Ansatz sehr unterschiedlich, verbinden sich jedoch auf überraschende Weise zu einer Einheit.

In der Werkgruppe Überstrahlungen hat Maria Jauregui Ponte ohne Kamera gearbeitet. Die Künstlerin hat in einer extra dafür gebauten, dunklen Box mit farbigen Lichtquellen Fotopapier belichtet. Entstanden sind fotografische Unikate, die auf Farbton, Helligkeit, Sättigung im Zusammenspiel reduziert sind und in ihrer farbigen Abstraktion an die monochromen Farbflächen in der Malerei von Mark Rothko denken lassen. (Textauszug von Barbara Esch Marowski)

Während die Serie der Überstrahlungen kameralos im Labor entstehen, umfasst die Werkgruppe mit dem Titel Nachtgestalten Kameraaufnahmen. Angelehnt an die Dunkelheit im Fotolabor, begibt sich Maria Jauregui zum Fotografieren in die Nacht. In der freien Natur werden die Motive ausschließlich mit einer Taschenlampe angestrahlt. In den Aufnahmen dominiert die Dunkelheit, doch es werden Verästelungen sichtbar, man sieht das Grün, Braun oder Gelb der Natur, man erkennt Erdiges, Grasiges, bläuliche oder violette Lichtreflexe. Diese flüchtigen Wesen der Nacht sind kaum zu erfassen: Grashalme erinnern an Glühwürmchen oder tanzende Elfen, Blätter an erstarrte Fledermäuse oder Waldgeister. (Textauszug von Dr. Katharina Hausel)

Die Ausstellung zeigt daneben Arbeiten von Ponte aus der in 2019 entstandenen Serie Phosphor. In Altgriechisch bedeutet Phosphor "lichttragend". Der Lichtträger ist in diesem Falle eine nachleuchtende, phosphoreszierende Folie, die mit Licht aus einer Taschenlampe angestrahlt wurde. "In einem dunklen Raum zeichne ich Lichtbilder auf der Folie mit dem Licht der Lampe, wie mit einem Stift auf Papier. Sobald die Lampe aus ist, strahlen diese Bilder nach und verschwinden allmählich innerhalb weniger Minuten. Die kurze Zeit, in der die Lichtzeichnungen sichtbar sind reicht um die Bilder mit der Kamera fotografisch festzuhalten bevor sie ganz weg sind und die Folie wieder bestrahlt werden kann."

Das Ergebnis dieses Experimentes sind faszinierende, amorphe Fabelwesen, die einem Sciencefiction Film der 1980er Jahr entsprungen zu sein scheinen.

Maria Jauregui Ponte, 1972 im baskischen Hondarribia geboren, lebt und arbeitet seit 1996 in Berlin. Sie kam als Autodidaktin zur Fotografie, vertiefte ihr Können durch Praktika und Assistenzen und schloss 2013 ihre Ausbildung an der Neuen Schule für Fotografie ab.

Die Fotografin Kathrin Linkersdorff ordnet ihre Arbeiten grundsätzlich in offene Reihen. Offen insofern, als die Reihen kontinuierlich eine Weiterbearbeitung erfahren. Sie werden umgestellt, ergänzt, gestrafft und immer wieder erneuert. Der Charakter und Ausdruck der einzelnen Reihen wird dadurch nicht verändert, sondern immer wieder neu bestimmt. Jede Reihe hat in sich eine große Geschlossenheit und kann vermittels dieses Profiles in ganz unterschiedlichen Kontakt mit den anderen Reihen treten, deren Schwerpunkt sich in der Abgrenzung besonders deutlich zeigt. Die Titel WABI SABI I, II und III bezeichnen verwandtschaftliche Reihen von Fotografien, in denen sich jede einzelne dem Portrait einer Blume widmet. Gemeinsam zeichnet diese Arbeiten aus, dass alle Pflanzen vor der Aufnahme einen sorgfältigen Trocknungsvorgang im Atelier durchlaufen. Lagerung und Dosierung der UV-Einstrahlung geben dem Prozess eine Richtung und hinterlassen Spuren, die im Bild sichtbar werden. Wider Erwarten sind diese Spuren keine Zeichen der Auflösung sondern intensive Farben, filigrane Falten und Kanten, Blütenstaub und Blattadern. Die toten Blumen wirken lebendiger denn je, verstärkt durch einen tiefdunklen schattenfreien Hintergrund. Die WABI SABI Reihen sind Motivfundus und Schlüssel gleichermaßen.

Der Begriff Wabi Sabi verweist auf ein ästhetisches Empfinden, das in Japan als kulturelle Tradition fest verwurzelt ist. Es ist kein sprachlich gefasstes künstlerisches Konzept, kein Manifest oder Erklärungsmodell und gibt auch als Titel keine Interpretation für die Fotografien wieder. Vielmehr legen die Darstellungen der welken Blumen den Begriff für uns aus. Es lohnt sich, sein Augenmerk gezielt auf das Wechselspiel von Glanz und Dunkelheit zu legen und nach dem Schattenspiel zu suchen, dass sich im wahrsten Sinne des Wortes zwischen Farben und Formen entfaltet. Der Zwischenraum ist realer Bedeutungsträger. Aus tiefer Dunkelheit leuchtet in der Farbigkeit ein Glanz auf, der den schon vergangenen Blumen eine Schönheit verleiht, die sie vielleicht auf der Höhe ihrer Blüte nie besessen haben.

In der neuesten Reihe, wird das wässrige Element, das in FLORISZENZ eingeführt wurde und die Gruppierung, die die Arbeiten in TRIPTYCHON charakterisieren, zusammengeführt. Die lebendig erscheinenden, toten Blumen geben ihre Farbe ab an das Leben spendende Wasser und weihen sich so dem endgültigen, substanziellen Untergang. Oder ist es vielleicht eine Wiederbelebung? Diese Entscheidung muss der Betrachter treffen und darf sich schon jetzt überraschen lassen, wie die Reise der Pflanzen weitergeht. (Text von Daniela Nicklas)

Kathrin Linkersdorff, 1966 in Berlin geboren, lebt und arbeitet in Berlin. Sie schloss 1996 ihr Architekturstudium ab. 1993 – 1995 studierte sie in Tokyo (DAAD Foreign Exchange Scholarship). 2006 – 2007 Fotografiestudium am Schiffbauerdamm unter Robert Lyons.