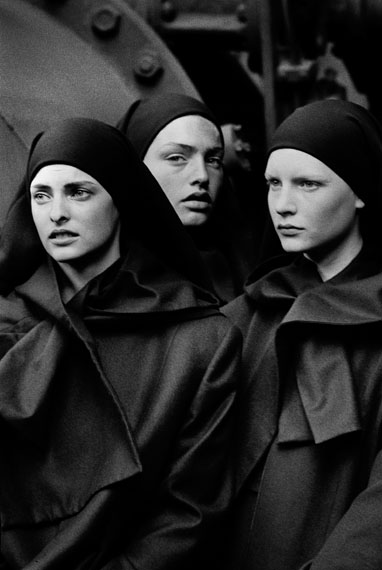 Untold Stories
Exhibition: 5 Feb – 1 Jun 2020

Kunstpalast
Ehrenhof 4-5
40479 Düsseldorf
+49 (0)211-566 42 100
info@kunstpalast.de
www.kunstpalast.de
Tue-Sun 11-18 . Thu 11-21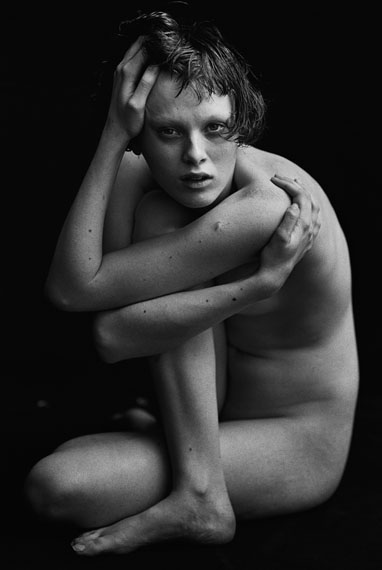 Peter Lindbergh
"Untold Stories"

Exhibition: 5 February – 1 June 2020
Untold Stories is the first ever survey exhibition curated by Peter Lindbergh himself. Born in 1944 and raised in Duisburg, the German photographer spent two years working on an uncompromising collection of 140 photographs that will offer a deep insight into his extensive oeuvre, spanning from the early 1980's to the present day. The exhibition celebrates the legacy of Peter Lindbergh, who passed away in September 2019, while showcasing this master's highly personal approach to his work. "The first time I saw my photographs on the walls of the exhibition mock-up, I was startled, but in a positive way. It was overwhelming to be thus confronted with who I am.", Lindbergh explained in an interview for the catalogue in June 2019. The show offers an extensive, first-hand look at images that are usually short-lived; being mostly commissioned and published by monthly magazines such as Vogue, Harper's Bazaar, Interview, Rolling Stone, W Magazine or the Wall Street Journal.

Lindbergh's comprehension of fashion photography was that it can – and should – exist very well without putting fashion in the centre. His images successfully transcend their own context, redefining the parameters of fashion photography and contemporary culture. "The exhibition allowed me to reconsider my images in a non-fashion context. The presentation aims to open the photographs to different interpretations and perspectives." stressed Lindbergh during the conversation. "However, I don't try to claim that my pictures aren't fashion photographs, that wouldn't be true either. I insist on the definition 'fashion photography' because for me that term doesn't mean that one has to depict fashion – photography is much bigger than fashion, it is part of contemporary culture."

The exhibition is conceived in three chapters. Two large-scale installations bookend the presentation and shed a fresh and surprising light on Lindbergh's work. Manifest, the monumental opening installation, which features several largescale bluebacks, was developed especially for the presentation and provides an immersive and thought-provoking introduction to Lindbergh's understanding of fashion photography.

In the central section of the exhibition, Lindbergh arranged the works he personally considered key to his oeuvre. He experimented with his own material and revealed new stories while staying true to his language. Both, emblematic and never before exhibited works are shown in pairs or groups that give rise to unexpected and striking interpretations.

The exhibition closes with the film installation Testament (2013), which uncovers a hitherto unknown side of the practice and character of the German photographer. Shot through a one-way mirror, the film shows the silent exchange between Lindbergh's camera and Elmer Carroll. The Florida death row inmate spent 30 minutes looking intently at his reflection – thoughtful, introspective and without significant facial animation. Shown for the first time, the Testament installation adds an unexpected layer to the exhibition and opens a discussion about subjects that were of central importance to Peter Lindbergh: introspection, empathy and freedom.

Peter Lindbergh was born in 1944 as Peter Brodbeck in what is now Leszno, Poland, a town which at the time was part of the German Wartheland. Shortly after his birth, the family moved to Duisburg, where he spent his childhood and youth. Following a short career as a window dresser in Berlin, he attended the art academy in 1962, where he studied painting. Brodbeck continued his artistic training at the Werkkunstschule in Krefeld where, in 1969, his first exhibition was held at the Galerie Denise René – Hans Mayer. It was only then that he decided to switch to photography. Initially, he trained with the commercial photographer Hans Lux in Düsseldorf, and then went on to establish his own photography studio in 1973, which he soon ran under the professional name of Lindbergh. Together with photographers Helmut Newton, Guy Bourdin, and Hans Feurer, he joined the publishing group of the magazine Der Stern. In 1978, a commission took him to Paris, where he made his breakthrough. Towards the end of the 1980s, his natural, approachable photographs of young women garnered international attention, establishing the era of the supermodel. Throughout a career spanning more than 40 years, Peter Lindbergh's photographs appeared in magazines such as Vogue, Harper's Bazaar, The New Yorker, Interview, Rolling Stone, W Magazine, and the Wall Street Journal. His work is seen in museum collections all around the world, including those of the Victoria and Albert Museum, London; the Centre Pompidou, Paris; the Metropolitan Museum Of Art, New York; as well as the Kunstpalast, Düsseldorf. Peter Lindbergh lived and worked in Paris until his death in September 2019.

The exhibition will be accompanied by a catalogue in German, English and French published by TASCHEN, comprising 320 pages, with texts by Felix Krämer, Peter Lindbergh and Wim Wenders. Retail edition: 60 €

The exhibition is sponsored by Porsche Deutschland GmbH, LUMA Foundation, Christian Dior Parfums, Pinsent Masons Germany LLP and sipgate GmbH.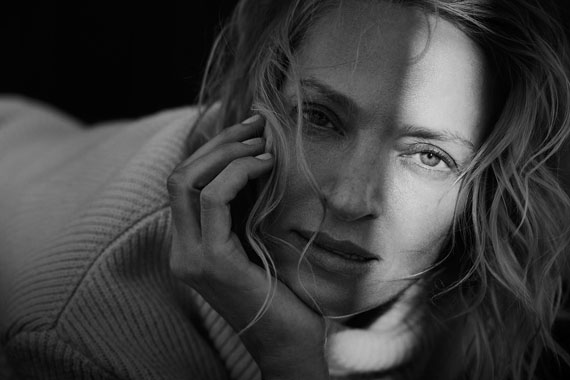 Peter Lindbergh
"Untold Stories"

Ausstellung: 5. Februar bis 1. Juni 2020
Die Ausstellung Untold Stories ist die erste von Peter Lindbergh selbst kuratierte Werkschau. Der 1944 geborene und in Duisburg aufgewachsene Fotograf hat zwei Jahre an der Präsentation gearbeitet und diese unmittelbar vor seinem Tod Anfang September 2019 fertiggestellt. Lindberghs Zusammenstellung von 140 Arbeiten aus den frühen 1980er Jahren bis in die Gegenwart ermöglicht einen eingehenden Blick auf sein umfangreiches OEuvre und lädt zum Entdecken vieler bislang unerzählter Geschichten ein. Die Ausstellung ist Lindberghs persönliches Statement zu seinem Werk. "Als ich meine Fotos das erste Mal an der Wand im Ausstellungsmodell gesehen habe, habe ich mich erschreckt, aber auch positiv. Es war überwältigend, auf diese Art vor Augen geführt zu bekommen, wer ich bin.", so Lindbergh im Juni 2019 in einem Interview, das für den Katalog geführt wurde. Ein Großteil der Aufnahmen wurde noch nie ausgestellt; andere sind von Zeitschriften wie Vogue, Harper's Bazaar, Interview, Rolling Stone, W Magazine oder dem Wall Street Journal in Auftrag gegeben und veröffentlicht worden.

In Lindberghs Bildern steht das Interesse am Menschen im Vordergrund. Mit seinen Werken ist es ihm gelungen, den unmittelbaren Kontext von Modefotografie und zeitgenössischer Kultur zu überschreiten und neu zu definieren. "Durch die Ausstellung ergab sich die Möglichkeit, ausführlicher über meine Fotos in einem anderen als dem Modekontext nachzudenken. Ziel der Präsentation ist es, die Fotos zu öffnen für andere Lesarten und Perspektiven", betonte Lindbergh im Gespräch. "Allerdings geht es mir nicht darum zu sagen, dass meine Bilder keine Modefotografie seien, denn das wäre auch falsch. Ich bestehe auf der Definition "Modefotografie", weil für mich dieser Begriff nicht bedeutet, dass man Mode abbilden muss – die Fotografie ist viel größer als die Mode selbst, sie ist Bestandteil der Gegenwartskultur."

Die Ausstellung besteht aus drei Teilen, wobei zwei großformatige Installationen den Rundgang rahmen und überraschende Perspektiven auf Lindberghs Schaffen eröffnen. Den Anfang macht die eigens für die Ausstellung entwickelte und aus Bluebacks, auf Affichenpapier gedruckte Fototapeten, bestehende monumentale Installation Manifest, die eine eindringliche Einführung in Peter Lindberghs Idee von Modefotografie darstellt.

Für den Hauptteil der Präsentation hat Lindbergh die aus seiner Perspektive essenziellsten Werke seines langjährigen OEuvres arrangiert und mit ihnen experimentiert. In der grob chronologischen Hängung legt Lindbergh immer wieder neue Geschichten frei, bleibt aber gleichzeitig seiner Sprache treu. Emblematische sowie noch nie zuvor gezeigte Arbeiten werden paarweise oder in Gruppen gezeigt und ermöglichen neue Interpretationen. Der Fotograf experimentiert mit seinen Aufnahmen und fordert seine eigenen Ikonen heraus.

Den Abschluss der Schau stellt die Filminstallation Testament (2013) dar, die eine fast unbekannte Seite des Schaffens des deutschen Fotografen offenlegt. Der durch einen Einwegspiegel aufgenommene Film zeigt eine stumme Auseinandersetzung zwischen Lindberghs Kamera und Elmer Carroll, einen in Florida zum Tode verurteilten Mörder. Carroll betrachtet 30 Minuten lang und ohne mimische Bewegung sein Spiegelbild. Die zum ersten Mal gezeigte Installation ergänzt die Ausstellung um eine unerwartete Bedeutungsschicht und stößt eine Debatte um Themen an, die zentral für Peter Lindbergh waren: Introspektion, Ausdruck, Empathie und Freiheit.

Peter Lindbergh wurde 1944 als Peter Brodbeck im heute zu Polen gehörenden Lissa im Wartheland geboren. Kurz danach siedelte die Familie nach Duisburg über, wo er seine Kindheit und Jugend verbrachte. Im Anschluss an eine kurze Karriere als Schaufensterdekorateur in Berlin, nahm er dort 1962 ein Malerei-Studium an der Akademie der Künste auf. Die künstlerische Ausbildung setzte Brodbeck an der Werkkunstschule in Krefeld fort, wo 1969 auch seine erste Ausstellung in der Galerie Denise René – Hans Mayer stattfand. Erst anschließend entschied er sich, zur Fotografie zu wechseln, die fortan sein bevorzugtes Medium wurde. Er absolvierte eine Ausbildung in Düsseldorf bei dem Werbefotografen Hans Lux und gründete anschließend 1973 sein eigenes Fotoatelier, das er bald unter dem Künstlernamen Lindbergh führte. 1978 brachte ihn ein Auftrag nach Paris. Ende der 1980er-Jahre gelang ihm der endgültige Durchbruch mit seinen natürlichen, nahbaren Porträts, welche die Ära der Supermodels begründeten. Während seiner mehr als 40-jährigen Karriere wurden Lindberghs Aufnahmen in internationalen Zeitschriften veröffentlicht. Bis zu seinem Tod im September 2019 lebte und arbeitete Peter Lindbergh in Paris.

Zur Ausstellung erscheint bei TASCHEN ein 320 Seiten umfassender Katalog mit Texten von Felix Krämer, Peter Lindbergh, Wim Wenders. Preis: 60 Euro.

Gefördert wird die Ausstellung von Porsche Deutschland GmbH, LUMA Foundation, Christian Dior Parfums, Pinsent Masons Germany LLP sowie sipgate GmbH.