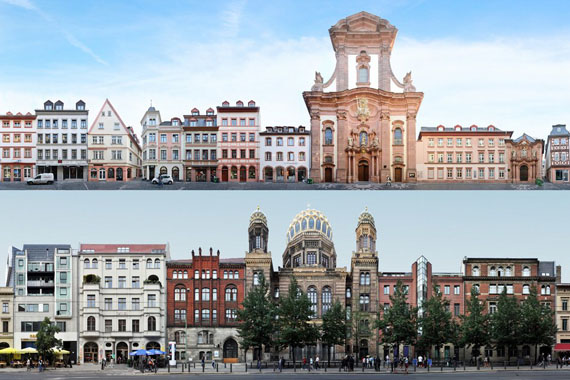 Germany Street Fronts
German cities like they have never been seen before - An exhibition touring Goethe Institutes in the USA
Exhibition: 12 Oct – 25 Oct 2019

Goethe Pop Up Houston
1824 Spring Street, Studio 1A
77007 Houston
0049-(0)152 28716619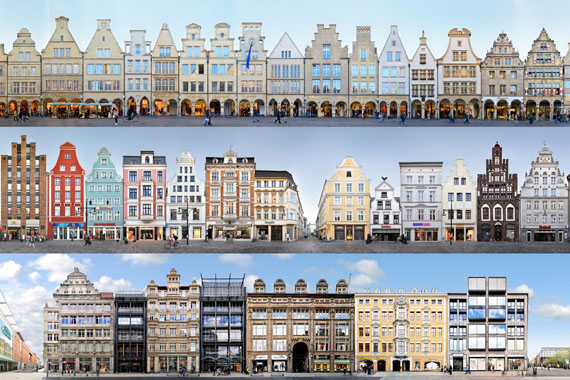 Jörg Dietrich
"Germany Street Fronts"
German cities like they have never been seen before

Exhibition: 12 - 25 October, 2019

An exhibition touring Goethe Institutes in the USA

A contribution to wunderbar together the Year of German-American Friendship
The exhibition "Germany Street Fronts" presents a new perspective on German cities. In multi-perspective streetlines the diversity and complexity of German cityscapes is demonstrated. Thereby our examples are clustered in thematic sections leading the visitor through all the regions of the country from Rostock in the north to Freiburg in the south, from Monschau in the west to Görlitz in the east.

What characterizes a modern German city?
We answer this question with about 90 panoramas taken in 40 German cities. What role does the architectural heritage play for the cityscape? How does it affect identity, attractiveness and atmosphere? What traces are left behind by all the changes through the course of time and the changes in society? How do the architectural styles from different epochs come together in the German cityscape?

By pointing out topics of sustainability and giving an overview on German contemporary building culture, different topics guide the visitor through the exhibition. What role do rivers play for German cities? Why do market places often form their center? How does industrial architecture influence them? There are panoramas showing façades of major shopping streets, leading medieval trade routes through the city and demonstrating its wealth from the past until today.

The Zöllnerstraße in Celle is an example for a typical half-timbered houses ensemble as you can often find in cities of Lower Saxony or Hesse. The Nikolaistraße in Leipzig represents the Gründerzeit (founder era) splendor of former fur traders along the Brühl. Giving an example for classical modernism, the Bauhaus Dessau is depicted in a frontal view and set into relation to buildings from Berlin or Leipzig. This is extended with prefabricated buildings from East and West Germany and contemporary examples such as the Hafen-City in Hamburg.

Multi-perspective panoramas (streetlines)
Due to the technical composition of the streetline images, the exhibition gives an extraordinary perspective of the image of a city. Rather than depicting the typical view from a single position, the panoramas are created from a series of photographs from several positions along the street. Thanks to the seamless panoramic view, the so called Streetline, the observer can wander visually along street's facades. The exhibition was already presented in Seattle and Kansas-City and will now in Houston be enhanced with streetline views from US cities.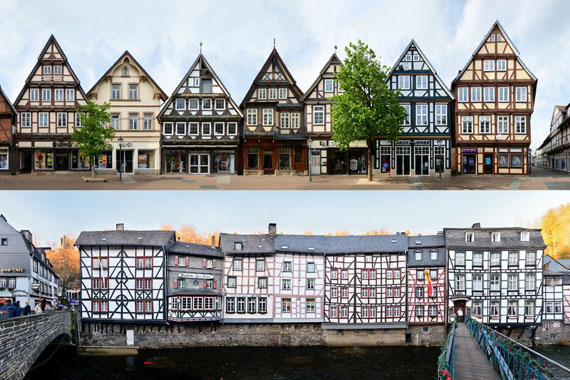 Photographs include Bayreuth, Berlin, Brunswick, Celle, Chemnitz, Crimmitschau, Dessau, Dresden, Düsseldorf, Erfurt, Essen, Frankfurt, Freiburg, Görlitz, Halle, Hamburg, Hanover, Heidelberg, Cologne, Landshut, Leipzig, Lübeck, Magdeburg, Mainz, Monschau, Mühlhausen, Munich, Münster, Nuremberg, Potsdam, Quedlinburg, Regensburg, Rostock, Schmalkalden, Sellin, Stralsund, Stuttgart, Ulm, Weimar, Werdau, Wernesgrün, Wernigerode, Wiesbaden, Zeulenroda, Zwickau.

"What is special about the Germany Street Fronts exhibition for me, is its overview and its possibility to put different cities in relation. In contrast to earlier projects, we have been able to create a free selection of cities throughout Germany. Thereby you don't just have the focus on one authentic street front, like popular examples from Münster or Munich, but you can always directly compare the characteristics from the South, the North, the West or East. What are the differences between the big cities? On the contrary, what is typical for smaller towns and can it be explained by traditions?"

"Creating these streetlines is quite time-consuming. You can easily work for more than a week on one streetline image. What always makes it exciting is the feeling to discover something completely new. Each streetline is created step by step, picture after picture, and you work your way up to something familiar – only no one has ever seen it like this before."

Jörg Dietrich, Photographer, 2019

Special thanks to the partners for supporting the project:
City of Heidelberg
City of Leipzig
Deutsche Fachwerkstrasse
UNESCO World Heritage Sites Germany e.V.
Architektenkammer Sachsen