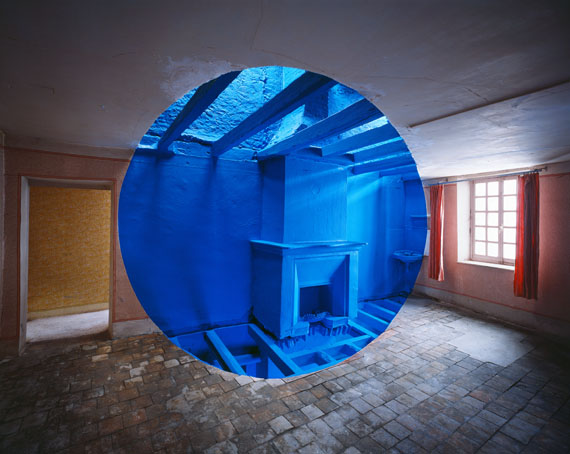 UTOPIA
Exhibition: 25 Feb – 4 Jul 2020
Sat 22 Feb 13:00 - 18:00

Galerie Springer Berlin
Fasanenstr. 13
10623 Berlin
+49 (0)30-3157220
office@galeriespringer.de
www.galeriespringer.de
Tue-Fri 12-18, Sa 12-15 +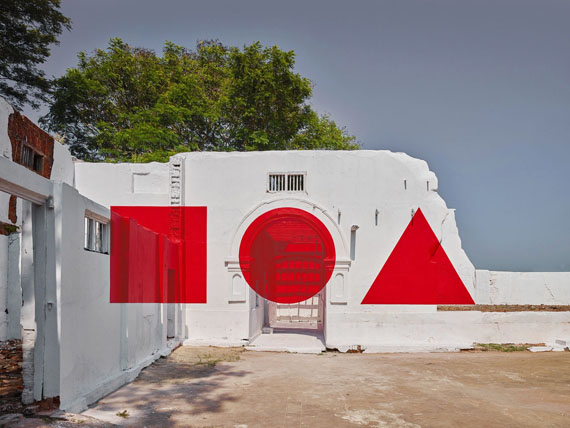 Georges Rousse
"UTOPIA"

Exhibition: 25 February – 4 July 2020
Opening: Saturday, 22 February, 1-6 pm
With the exhibition UTOPIA, Galerie Springer Berlin is presenting new works by Georges Rousse, an artist with whom the gallery has been collaborating since the start of the 1990s. The 'physical interventions' he performs in the spaces portrayed in his photographs continue to fascinate and confuse the observer. Even in the digital age, this fascination lives on. Rousse's ingenious manipulations using constructions, drawings and panting are more surprising than ever in a world where the boundaries between reality and virtual reality are increasingly blurred. Using colour, light and architectural elements, Rousse transforms the three-dimensionality of the space into a two-dimensional photographic surface. Does reality become vision or vision become reality?

Georges Rousse was born in Paris 1947. He lives and works in Paris and Nice. He received his first camera, a Kodak Brownie, as a gift when he was nine years old. Since then, the camera has never left his side. He left medical school to study photography and printing techniques. After opening his own studio, he dedicated himself to architectural photography.

Later, after discovering 'land art' and Malevich's Black Square against a white field, Rousse's relationship to photography changed, and with his unique approach he began to paint abandoned spaces: derelict spaces have long held an attraction for him. Since the early 1980s, he has been linking painting and spatial representation with photography, and from this time he has also chosen to show his photographs in a large-scale format. Rousse has since been working around the world, most recently in India, Brazil and Mexico. Since the late 1980s, his works have been shown in exhibitions and museums internationally.

He has received numerous fellowships and awards, including the Prix de Rome, Italy (1986), the Prix ICP (Institute Center of Photography), New York (1988) and the national Grand Prix for photography, France (1993). In 2008, he succeeded Sol LeWitt as associate member of the Royal Academy in Belgium. His works are included in many private and public collections around the world.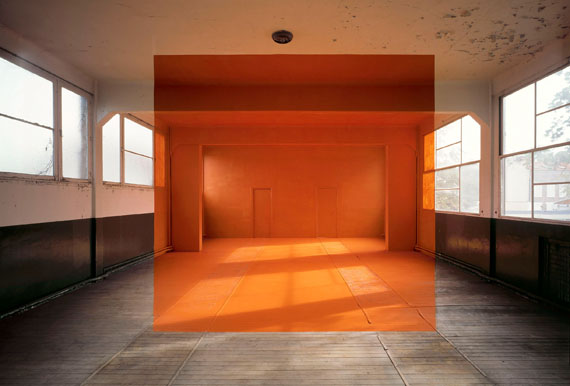 Georges Rousse
"UTOPIA"

Ausstellung: 25. Februar bis 4. Juli 2020
Eröffnung: Samstag, 22. Februar, 13 - 18 Uhr
Die Galerie Springer Berlin präsentiert mit der Ausstellung UTOPIA neue Arbeiten von Georges Rousse, mit dem die Galerie bereits seit Anfang der 1990er Jahre zusammenarbeitet. Die "physischen Eingriffe", die er in den auf seinen Fotografien abgebildeten Räumen ausübt, faszinieren und irritieren den Betrachter nach wie vor. Besonders im digitalen Zeitalter bleibt diese Faszination lebendig. Rousses geniale Manipulationen durch Konstruktionen, Zeichnungen und Malerei überraschen stärker denn je in einer Welt, in der die Grenzen zwischen Wirklichkeit und virtueller Realität immer weiter verschwimmen. Georges Rousse transformiert die Dreidimensionalität des Raums durch Farbe, Licht und architektonische Elemente in eine zweidimensionale, fotografische Bildfläche. Wird hier die Realität zur Vision oder die Vision zur Realität?

Georges Rousse wurde 1947 in Paris geboren. Er lebt und arbeitet in Paris und Nizza. Mit neun Jahren bekam er seine erst Kamera geschenkt, eine Kodak Brownie, seither ist die Fotokamera sein ständiger Begleiter. Das begonnene Medizinstudium brach er ab und studierte Fotografie und Drucktechnik. Nachdem er sein eigenes Studio eröffnet hatte, verschrieb er sich zunächst der Architekturfotografie.

Nachdem er später 'Land Art' und Malevichs schwarze Quadrate auf weißem Feld entdeckt hatte, veränderte sich seine Beziehung zur Fotografie und er begann mit seinem einzigartigen Ansatz, verlassene Räume zu bemalen. Dem Verfall preisgegebene Räume übten immer eine große Anziehungskraft auf ihn aus. Seit den frühen 1980er Jahren verknüpfte er Malerei und räumliche Darstellung mit Fotografie. Bereits zu dieser Zeit bevorzugte er großformatige Abzüge. Georges Rousse arbeitet seither auf der ganzen Welt, zuletzt in Indien, Brasilien und Mexico. Seine Arbeiten werden seit den späten 1980er Jahren weltweit in Ausstellungen und Museen gezeigt.

Er erhielt zahlreiche Stipendien und Auszeichnungen, darunter den Prix de Rome, 1986, Prix ICP (Institut für zeitgenössische Fotografie), New York, 1988 und den großen Preis der Fotografie, Frankreich, 1993. 2008 folgte er Sol LeWitt als Mitglied der Königlichen Academy in Belgien. Seine Werke sind in vielen internationalen privaten und öffentlichen Sammlungen vertreten.