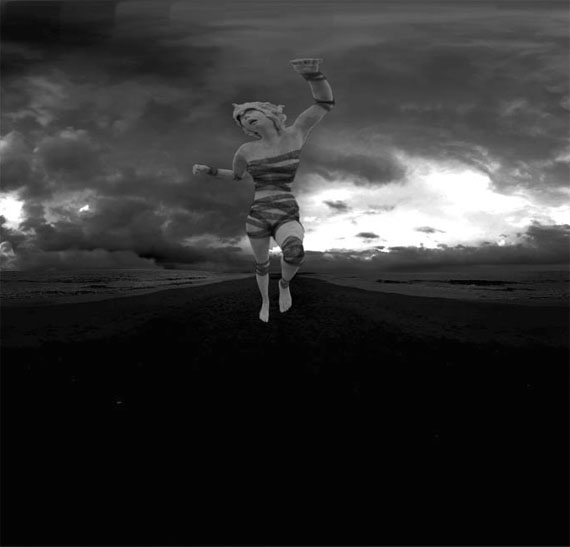 PFH* PUTAIN DE FACTEUR HUMAIN
Exhibition: 7 Mar – 26 Jul 2020
Sat 7 Mar 11:30

CNA Centre national de l'audiovisuel
1b, rue du Centenaire
3475 Dudelange
+352-522424-1
Tue-Sun 10-22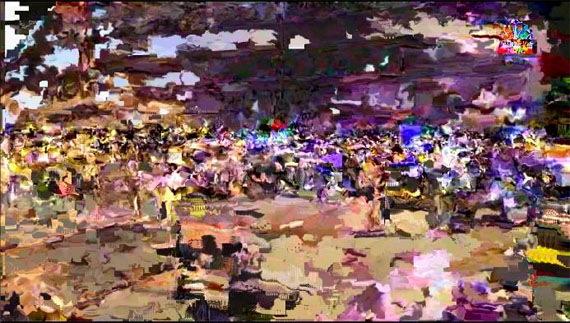 Karolina Markiewicz & Pascal Piron
"PFH* PUTAIN DE FACTEUR HUMAIN"

Exhibition: 7 March – 26 July, 2020
Opening: Saturday, 7 March, 11:30am
Karolina Markiewicz and Pascal Piron, who have been working together since 2013, extend their work on human beings and History – through the cinematographic, pictorial and plastic, even theatrical. For this piece, we enter a cinema-theater composed of paintings, projections, writings, reworked documentary images, but also synthetic images and an experience in virtual reality, created in collaboration with Gil Pinheiro. A multilingual soundtrack, written by the duo and interpreted by Elisabet Johannesdottir and Amandine Truffy, punctuates it all. The music was composed by Kevin Muhlen and is accompanied by the voice of Ásta Sigurðardóttir. Yuko Kominami, models and embodies the two goddesses, the two giants, who weave together the story of pfh*.

According to astrophysicist, Hubert Reeves, pfh "putain de facteur human" (the "fucking human factor") is what people in Quebec like to call humanity's influence on History and the world. A human being can be on the wrong side of History, when they look away from major issues or on the right side, when they recognize what is precious, and can confront themselves with these human and earthly problems, guided by images, sounds and words.

pfh* is an invitation to reflect within the human community, its body made up of actions, words as well as sounds and images.

The exhibition as a whole offers a certain distance as well as an implication. Above all, it interrogates the historical role of human beings, their profession, their heroism, but also the reason for their repetitive disengagement through monstrous ontological ruptures. A disengagement, which results in - amongst other things - slavery, colonization, massacres and the Holocaust. This industrialization of violence is embodied in the atomic bomb in Hiroshima, Nagasaki, or the genocides of Srebrenica and Rwanda. This violence is ever-present in today's atrocities committed in Syria and Yemen, the tragedy of migrants denied their humanity at European and other international borders, or within the ruthless political and economic systems that oppress and marginalize their people. Children, men and women fleeing wars and injustices that are economic, political, territorial and climate-related. However, some of the women, men or children around them are willing to face these tragedies and to become professional human beings. They do not look away. They see the suffering and injustices around them. They plant themselves right there to help. Anyone can make that choice, sacrifice their fucking human factor, refuse to comply with inhumane laws and rules, and help change individual lives and human stories that are steeped in the larger History of humanity - anyone can use their precious human factor.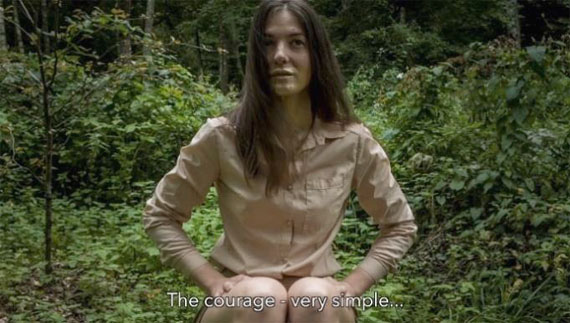 This exhibition speaks to all, young and old, as the starting point for a reflection through words and images, in all their possible shapes, guided by two giant goddesses, petrified and now resurrected - a metaphor for human duality, between selfish confrontation and generosity.

Karolina Markiewicz and Pascal Piron's collaborative work, established in 2013, creates links between film, visual arts and theatre. The individual person as part of a human community, oscillating between impermanence, resignation and hope stands at the center of their artistic approach. Karolina studied political science, philosophy, and theatre and works as a film and theatre director. Pascal studied visual arts and works as an artist and film director. In their capacities as teachers, they are also dedicated to the cultural integration and education of adolescent refugees. Their works include documentaries and artistic short films as well as virtual reality pieces.

Fever and Sublimation are their latest interactive VR works. Sublimation was in the official selection of 76. Venice International Film Festival, while Fever was presented during the European Month of Photography, at the Festival de Cannes, at VR Arles and at the Louvre auditorium in Paris in the framework of the Rencontres Internationales. Their documentary Les Formidables was released in 2013 and the poetic feature documentary Mos Stellarium (2015) was selected for the 56. Biennale di Venezia di Arte as the representative for Liechtenstein. Their ongoing project Side-Effects of Reality consists of a series of short films on history and contemporary myths: Two of these films, La Figurine and Europa im Herbst, are presented here as part of this exhibition.

More information: www.markiewicz-piron.com