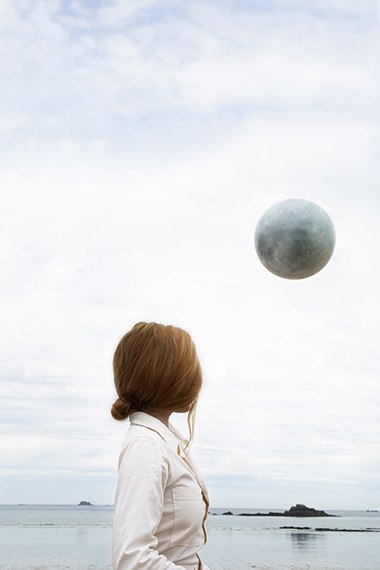 Maia Flore, d'îles en lune
Extract from the book
Exhibition: 12 Mar – 18 Apr 2020
Wed 11 Mar 18:00

Galerie Esther Woerdehoff
36 rue Falguière
75015 Paris
+33(0)9-51 51 24 50
galerie@ewgalerie.com
www.ewgalerie.com
Wed-Sat 12-19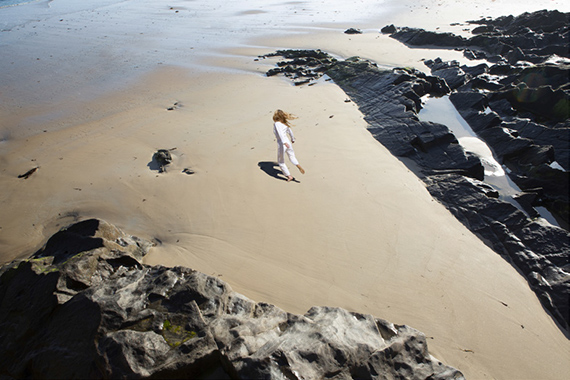 Maia Flore d'îles en lune
Extract from the book
12.03 – 18.04.2020
Wednesday 11th March 2020, from 6 pm to 9 pm Maia Flore will be signing her new book.

"Maia Flore's artistic approach is part of a search for coincidences between reality and her imagination. Her universe, created from scratch, translates into moving and bewitching images which are an invitation to share a journey into sweet utopia.

Of her encounter with Saint-Malo during the residence Territoire rèvé Bretagne, made with the poet Albane Gellé, Maia Flore has captured the impermanence of the place. What still exists? What remains in Time? The ever-changing lights, the sea and the movement of the tides with its floods of water and deserts of sand, the rocks sometimes black, sometimes sparkling... create a collection of living, elusive spaces, whose cartography is constantly being reinvented.

In her pictures, the photographer imagines a choreography where her body stands in full frame or gets lost in the immensity, as if to suspend time and catch for us a little of this evanescent magic in a land that is already no longer the same. In her depiction of Saint-Malo, Maia Flore does not recreate the space, she fills it with a gentle nostalgia and retains its almost surreal lunar landscapes from which emerges a universe as intimate as it is universal."

A member of the VU' agency, photographer Maia Flore was awarded the HSBC Prize for Photography in 2015. Her photographs and Albane Gellé's poems were taken in Saint-Malo as part of the art residency Territoire rèvé Bretagne, Photographie & Poésie, organized by association l'art à l'ouest.

The book D'îles en lune, photographs by Maia Flore and poems by Albane Gellé will be offered for sale at the gallery.
contrejour editions - 215 x 275 mm - 30 €
florence@ewgalerie.com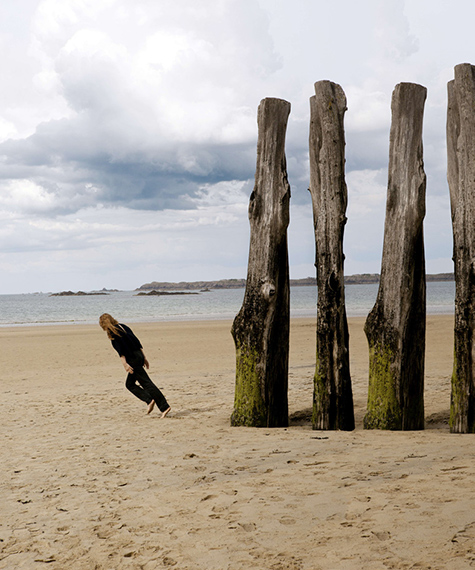 French photographer born in 1988, Maia Flore lives and works in Paris. She studied at the Gobelins School, became a member of Agence Vu and began exhibiting her works in 2011 at the Circulations Festival and at the Rencontres d'Arles. In the summer 2012, she left for a residency in Finland and started working on installations. In the following years, she pursued this research at Kala Art Institute of California-Berkeley and in various other places Taking her own person as a model, Maia Flore invents situations where her hair and her body act with the landscape or the scenery and transfigure the reality. Luminous poems, which start with sketches from memories and impressions, her photographs are filled with travel, dream and imagination. In 2015, Maia Flore became the 20th winner of the HSBC Prize for Photography, along with Guillaume Martial. She then entered the Fresnoy-Studio national des arts contemporains where she pursued her artistic research on the expression of the body and feelings. In 2020, Editions contrejour publishes D'îles en lune, the result of an artist's residency in Saint-Malo in which her photographs meet the poems of Albane Gellé.