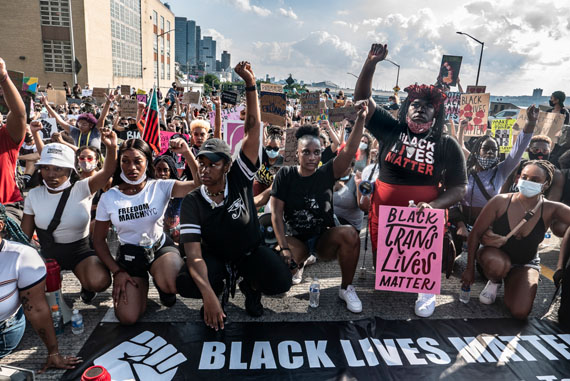 #PROTESTSGOVIRAL
Images of Activism on Instagram
Exhibition: 25 Sep 2020 – 3 Jan 2021
Thu 24 Sep 18:00 - 21:00
Haus der Photographie / Deichtorhallen
Deichtorstr. 1-2
20095 Hamburg
+49 (0)40-321030
mail@deichtorhallen.de
www.deichtorhallen.de
Tue-Sun 11-18
#PROTESTSGOVIRAL
Images of Activism on Instagram Exhibition: 25 September – 3 January 2021
Opening: Thursday, 24 September, 6 – 9 p.m.

At the same time, the exhibitions Matt Black – American Geography and "Jerry Berndt BEAUTIFUL AMERICA" will open.
Since their emergence on Twitter in 2007 and their use on Instagram starting in 2010, hashtags have become the universal tagging tool in image-based social media. For the first time, they made it easy to filter and thus find posts. Since they can be used by anyone regardless of hierarchy, hashtags enable a broad audience to make public statements and to have direct access to information. Apart from restrictions related to income, gender, and ethnicities, they offer a way for interests to gain visibility and feedback. The desire to form collectives and easily launch campaigns has recently turned hashtags into effective slogans and has catapulted them from the purely digital realm onto the streets.

The exhibition format #ProtestsGoViral developed by the House of Photography ties in with the Jerry Berndt and Matt Black exhibitions by addressing social problems and encourages visitors to reflect on the importance of hashtags in current photography focused on activism. It recognizes the posted images as documents of their time and sees the use of hashtags as a phenomenon that is already part of the current history of photography. This media revolution is democratizing documentary photography and making it one of the most important means of communication.

#ProtestsGoViral is based on a selection of viral hashtags on Instagram, the most popular image-based online platform in the United States. The posts shown are updated by the minute, in keeping with the fast pace of social media posts. This compilation thus offers direct insight into various pressing areas of political activism in the United States.
#PROTESTSGOVIRAL
Bilder des Aktivismus auf Instagram

Ausstellung: 25. September bis 3. Januar 2021
Sonderöffnung: Donnerstag, 24. September, 18 - 21 Uhr

Zur gleichen Zeit eröffnen die Ausstellungen: "Matt Black – American Geography" und &quotJ;erry Berndt BEAUTIFUL AMERICA".
Das vom Haus der Photographie entwickelte Ausstellungsformat #PROSTESTSGOVIRAL knüpft durch seine Thematisierung von sozialen Missständen an die Ausstellungen von JERRY BERNDT und MATT BLACK an und regt dazu an, über die Bedeutung von Hashtags für aktuelle Aktivismus vermittelnde Fotografie zu reflektieren. Es erkennt die geposteten Bilder als Zeitdokumente an und sieht deren Verschlagwortung durch Hashtags als ein Phänomen, das bereits Teil der aktuellen Fotografiegeschichte ist. Diese Medienrevolution demokratisiert die dokumentarische Fotografie und erhebt sie zu einer der wichtigsten Kommunikationsmittel.

Seit ihrer Entstehung 2007 auf Twitter und dem Beginn ihrer Nutzung 2010 auf Instagram, wurden Hashtags das universale Verschlagwortungstool in bildbasierten Sozialen Medien. Erst sie machen Beiträge filter- und damit auffindbar. Da sie ohne Einschränkungen durch hierarchische Zugänge nutzbar sind, ermöglichen Hashtags einem breiten Publikum öffentliche Stellungnahmen und einen unmittelbaren Informationszugriff. Abseits von Einschränkungen wie Einkommensverhältnissen, Gendergrenzen und ethnischen Restriktionen können Interessen mit dem Versprechen gebündelt werden, sichtbar zu sein und Resonanz zu erhalten. Die Sehnsucht nach Kollektivbildung und einfacher Kampagnenlancierung machte jüngst aus den Hashtags gar öffentlichkeitswirksame Slogans und katapultierte sie aus dem rein digitalen Bereich auf die Straßen.

#PROSTESTSGOVIRAL basiert auf einer Auswahl "viraler" – sprich überdurchschnittlich häufig genutzter – Hashtags auf Instagram, der populärsten bildbasierten Online-Plattform in den USA. Die gezeigten Posts werden im Sinne der Schnelllebigkeit von Social Media Beiträgen minütig aktualisiert. Die Zusammenstellung bietet so einen unmittelbaren Einblick in verschiedene akute Themenfelder des politischen Aktivismus in den USA.