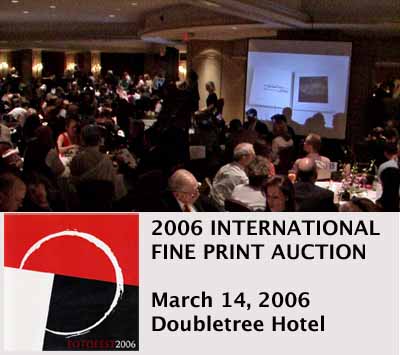 FOTOFEST 2006 - THE 2006 INTERNATIONAL FINE PRINT AUCTION
Auction:
Tue 14 Mar

FotoFest
2000 Edwards St, Bldg C, Ste 2
TX 77002 Houston
+1-713-2235522
The Fine Print Auction provides a rare opportunity for collectors to access high quality contemporary fine art photography from Latin America, Asia, Canada, Europe, and the United States. FotoFest's Seventh Fine Print Auction takes place at The Doubletree Hotel, Downtown Houston. FotoFest sponsors the auction with support from Sotheby's New York and auctioneer Denise Bethel, Sotheby's Senior Vice President and Director of Photographs. Revenues from print sales at the Fine Print Auction benefit artist programs and the Meeting Place portfolio reviews allowing hundreds of photographic artists to exhibit work and show their portfolios to important museum curators, publishers, gallery owners, and representatives of photo agencies from the United States, Mexico, South America, Australia, Canada, and Europe. Proceeds from Auction ticket and table sales benefit FotoFest's year-round educational program, Literacy Through Photography (LTP). LTP provides more than a thousand students in Houston-area public schools and beyond with cameras and a curriculum using photography to improve writing and cognitive skills. Fine Print Auction Preview Party February 23, 2006, 6 - 9 pm Bering & James Gallery 805 Rhode Place #500, Houston, TX 77019 Fine Print Auction Preview Exhibition March 1-11, 2006, 6 - 8 pm Gremillion & Co. Fine Art, Inc. 2501 Sunset Boulevard, Houston, TX, 77005 For more information on the FOTOFEST2006 and its associated programs, please contact the FotoFest Press Coordinator at 713/ 223-5522 ext 26 or press3@fotofest.org. For updates on all FOTOFEST2006 programs see the FotoFest web site: www.fotofest.org.