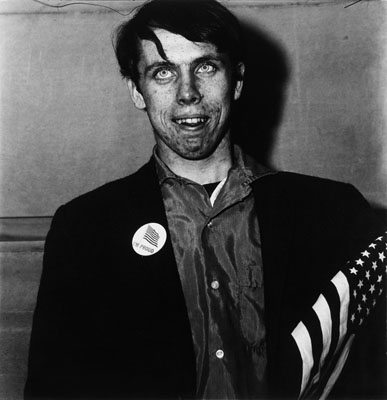 Auction Photography
Auction:
Sat 2 Dec 11:00
Kunsthaus Lempertz
Neumarkt 3
50667 Köln

Lempertz
Neumarkt 3
50667 Köln
+49 (0)221-9257290
photo@lempertz.com
www.lempertz.com
Mon-Fri 10-13+14-17.30, Sat 10-13
Lempertz' highly successful auction of Contemporary Photography in Berlin on September 30 is followed by an auction of 291 lots focusing on classic modern photography. Among the highlights are Germaine Krull (EUR 25/30.000), Bert Stern (EUR 22.000), Diane Arbus (EUR 18.000), Jürgen Klauke (up to EUR 12.000), Josef Sudek (EUR 10.000), Hans Finsler (EUR 10.000), Man Ray (EUR 10.000), Ilse Bing (EUR 10.000), Dieter Appelt (EUR 10.000) and Otto Steinert (EUR 7.000). 19th century photography Highlight of the 17 lots is a work by Roger Comte de Manoir dated 1851, showing a pack of hunting dogs, taxed EUR 8.000 (lot 14). Until 1830, Joseph Wilhelm Pero studied painting with Wilhelm von Schadow at the Düsseldorf academy of arts. He opened a photographic studio in Lübeck in 1840. His very rare full-plate daguerreotype portrait of the 13-member Sievers family dated 1843 is estimated EUR 5.000. 20th century classics Highlight of the auction is Germaine Krull's "KARA" portfolio of six vintage gelatin silver prints from 1925. The nudist movement was very popular in Berlin in the 1920´s; nude dance and gymnastics were practised, the harmony of body and spirit and the encounter with nature and the element were supposed to aid in experiencing life as an entity. Photography documented the theme of the nude body as well (lots 143 - 146). Diane Arbus is represented by an (early) later print of her "Patriotic Young Man with a Flag", 1967, printed ca. 1970 (lot 21, EUR 18.000). Lee Friedlander's "God bless America", 1960, prints 1970´s, is offered at EUR 5.000 (lot 86). A further offering is Bert Stern's famous complete ten-part portfolio of Marilyn Monroe's "The last Sitting" for EUR 22.000 (lot 217). An onion, next to two of its thin peels, photographed by Josef Sudek, is taxed at EUR 10.000 (lot 221). The same estimate applies to an original case with 56 photographs by Hans Finsler, serving as a sales catalogue for products of different workshops of the state college for applied arts Burg Giebichenstein in Halle (lot 81). Man Ray's 1924 composition "Cage d'oiseau" is the choice lot out of five photographs (EUR 10.000, lot 155). Ilse Bing's most expensive works shows the Eiffel tower contrasting with a Paris house's chimney (EUR 10.000, lot 34), and a study for Schiaparelli perfume for EUR 7.500 (lot 35). Helmut Newton is represented with five photographs of celebrities and nudes at EUR 8.000 each (lots 176 - 180). A goddess dressed in black and white descends a staircase: Sam Shaw called his portfolio of five photos of Marilyn Monroe "The Joy of Marilyn" (EUR 8.000, lot 209). Otto Steinert, master of "subjective photography", is represented by an extremely rare large-scale, elegantly abstract vintage gelatin silver print "Sunset in Hirtshals" from 1964, taxed at EUR 7.000 (lot 216). Manuel Alvarez Bravo's photo of Frida Kahlo in the 1930's (lot 20), and a pair of nudes by Henri Cartier-Bresson (lot 66), both printed later, are estimated at EUR 5.500 each. Ansel Adams' "Yosemite Valley from Inspiration Point" (lot 19), Brassaï's photograph of Paris in the 1930's (lot 44), Walker Evans' kitchen interior (lot 77) as well as Harry Callahan's famous "Eleonor" (lot 56) are valued at EUR 5.000 each. Renger-Patzsch is very well represented by vintage plant motifs from the early 1920's (lots 189+190, to EUR 4.000), and Werner Mantz by vintage architecture and intereior photos (lots 160-163, to EUR 4.000). Further photographers represented: Eugène Atget, Izis, Edouard Boubat, Bill Brandt, Joseph Breitenbach, Horace Bristol, Camera Work photogravures, Harold Edgerton, Elliott Erwitt, Andreas Feininger, Ara Güler, F.C. Gundlach, Ernst Haas, Heinz Hajek-Halke, Raoul Hausmann, David Hockney, Ewald Hoinkis, Horst P. Horst, Peter Keetman, André Kertész, Herbert List, Robert Mapplethorpe, Duane Michals, Jósef Pécsi, Heinrich Riebesehl, Ilka Révai, Willy Ronis, August Sander, Jeanloup Sieff, Louis Stettner, André Villers, Alexandre Vitkine, Weegee, Edward Weston, Brett Weston, Gary Winogrand. Contemporary artists: Jürgen Klauke is prominently represented by five works, among them "Consolation for assholes (from the series "Disastrous Me") for EUR 12.000, and "Loneliness is an Experience of less and less", a portfolio of 11 black/white photos for EUR 9/10.000 (lots 269-73). Dieter Appelt's photographic work "Ten variations on the number system of the Massai" from 1977 is taxed at EUR 10/12.000 (lot 256). The estimate of Peter Beard's 1960 vintage work "From the Original End-Game" is EUR 5.000 (lot 260), the same as a print from the "Kyoto, Japan" black/white series by Thomas Struth (lot 290). Marie-Jo Lafontaine is represented by a beautiful three-part work "Roses - Aromes -Iris" from 1995 (EUR 6.000, lot 275). Jean-Luc Moulène's view of the Berlin cathedral and the Palace of the republic from 1996/97 (lot 278) is taxed at EUR 5.000. Further artists represented: Nobuyoshi Araki, Shimon Attie, Clegg & Guttmann, Karen Knorr, Erik Niedling, Thomas Ruff, Jörg Sasse, Gregor Schneider, Beat Streuli.
---
Nach der sehr erfolgreichen Auktion Zeitgenössische Photographie am 30. September in Berlin liegt nun der Focus der Versteigerung am 2. Dezember mit 297 Lots auf Arbeiten der Klassischen Moderne. Die Höhepunkte kommen von Germaine Krull (25/30.000), Bert Stern (22.000), Diane Arbus (18.000), Jürgen Klauke (bis 12.000), Josef Sudek (10.000), Hans Finsler (10.000), Man Ray (10.000), Ilse Bing (10.000) und Dieter Appelt (10.000).