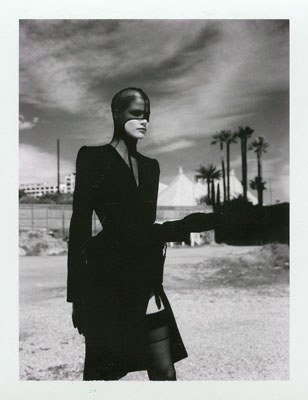 Polaroids
Exhibition: 10 Jun 2011 – 20 May 2012
Thu 9 Jun 20:00
Helmut Newton Stiftung
Jebensstr. 2
10623 Berlin


Helmut Newton Foundation
Jebensstr. 2
10623 Berlin
+49 (0)30-31864856
info@helmut-newton-foundation.org
www.helmutnewton.com
Tue-Sun 11-19, Thu 11-20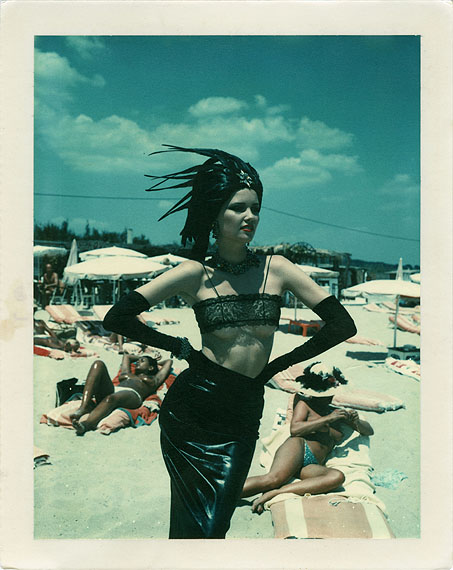 Helmut Newton Polaroids

Public opening: Thursday, June 9th, 2011, 8 pm
Exhibition: June 10th – November 20th, 2011

Helmut Newton: Polaroids

Polaroid technology revolutionized photography. Those who have used a Polaroid camera can hardly forget the unique odor of its developing emulsion and the thrill of the instant image. With the Polaroid, every image is one of a kind. This also applies to the later large-format Polacolor prints, whose developing process left behind characteristic borders. Polaroids have thus been frequently used for preliminary studies as well as a standalone medium. This was already the case early on, following the creation and presentation of the instant photograph at the Optical Society of America in 1947 by its inventor, Edwin Land – and especially after he presented in 1972 the legendary SX-70 System, a collapsible, simple and affordable camera. In nearly all photographic areas – from landscape and genre, portrait and self-portrait, fashion and nudes – this unique imaging process has found enthusiastic devotees all over the world.
Helmut Newton used the technology intensively starting in the 1970s, especially for his fashion photo shoots. As he once described in an interview, this satisfied his impatient urge to want to know immediately how a certain situation would look as a photograph. In this context, the Polaroid acted as an idea sketch in addition to testing the actual lighting situation and image composition. In 1992 Newton published Pola Woman, an unconventional book consisting only of his Polaroids. According to the photographer, the publication lay particularly close to his heart, although it was discussed amidst great controversy. In response to the accusation that the images in the book were not perfect enough, he countered: "But that was exactly what was exciting – the spontaneity, the speed."
Newton's additional notes, written on the edges of the Polaroids, are fascinating as well as revealing with regard to the model, client or location and date. The comments, the haziness of the images and the signs of use are naturally also to be found on the enlargements of the Polaroids included in the exhibition; they testify to a pragmatic approach to the original work materials, which have now possess an own inherent value. Especially interesting for today's viewer is the unique Polaroid aesthetic that unexpectedly alters the colors and contrast of the photographed subject.
For the first time ever, over 300 works based on the original Polaroids offer a comprehensive overview of this aspect of Newton's oeuvre. The exhibition is thus a look into the sketchbook of one of the most influential photographers of the 20th century. Many of the iconic photographs that have already been presented in the exhibition space of the Helmut Newton Foundation can be discovered in the current exhibition in the process of their creation.


Helmut Newton: Polaroids

Das Polaroid-Verfahren hat die Photographie revolutioniert. Wer diese Kamera jemals benutzt hat, wird den Geruch der Entwicklungsemulsion und die Faszination für das Sofortbild nicht vergessen. Beim Polaroid handelt es sich stets um ein Unikat, auch bei den späteren großformatigen Polacolor prints mit den so charakteristischen Entwicklungsrändern ist das der Fall. Polaroids sind deshalb häufig als vorbereitende Studien und als eigenständiges Medium verwendet worden. Das begann bereits kurze Zeit nach der Präsentation der Sofortbildphotographie vor der "Optical Society of America" 1947 durch ihren Erfinder Edwin Land – und vor allem, nachdem dieser 1972 das legendäre SX-70-System, eine zusammenklappbare, simple und preiswerte Kamera, vorstellte. In nahezu allen photographischen Bereichen – Landschaft und Genre, Porträt und Selbstporträt, Mode und Akt – und überall auf der Welt fand die ungewöhnliche Bildtechnik begeisterte Anwender.
Helmut Newton hat die Technik seit den 1970er Jahren ebenfalls intensiv genutzt, insbesondere während der Shootings für seine Modeaufträge. Dahinter stand, wie er es selbst einmal in einem Interview nannte, das ungeduldige Verlangen, sofort wissen zu wollen, wie die Situation als Bild aussieht. Ein Polaroid entspricht in diesem Zusammenhang einer Ideenskizze und dient zugleich der Überprüfung der konkreten Lichtsituation und Bildkomposition. 1992 veröffentlichte Helmut Newton "Pola Woman", ein ungewöhnliches Buch, das ausschließlich seine Polaroids vorstellte. Die Publikation lag ihm, wie er sagte, "besonders am Herzen", gleichzeitig wurde sie kontrovers diskutiert. Den Vorwurf, dass die Bilder darin nicht perfekt genug seien, konterte er mit dem Argument: "Doch das war ja gerade das Spannende – die Spontaneität, das Schnelle."
Interessant und aufschlussreich sind Newtons handschriftliche Ergänzungen an den Bildrändern der Polaroids: Kommentare zum jeweiligen Modell, Auftraggeber oder Aufnahmeort und -datum. Diese Anmerkungen, die Unschärfen und Gebrauchsspuren finden sich selbstverständlich auch auf den Vergrößerungen der Polaroids innerhalb der Ausstellung; sie zeugen von einem pragmatischen Umgang mit den ursprünglichen Arbeitsmaterialien, die inzwischen jedoch einen eigenen, geradezu autonomen Wert besitzen. Insbesondere die eigene, unvergleichliche Ästhetik der Polaroids, die die Farbigkeit und die Kontraste des photographierten Gegenstandes unvorhersehbar verändert, macht die experimentelle Technik auch für den heutigen Betrachterblick interessant.
Gezeigt wird nun erstmals ein repräsentativer Überblick dieses Werkaspektes anhand von über 300 Photographien. Insofern kommt die Ausstellung einem Blick ins Skizzenbuch eines der einflussreichsten Photographen des 20. Jahrhunderts gleich. Viele der ikonischen Aufnahmen, die bereits zuvor in den Ausstellungsräumen der Helmut Newton Stiftung gezeigt wurden, werden durch die jetzige Ausstellung in ihrer Entstehung präsent.