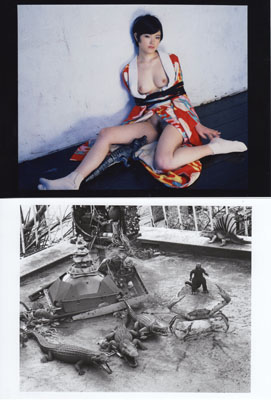 It Was Once A Paradise
Exhibition: 23 Apr – 16 Jul 2011
Sat 23 Apr 17:00
Galerie Alex Daniels - Reflex Amsterdam
Weteringschans 79 A + 83
1017 RZ Amsterdam


Galerie Alex Daniels / Reflex Amsterdam
Weteringschans 83
1017 RZ Amsterdam
+31 20-6272832
info@reflexamsterdam.com
www.reflexamsterdam.com
Tue-Sat 10-18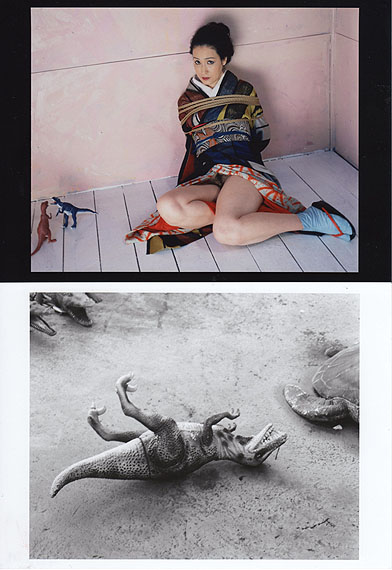 NOBUYOSHI ARAKI
It Was Once a Paradise
23 April - 16 July 2011

opening: Saturday, 23 April from 5 - 7 pm

For many decades now, Nobuyoshi Araki's central themes have been sex and death. In his photographs they have always co-existed, depended on each other: there can be no lust for life, without the threat of death.

In this as-yet-unseen collection of devastating new works by the world-famous Japanese photographer, now in his 71st year, it is not so much death he is concerned with, but grief. In each of these 40 diptychs, he addresses the complex relationship between loss and desire, which translates as despair and hope, separation and symbiosis, the internal and the other.

The diptychs, each comprising two very different styles of photographs bring these two essential sides of Araki's world together. But they also suggest other pairings: home and work; the personal and the impersonal; the homely and the erotic.

On one side of the diptych, in nostalgic, elegiac monochrome, he captures his private world. Often, these are close-ups of his beloved Tokyo balcony, a sanctuary where he used to enjoy the companionship of both his late wife and his cat. In these images, that personal space, although still redolent of happier times, has become a wasteland inhabited and patrolled by plastic dinosaurs, The dinosaur – at once fascinating, predatory and fabled – has long been recognised as Araki's alter-ego. While Araki himself is not present in these black and white images, the toy dinosaurs that populate the scenes serve to show the indelible, inescapable, nature of memory.

Countering these black and white scenes are striking colour images of naked women in erotic and at times, challenging poses. Some are tied up – almost bandaged; others are more freely provocative. This is Araki's trademark subject matter, which has earned him international admiration. Occasionally, perhaps inevitably, the intimate mingles with the erotic, manifest in a plastic dinosaur crossing from one scene into another Visually, Araki's diptychs startle and excite. They leave an imprint in the mind.

At first they bear no relation to each other, but taken together, they are some of the most complete and personal works the artist has ever produced.

Araki has exhibited his work in international art institutions including Fondation Cartier pour l'art contemporain, Paris; Ikon Gallery, Birmingham; Kestner Gesellschaft, Hannover; Deichtorhallen, Hamburg; and the Pinakothek der Moderne, Muenchen, among others. His last solo exhibition was at the Museo d'Arte della Citta di Lugano.

Araki has published more than 425 books. His new book, It Was Once a Paradise, as well as a limited edition with original prints, will be published in conjunction with the show by Galerie Alex Daniels - Reflex Amsterdam. Introduction and essay by Marcel Feil, FOAM Photography Museum Amsterdam, and Robbert Roos, Chief Curator Kunsthal KAdE, Amersfoort.

A special limited edition will be presented at the opening. For further information please contact Alex Daniels or Viola Winokan

We cordially invite you to the opening of the show on Saturday, April 23 from 5 - 7 pm.