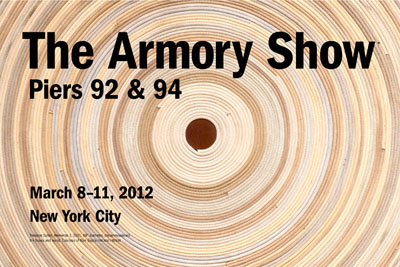 The Armory Show 2012
Piers 92 and 94
Twelfth Avenue at 55th Street
New York City
Fair: 8 Mar – 11 Mar 2012
Wed 7 Mar
The Armory Show, Inc.
7 West 34th Street / Suite 1027
NY 10001 New York
+1-212-6456440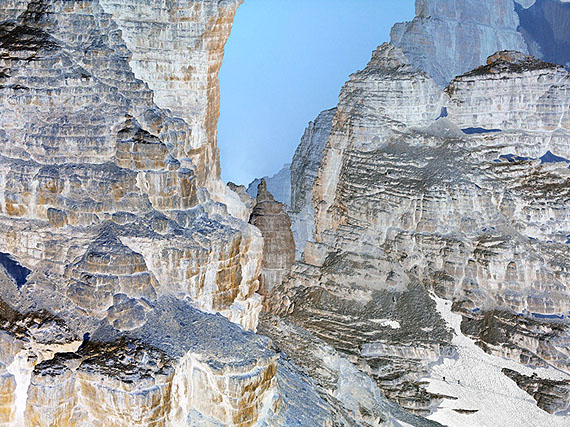 The Armory Show 2012
Thursday, March 8 through Saturday, March 10, Noon to 8 pm
Sunday, March 11, Noon to 7 pm

Piers 92 and 94
Twelfth Avenue at 55th Street
New York City

www.thearmoryshow.com


The Armory Show, the leading international contemporary and modern art fair, will take place from Thursday, March 8 to Sunday, March 11, 2012, on Piers 92 and 94 in central Manhattan. The Armory Show – Contemporary and The Armory Show – Modern will offer visitors unparalleled access to the most important artwork of the 20th and 21st centuries in New York City.

For its fourteenth edition, The Armory Show will inaugurate three exciting programming initiatives. Armory Film, curated by the Moving Image Fair, will feature an international selection of contemporary video and experimental films; Solo Projects, a section dedicated to single artist presentations, will debut on Pier 94 featuring eleven leading young dealers from around the world; and the fair will launch its new Media Lounge where on-site programs including Armory Film, Open Forum, the lively talk series, and Armory Performance will take place.

The 2012 exhibitor list features a global roster of leading galleries such as Lisson Gallery (London), Sean Kelly (New York), Victoria Miro (London), David Zwirner (New York), Sprüth Magers (Berlin), Gallery Hyundai (Seoul), Galerie EIGEN + ART (Berlin), Marianne Boeksy (New York), Peter Blum (New York), Andrew Kreps Gallery (New York), Galleria Continua (San Gimignano, Beijing, Le Moulin), Sies + Höke (Düsseldorf), Massimo de Carlo (Milan), Galerie Thomas (Munich), Marlborough Gallery (New York), James Goodman Gallery (New York), G.A.M. Galleria d'Arte Maggiore (Bologna), Galerie Krinzinger (Vienna), Susanne Vielmetter Los Angeles Projects (Culver City), Kukje Gallery/Tina Kim Gallery (Seoul, New York), Greene Naftali (New York), and Galerie Guido W. Baudach (Berlin). The outstanding exhibitor list is a testament to the exciting changes the fair has undertaken this year including a re-designed floor plan by the award-winning, New York City-based, architectural firm Bade Stageberg Cox and an enhanced programmatic schedule.

"This year's Armory Show is sure to stand out from our past editions, as well as other fairs from around the world," notes Paul Morris, Founding Director of The Armory Show. "For the 2012 edition, we have taken a new direction for the fair. Most notable is that The Armory Show is now a smaller, more curated fair that enriches every experience for the many collectors, curators and guests who come to The Armory Show to see the greatest art from around the world. We've engaged Bade Stageberg Cox to relay our floor plan with an intrinsic New York flavor, and have improved our amenities—from a top-notch gourmet restaurant and café to comfortable lounges throughout the fair."

The Armory Show's third edition of Armory Focus has turned its attention to the dynamic art community of the Nordic countries. This invitation-only component of The Armory Show, Armory Focus: The Nordic Countries is curated by the esteemed Malmö Konsthall director Jacob Fabricius and features galleries from Denmark, Norway, Sweden, Finland and Iceland. "The artists and galleries that work in this region deserve our full attention and I am happy to be able to present them in New York and at The Armory Show as part of the focus on the Nordic Region," remarks Fabricius. Additional features of The Armory Show 2012 include the work of The Armory Show 2012 commissioned artist Theaster Gates who will be be featured at Kavi Gupta (Chicago); the eclectic and engaging Open Forum talk series curated by Amanda Parmer of the Whitney Independent Studies Program; the inaugural edition of Armory Film; an acclaimed VIP program; and a lively opening night party benefiting The Museum of Modern Art.

Please visit www.thearmoryshow.com for the complete list of exhibitors, the upcoming Open Forum schedule, travel and accommodations, Armory Arts Week and visiting information.

The Armory Show is located on Piers 92 and 94 on the Hudson River, Twelfth Avenue at West 55th Street in the Passenger Ship Terminal complex, conveniently located 20 blocks north of the Chelsea Gallery district and just west of Columbus Circle. The piers are easily accessible by public transportation, taxi, and private vehicle.