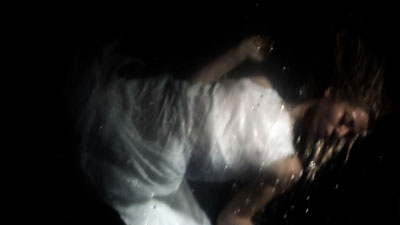 State of Suspension
Exhibition: 14 Jan – 25 Feb 2012

Galerie Anita Beckers
Braubachstr. 9
60311 Frankfurt (Main)
+49 (0)69-73900967
info@galerie-beckers.de
www.galerie-beckers.de
Tue-Fri 11-18, Sat 12-17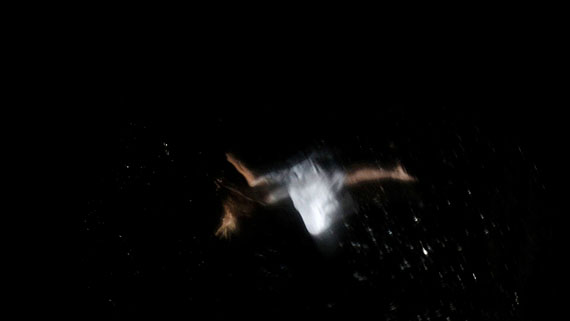 Ausstellungsdauer: 14. Januar – 25. Februar 2012
Exhibition from January 14th through February 25th 2012

Zur Vernissage am Freitag den 13. Januar 2012, um 19:00 Uhr laden wir Sie und Ihre Freunde herzlich ein.

A meditation on loss, State of Suspension (2012) explores the fragility of the human condition, frozen somewhere between life and death. Shot with a high-speed camera, a human figure and water defy the laws of gravity. The film directly investigates core aspects of physical matter and time. It is set to an original score by Irish / German composer Jürgen Simpson.
Much of Clare Langan's past oeuvre has explored the fragility of mankind in relation to nature with the camera firmly focused on the landscape and the environment. In State of Suspension the camera lens is turned more directly on the human figure itself exploring ideas of our existence, our mortality and the space in-between. This shift of focus in Langan's work opens out a new phase in her film and video works. There is no clear distinction between dream and reality and the space that the film creates becomes a submersive world that the viewer is drawn into.

Clare Langan studied Fine Art at the National College of Art and Design, Dublin and completed a film workshop at New York University in 1992 with a Fulbright Scholarship. Her film Metamorphosis (2007) won the Principle Prize at the Oberhausen International Short Film Festival and was exhibited at the Lyon Biennale in 2007. In 2008 her work was exhibited in the Singapore Biennial, curated by Fumio Nanjo. In 2003 Langan presented A Film Trilogy at MoMA, New York and at the Royal Hibernian Academy, Dublin. In 2002 she represented Ireland in the 25th Bienal de Sao Paulo. The trilogy Too dark for night premiered at the The Liverpool Biennial in 2002. Langan's work is part of a number of international public and private collections.