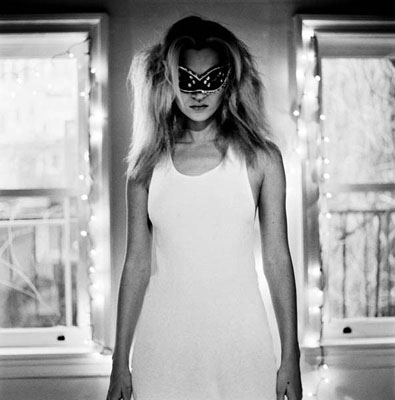 Inwards and Onwards
Exhibition: 21 Apr – 9 Jun 2012

CAMERA WORK
Kantstr. 149
10623 Berlin
+49 (0)30-3100773
info@camerawork.de
www.camerawork.de
Tue-Sat 11-18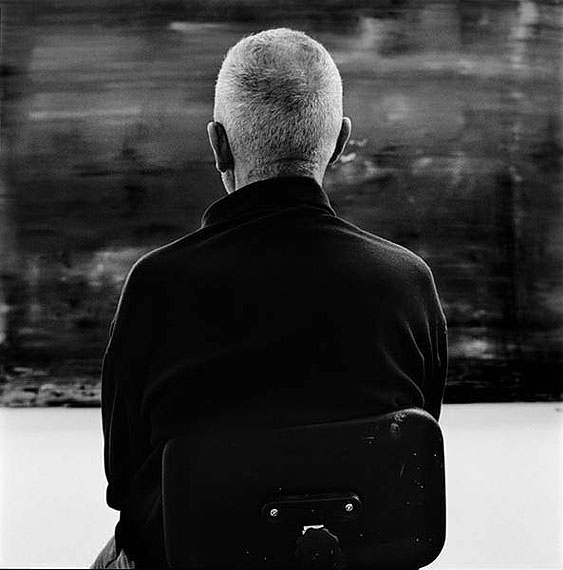 Anton Corbijn
»Inwards and Onwards«

April 21 – June 2, 2012

The large-format portraits featured in the exhibition »Inwards and Onwards« testify to the substantial body of artistic work that Anton Corbijn has created. Apart from striking photographs of true music legends such as Bruce Springsteen, Patti Smith or Tom Waits, who have always fascinated Corbijn, the photographer has focussed in his recent work on modern personifications of artistic inspiration such as Marlene Dumas, Gilbert & George or Jeff Koons. Working only in black and white with a Hasselblad camera, Anton Corbijn aims to reduce his photo shoots to the essential. He uses his subjects' familiar environments as settings and works on his own with available light – assistants or artificial lighting are off-limits for him. Corbijn understands the camera as a means to an end – ultimately, he tries to capture the personality and the character hidden deep within the person portrayed beyond any kind of superficial staging although some playfulness is sometimes apparent as with Damien Hirst's photograph and that of Jeff Koons.

This unique visual experience can also be found in the unconventional portrait of Gerhard Richter, who not only because of his profession is fully aware of the possibilities that the photographic medium offers for self-dramatization. Anton Corbijn shows the artist with his back turned, thus granting the subject his wish for personal intimacy while at the same time reflecting on his creative work – after all, the people portrayed in Richter's works often have their backs turned on the viewer or are blurred beyond recognition. The late painter Lucien Freud, who passed away in 2011, was another one of the artists who not only let Anton Corbijn enter his private space, but who also allowed him a glimpse of his character. The gesture and the portrayal of personality that define the picture as well as the palpable atmosphere of the photograph are the result of Anton Corbijn's unique approach to his subjects. This approach allows Corbijn to picture layers of personality hidden behind enactments and facades that can only be elicited by art.

The photographs offer fascinating insights into singular personalities, as exemplified in the portrait of Kate Moss, whose mask creates a paradox: while destroying the model persona created by the media and calling attention to the real person rather than the construct, it also works as a symbol for the interplay between the sacrifice of privacy and its protection. Other images shown in the exhibition, such as the portrait of Anthony Kiedis, play with the appeal of the serious surreal. Anton Corbijn's photographs attest to the self-analysis of the portrayed and make it visible, while at the same time captivating the viewer with their appealing imagery and their seemingly abstract scenarios, in which the figures depicted allow an intimate glimpse into their personalities: »Inwards and Onwards«.

Anton Corbijn
Anton Corbijn, born on May 20, 1955, in the Dutch village of Strijen, developed a passion for portraying musicians and following them with his photo camera in the 1970s. As a »silent member« of the music groups, he went on to shape the image of bands such as Depeche Mode, Joy Division, New Order and U2 as their photographer and and sometimes as art director and stage designer. His close ties with the music industry in combination with his artistic potential allowed Anton Corbijn to find ways of expression beyond photography. Since the 1980s, he has directed numerous music videos of the most successful musicians and bands in history, Johnny Cash, Nick Cave, Coldplay, Depeche Mode, Herbert Grönemeyer, Metallica, Nirvana and U2 amongst them. Last but not least, the award-winning films »Control« and »The American« directed by Anton Corbijn have contributed to his reputation as not only one of most influential contemporary photographers, but also as one of the most outstanding directors worldwide. It is for this reason that he was appointed member of the jury of the 62nd Berlin International Film Festival. Apart from directorial work and commercial photography, Anton Corbijn has been carrying out independent photographic projects since 1997. These works have been exhibited in international museums and galleries. Among the many awards that have honoured Anton Corbijn's work is the prestigious Prince Bernhard Culture Fund Award that he received in his homeland last year.

The catalogue »Inwards and Onwards« accompanying the photo series of the same name was released by Schirmer/Mosel Verlag in 2011.


Anton Corbijn
»Inwards and Onwards«

21. April – 2. Juni 2012
CAMERA WORK ⋅ Kantstraße 149 ⋅ 10623 Berlin
Öffnungszeiten: Dienstag – Samstag ⋅ 11–18 Uhr

Die Ausstellung »Inwards and Onwards« zeigt in großformatigen Porträts das bedeutende künstlerische Schaffenswerk von Anton Corbijn. Neben eindringlichen Photographien bekannter Musiklegenden wie Bruce Springsteen, Patti Smith oder Tom Waits, die ihn seit jeher faszinieren, fokussiert sich Corbijn in seinen neuesten Photographien auch auf die modernen Inbilder künstlerischer Inspiration wie Gilbert & George, Damien Hirst oder Jeff Koons. Ausschließlich in Schwarz-Weiß photographierend, reduziert Anton Corbijn seine Photoshoots mit seiner Hasselblad-Kamera, einem Setting in gewohnter Umgebung des Porträtierten sowie natürlichem Licht auf das Wesentliche – Assistenten oder künstlich erzeugtes Licht sind für ihn tabu. Auch wenn sich einige Porträts wie jene von Damien Hirst oder Jeff Koons durch eine Verspieltheit auszeichnen, so versteht Anton Corbijn die Kamera als Mittel zum Zweck, die Persönlichkeit des Porträtierten zum Ausdruck zu bringen und die ehrliche Tiefe des Charakters jenseits jeglicher äußerlicher Inszenierung darstellen zu können.

Diese besondere visuelle Erfahrung ist auch beim unkonventionellen Porträt von Gerhard Richter zu erkennen, der sich nicht nur berufsbedingt der Möglichkeiten der Selbstinszenierung im Medium der Photographie bewusst ist. Anton Corbijn zeigt den Künstler in einer Rückenansicht, gewährt ihm damit sein Verlangen nach persönlicher Intimität, um zugleich sein künstlerisches Schaffen zu reflektieren – kehren doch oftmals auch in Richters Werken die Personen dem Betrachter den Rücken zu oder verschwimmen bis zur Unkenntlichkeit. Auch der 2011 verstorbene Maler Lucien Freud ließ Anton Corbijn nicht nur in seine räumliche Privatsphäre eindringen, sondern öffnete für ihn sein Wesen. Die bildprägende Gestik und charakterliche Zeichnung sowie die greifbare Stimmung in der Photographie sind das Ergebnis eines besonderen Zugangs von Anton Corbijn zu seinen Porträtierten. Dieser Zugang erlaubt es Corbijn, hinter Inszenierungsfassaden Ebenen von Personen abbilden zu können, die nur der Kunst vorbehalten sind.

Neben faszinierenden Einblicken in die einzelnen Persönlichkeiten – wie auch beim Porträt von Kate Moss, deren Maskierung einerseits paradoxerweise die mediale Fassade des Models zerstört, um den Blick auf die Person und nicht auf das Konstrukt zu lenken, und andererseits als Symbol für das Wechselspiel zwischen der Aufgabe der Privatsphäre in der Öffentlichkeit und dem Schutz derselben angesehen werden kann – spielen andere Bilder aus der Ausstellung, wie das Porträt von Anthony Kiedis, mit dem Reiz des seriösen Surrealen. Anton Corbijns Photographien zeugen von einem sichtbar gemachten Auseinandersetzen der Porträtierten mit sich selbst und sind darüber hinaus von einer reizvollen Bildsprache sowie oftmals von scheinbar abstrakten Szenarien geprägt, in denen sich die Persönlichkeiten in einem intimen Moment zeigen: »Inwards and Onwards«.

Anton Corbijn
Geboren am 20. Mai 1955 im niederländischen Dorf Strijen, entwickelte sich bei Anton Corbijn in den siebziger Jahren die Leidenschaft heraus, Musikbands zu porträtieren und mit der Photokamera zu begleiten. Als »stilles Mitglied« der Musikgruppen schärfte er als Photograph und fortan auch zeitweise als Art Director und Bühnenbildner das Image von Bands wie Depeche Mode, Joy Division, New Order und U2. Seine enge Verbundenheit mit dem Musikgeschäft in Kombination mit seinem künstlerischen Verständnis konnte Anton Corbijn auch jenseits der Photographie kreativ ausleben. So führte er seit den achtziger Jahren bei zahlreichen Musikvideos der erfolgreichsten Musiker und Bands der Geschichte Regie, darunter neben Depeche Mode und U2 auch von Johnny Cash, Nick Cave, Coldplay, Herbert Grönemeyer, Metallica und Nirvana. Zuletzt auch aufgrund der preisgekrönten Filme »Control« und »The American«, bei denen Anton Corbijn Regie geführt hat, zählt er heute nicht nur zu den einflussreichsten zeitgenössischen Photographen, sondern auch zu den bedeutendsten Regisseuren weltweit. Ihm wurde daher die Ehre zuteil, in die Jury der 62. Internationalen Filmfestspiele Berlin berufen zu werden.
Seit 1997 verfolgt Anton Corbijn jenseits der Regiearbeit und Auftragsphotographie auch eigene photographische Projekte, die Bestandteil von Ausstellungen in internationalen Museen und Galerien waren. Neben zahlreichen Auszeichnungen für sein künstlerisches Schaffen, wurde Anton Corbijn im vergangenen Jahr in seiner Heimat der renommierte Niederländische Kulturpreis verliehen.

Ab dem 19. April ist der Dokumentarfilm »anton corbijn inside out« in den deutschen Kinos zu sehen, der eindrucksvolle Einblicke in das Leben und Wirken des Photographen und Regisseurs Anton Corbijn zeigt.

Zu Anton Corbijns Photoserie »Inwards and Onwards« ist 2011 ein gleichnamiger Photoband im Schirmer/Mosel Verlag erschienen.