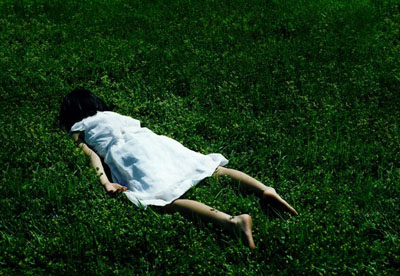 Unseen: Photo Fair with a Festival Flair
Fair: 20 Sep – 23 Sep 2012
Wed 19 Sep 17:00
Foam_Fotografiemuseum Amsterdam
Westergasfabriek
Amsterdam


Foam Fotografiemuseum Amsterdam
Keizersgracht 609
1017 DS Amsterdam
+31 (0)20-5516500
pressoffice@foam.org
www.foam.org
Sat-Wed 10-18 . Thu, Fri 10-21
Unseen: Photo Fair with a Festival Flair
Inaugural Edition & Initial Galleries Announced
20 - 23 September 2012.
Unseen, the new international photography fair, announces today it's inaugural 2012 edition, which will take place in Amsterdam's Westergasfabriek from September 20 - 23. Unseen is a joint venture of Foam (Fotografiemuseum Amsterdam); Platform A (office for cultural business development); and Vandejong (branding agency).
A New Fair for Unseen Photography
Unseen is an effort to give new photography the platform it deserves. It brings together galleries that focus on new developments, young photographic talent, known photographers with new works to show and a global audience interested in discovering groundbreaking work. Unseen focuses on exciting and 'emerging' developments in the world of photography, on pioneers and adventurers, providing a source of inspiration for international collectors and photography lovers worldwide.
International Galleries
Unseen has invited over 50 galleries from around the globe to participate in this launching edition. An eclectic mix of large and small, known and new, all of which are the best in their particular field. Galleries that have so far committed to Unseen include G/P Gallery (Tokyo), Paradise Row (London), Les Filles du Calvaire (Paris), Martin Asbeak Gallery (Copenhagen), Motive Gallery and Van Zoetendaal Collection (Amsterdam) and M97 (Shanghai), displaying a strong mix of European and non-European galleries.
A Fair with a Festival Flair
Unseen will provide an atmosphere in which the modern visitor feels at home. Highlights of the accompanying programme will include the Unseen Collection, a curated exhibition of never before seen photographs from each participating gallery with a price under € 1.000,- and the Unseen Market, a pilot for launching and financing new opportunities within the photography world. Further events include special tours of the fair, the launch of Foam Magazine's annual Talent Issue, the Offprint Book Fair and an evening programme of documentary and film screenings. Further details of the accompanying programme will be announced in April.
Co-directors Marloes Krijnen, Pjotr de Jong and Roderick van der Lee commented, "We are delighted to announce this first inaugural edition of Unseen and are convinced that the unique concept of the fair will make it an event that is exciting and rewarding, both for the visitor and the participant. We are very happy with the quality and breadth of galleries already committed to the fair and by the cultural and artistic diversity that they represent as a group. We are also thrilled to have the Westergasfabriek as a partner and have no doubt that this truly atmospheric location, with its mix of 19th-century industrial buildings surrounded by parkland, makes an ideal setting for Unseen. Furthermore, with its core values of creativity, innovation and a long-standing mercantile spirit, we feel that Amsterdam is the natural home for such an event".
For more information, visit www.unseenamsterdam.com
International Press Contact
Rhiannon Pickles
+31 (0) 206 200 369
rhiannon@picklespr.com
Editors' Notes
Unseen
The Netherlands has never seen an international photography fair on this scale. Unseen not only offers space to established photographers but also to young talent and unknown work. The new generation of photographers is inspiring, innovative and unafraid to take risks. At Unseen, they will get the chance to introduce themselves.
Unseen is a joint venture between Foam, Platform A, and Vandejong.
Marloes Krijnen, Foam
Marloes Krijnen is founding director of Foam Fotografiemuseum Amsterdam. Prior to this she was director of Transworld, an agency representing an international group of photographers. In the years since its start in 2001, Foam has established itself as a renowned platform for photography in all its forms: strong national and international networks, and support of up-and-coming photographers being two of Foam's most important ambitions.
Roderick van der Lee, Platform A
In 2008 Roderick co-founded Platform A, office for cultural business development. Over the past decade Roderick has curated a dozen exhibitions in contemporary art and design and has consulted for several collections, ranging from private to large institutional collections such as of the Ministry of Foreign Affairs.
Pjotr de Jong, Vandejong
Pjotr de Jong is the creative director of branding agency Vandejong. In 2001 Foam became a client of Vandejong and since 2006 the two organisations have jointly published Foam Magazine.

Participating Galleries
G/P Gallery
Galerie Gabriel Rolt
Galerie les Filles du Calvaire
Galerie Martin van Zomeren
Galerie Ron Mandos
Galerie Wouter van Leeuwen
Galleria Heino
Kahmann Gallery
M97
Martin Asbaek Gallery
Molliné & Walz | Gallery for Contemporary Art
Motive Gallery & Van Zoetendaal Collection
Paradise Row
Reflex New Art Gallery
Robert Morat Gallery
Seelevel Gallery
The Third Gallery Aya
Torch Art Gallery
Van Zoetendaal Collection
Wim van Krimpen
Territories
China
Denmark
Germany
Finland
France
Japan
The Netherlands
United Kingdom
First-time buyers
Unseen aims to allow collectors to acquaint themselves with emerging talent and new work, and to make photography more accessible to a wider audience. The organisers will make a special effort to assist first-time buyers.
An important component of this will be the Unseen Collection, a curated exhibition of never before seen photographs from each participating gallery with a price remaining under € 1.000,-.
From mid April 2012 Unseen will also present online collecting courses for first-time buyers, including a series of four television programmes (co-produced with Unseen partner AVRO) to introduce people to the world of photography and collecting.
Partners
AVRO
City of Amsterdam
Dutch Doc
Westergasfabriek
Yoomee
Ticket Information
Tickets will be available to buy online at www.unseenamsterdam.com from June 1, 2012. Visitors to Unseen can also purchase tickets from the box office on site.
Opening Hours and Visitor Information
Preview Day September 19, 15.00 - 17.00hrs
Public Days September 20, 11.00 - 19.00hrs
September 21, 11.00 - 19.00hrs
September 22, 11.00 - 19.00hrs
September 23, 11.00 - 17.00hrs
Media Information Online
Press accreditation opens on June 1, 2012, at www.unseenamsterdam.com