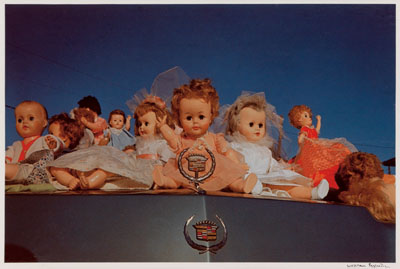 Photographs and other property from the estate of filmmaker Gary Winick
Auction:
Wed 4 Apr 10:30

Swann Auction Galleries, Inc
104 East 25th Street
NY 10010 New York
+1-212-2544710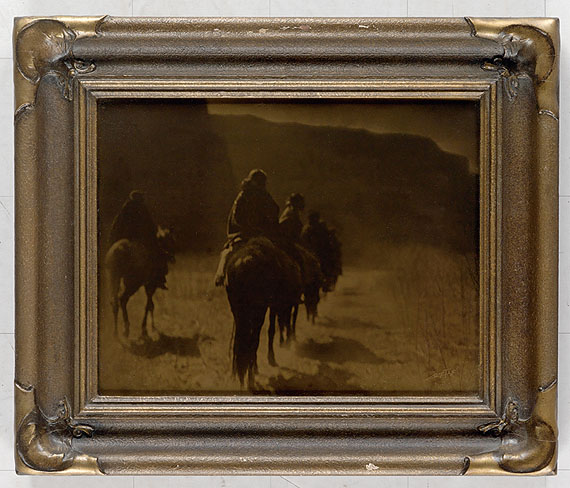 PHOTOGRAPHS AND OTHER PROPERTY FROM THE ESTATE OF FILMMAKER GARY WINICK OFFERED WITH 19th & 20th CENTURY PHOTOGRAPHS & PHOTOBOOKS AT SWANN AUCTION GALLERIES
APRIL 4, 2012

Features Significant Photographs by Ansel Adams, Richard Avedon, William Eggleston

NEW YORK — On Wednesday, April 4, Swann Galleries will offer a two-part sale of Property from the Estate of Filmmaker Gary Winick and 19th & 20th Century Photographs & Photobooks. When accomplished film producer and director Gary Winick died last year at the age of 49, he left behind collections of photographs, fine art prints and drawings, movie posters, books and some film memorabilia. The material offered from his estate illustrates his impeccable taste and keen eye for detail.

Among the fine photographs from his collection are city views, such as Fred Zinnemann's Grand Central Station, New York, silver print, 1932 (estimate: $3,500 to $5,000); two of Helen Levitt's New York images, one of boys playing over a doorway, silver print, circa 1942, printed circa 1980 ($7,000 to $10,000), the other of kids with laundry, dye-transfer print, 1972 ($6,000 to $9,000); two Saul Leiter color photographs, Untitled (bus, New York City), and Snow, New York, 1954 and 1960, printed 2000s ($4,000 to $6,000 for the pair); and Bruce Davidson's East 100th Street Façade, oversize silver print, 1966-8, printed 1980s-90s ($5,000 to $7,500).
There are also two untitled dye-transfer photographs by William Eggleston, one of a family on a porch, 1972 ($10,000 to $15,000), the other of dolls lined up on the hood of a Cadillac, from the series Los Alamos, 1970 ($30,000 to $40,000); as well as images by Harry Callahan, Henri Cartier-Bresson, Walker Evans, Weegee and more.
Fine art prints and drawings from Winick's collection include an Andy Warhol Shoe Design for Redbook Magazine, gouache, correction fluid, paper collage, ink and pencil on paper, circa 1955, with the Redbook publication note attached to the back ($15,000 to $20,000); Ellsworth Kelly's Grape Leaves II, lithograph on Arches, 1973-74 ($3,000 to $4,000); and two 1991 mixed media prints with collage by Robert Rauschenberg, Shirtboard (Concentric Circles) ($2,500 to $3,500), and Shirtboard (Hotel Bilbao) (2,000 to $3,000).
Offering insight into the mind of this talented filmmaker is memorabilia from some of his films, and rounding out the Winick portion of the sale is an incredible collection of vintage movie posters, which is particularly rich in Hitchcock items.

The auction continues in the afternoon with an excellent selection of 19th & 20th Century Photographs & Photobooks. Highlights of this section include Richard Avedon's Santa Monica Beach #2, California, September 30, 1963, which appeared in the artist's book Nothing Personal, a collaboration with the writer James Baldwin that explored issues of race and Civil Rights in America. The image of a willowy white woman embracing an African-American child, as they stand in the ocean looking out to sea, is quite rare, and, to our knowledge, has never appeared at auction before. It is estimated at $30,000 to $45,000.
Also from the latter half of the 20th century are Minor White's Rings and Roses, Cemetery, Ponce, Puerto Rico, 1973 ($4,500 to $5,500); Larry Clark's David Keith, 1975 ($6,000 to $9,000); Bernd and Hilla Becher's Stahl Coal Co., Goodspring Mountains, Schuylkill County, Pennsylvania, ferrotyped silver print, 1975 ($7,000 to $10,000); Cindy Sherman's Untitled (seated), with wigs, lights and other props, chromogenic print, 1983 ($6,000 to $9,000); Joel-Peter Witkin's Woman in Blue Hat, warm-toned silver print, 1985 ($4,500 to $5,500); and Irving Penn's Alexandra Beller, New York, from the Dancer series, selenium-toned silver print, 1999 ($12,000 to $18,000).
Among early photographic examples are albums with albumen print images of China, the South Seas, Japan and the Holy Land; Civil War photographs; tintypes; copies of Alfred Steiglitz's photograph publication Camera Work, including a signed and inscribed copy of Number 36, New York, 1911 ($20,000 to $30,000); and several examples of Edward S. Curtis's haunting images of Native Americans, such as orotones of The Vanishing Race, 1904 ($8,000 to $12,000) and Chief of the Desert, Navajo, 1904 ($15,000 to $25,000).

The sale contains unique Polaroid prints by Ansel Adams from the Polaroid Collection, which were shown as part of an exhibition in 2007. There is a triptych of color studies of Rusted Metal, Leaves, and Red Rock, from 1972, with a group of four color studies of other subjects from 1970-72 ($7,000 to $10,000 for the group). A separate lot offers four color Polaroid studies of trees by Adams, 1972-74 ($5,000 to $7,500); there are also his silver prints from Polaroid Type 55 negatives, including Snow Banks, Nevada, 1960s ($10,000 to $15,000); and a copy of the Sierra Club portfolio Portfolio #4: What Majestic Word, In Memory of Russell Varian, with 15 Adams silver prints, one of 260 copies, San Francisco, 1963 ($50,000 to $75,000).

Featured cityscapes are Bill Brandt's Rainswept Roofs, 1934, printed 1970s ($3,000 to $4,500); a run of Berenice Abbott's New York City scenes; Margaret Bourke-White's DC-4 Flying over New York City, 1939, printed circa 2000 ($10,000 to $15,000); Lou Stoumen's portfolio Times Square 1940: A Paper Movie, with 18 silver prints, 1940, printed 1977 ($6,000 to $9,000); Elliott Erwitt's whimsical views of New York and Paris; and a selection of Weegee's offbeat images of New York nightlife.

Notable portraits include a pair of Bernard Silberstein photographs of artist Frida Kahlo, circa 1940, printed 1980s ($2,500 to $3,500); Horst P. Horst's elegant image of Pauline de Rothschild, silver print, 1940s ($6,000 to $9,000); Arnold Newman's Pablo Picasso, 1954, printed 1970s ($3,000 to $4,500); Robert Doisneau's Giacometti dans son Atelier, 1957, printed, 1980s ($3,000 to $4,500); Yousuf Karsh's Albert Scheitzer, 1954, printed 1983 ($6,000 to $9,000); Tom Kelly's nude Marilyn Monroe, Pose #1, used in the first issue of Playboy, cibachrome copy print, signed by Hugh Hefner ($3,000 to $4,500); Eve Arnold's Malcolm X, Chicago, 1961, printed later ($2,500 to $3,500); and Mark Seliger's portraits of rock stars including Keith Richards and Neil Young.

Among the significant photobooks in the sale are Avedon and Truman Capote's collaboration, Observations, first edition, signed by both, with a typed letter signed by Avedon, reading "This is the only copy in existence signed by Truman and then by me…" 1959 ($2,000 to $3,000); first French and American editions of Robert Frank's The Americans; Ed Ruscha's Some Los Angeles Apartments, 1965 ($3,000 to $4,500); and Tina Barney's Swimming, one of 175 copies signed by Barney and writer Tina Howe, 1991 ($4,000 to $6,000).

The auction will begin at 10:30 a.m. on Wednesday, April 4.

The photographs and other material will be on public exhibition at Swann Galleries on Thursday, March 29 and Friday, March 30, from 10 a.m. to 6 p.m.; Saturday, March 31, from 10 a.m. to 4 p.m.; and Monday, April 2 and Tuesday, April 3, from 10 a.m. to 6 p.m.
The illustrated catalogue is available for $35 from Swann Galleries, 104 East 25th Street, New York, NY 10010, and may be viewed online at www.swanngalleries.com.

For further information on photographs and photobooks in this sale, and to make advance arrangements to bid by telephone during the auction, please contact Daile Kaplan at (212) 254-4710, extension 21, or via email at dkaplan@swanngalleries.com.

For information on material from the Gary Winick collection, please contact John Larson at (212) 254-4710, extension 61, or via email at jlarson@swanngalleries.com.

Live online bidding is also available via Artfact.com.