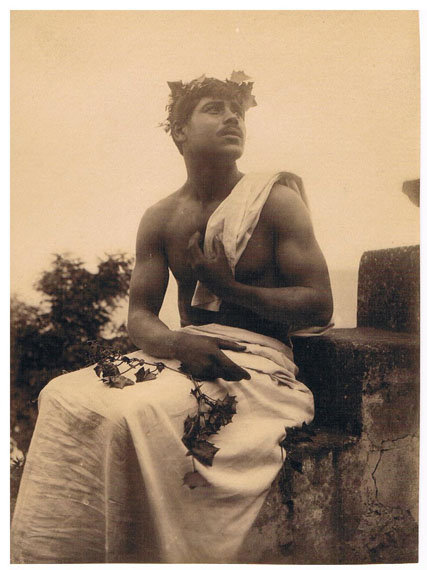 Les garçons de Taormina
Exhibition: 12 Jun – 15 Jul 2012

Galerie Au Bonheur du Jour
1 rue Chabanais
75002 Paris
+33(0)1-42965864
aubonheurdujour@curiositel.com
www.aubonheurdujour.net
Tue-Sat 14:30-19:30
von GLOEDEN (1856-1931)
"Les garçons de Taormina"

Vente de TIRAGES ORIGINAUX VINTAGE de 1880 à 1910

Seront présentées une soixantaine d'épreuves originales du célèbre Baron von Gloeden.
Beautés intemporelles sur ces papiers à l'albumine, sépia du XIXème siècle, garçons sublimés, parés de lierres, de palmes, de roses. Le berger devient Néron, l'ouvrier Virgile.
Ce monde de rêve et de romantisme a fait de von Gloeden un grand créateur d'une oeuvre unique, qui restera à jamais une expression avant-gardiste de l'histoire du nu masculin dans la photographie.



The famous Baron von Gloeden (1856-1931)

This romantic dreamworld made von Gloeden the great creator of a unique oeuvre wich will forever remain an avant-garde expression in the history of photography of the male nudes.
60 pictures vintage are for sale in my gallery, for collectors, is very important oeuvre.
Many celebrities came to his studio in this time, and bought prints from him: Gabriele d'Annunzio, Oscar Wilde, Kinf of the Siam, Adelswärd- Fersen, and more.