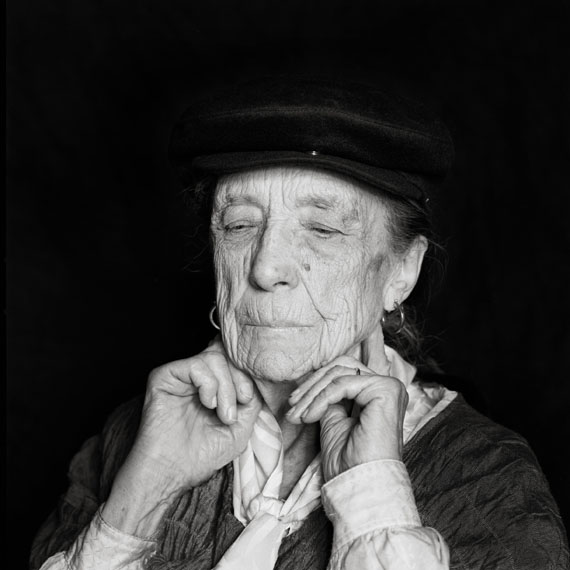 shuteye
Exhibition: – 17 Nov 2012
Thu 18 Oct 19:00
°CLAIR Galerie
Franz-Joseph-Str. 10
80801 München


°CLAIRBYKAHN GALLERY
Krebsgasse 9
8001 Zürich
+41-(0)78 639 1927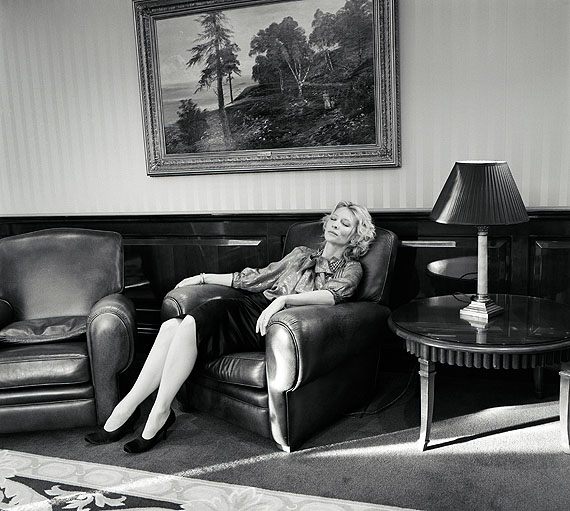 Oliver Mark | shuteye

we kindly invite you to the opening of the exhibition in our Munich gallery
Franz-Joseph-Str. 10, october 18th 2012, 7 pm

welcome with us Oliver Mark and Dr. Philipp Demandt, executive of Alte Nationalgalerie der Staatlichen Museen zu Berlin who will introduce Marks work to our guests

Stanley Kubrick called his last film EYES WIDE SHUT (1999) a game of deception between illusion and reality, a sort of mantling and dismantling based on Schnitzler's "Dream Story". Similarly, the German photographer Oliver Mark (born in 1963 in Gelsenkirchen) plays with masquerade and dreams in his images creating an impressive closeness to the people portrayed. Stars like Cate Blanchett, Mia Farrow and Will Smith are staging dreams in front of Marks camera as if suggested by the photographer. Mark names his exhibition Shuteye, where Kubrick's colleagues Spike Lee, Lars von Trier and Wes Anderson can be seen with their eyes shut, seemingly sleeping or dreaming. It comes as no surprise, since Mark often portrays famous people, amongst them artists like Louise Bourgois and Jörg Immendorf who don't like to be in front of the camera.

Oliver Mark's portfolio is not limited to portraits - it is impressive in its variety. In his exhibition Shuteye - first shown in the Munich based gallery °CLAIR - Oliver Mark also shows spaces like Schiller's study in Weimar or the deserted sanatorium in Beelitz, which strangely correspond to an image of an apartment in Berlin with a "magazine" look.

For over 15 years now, Mark has been a photographer for major print media such as Stern, Zeit Magazin, Rolling Stone, Time Magazine, Vogue, Weltkunst and others.
In his work he has often shown well-known faces in fresh poses. Each photograph is an expression of the mutual respect - a balancing act - between the visual artist and the VIP. Each shooting is meticulously prepared by Mark. In this manner, 700 photographs of influential people of our time have been created so far.

Oliver Mark, who received his first camera at the age of nine as a gift, also gives lectures and workshops for the German Bundespresseamt and the Fachhochschule Hannover.

His work has been shown in numerous solo and group exhibitions, recently at "18 Hours a Day, Kreuzberg Pavillon - 100 Days in Kassel" as well as at Art Paris. In 2011, for the first time Oliver Mark curated an exhibition ("Der arge Weg der Erkenntnis", Berlin). In 2009, a monograph on his work was published by Hatje Cantz. Oliver Mark lives in Berlin.


Visit the exhibition until november 17th 2012, wednesdays to saturdays, 3 – 7 pm or make an appointment.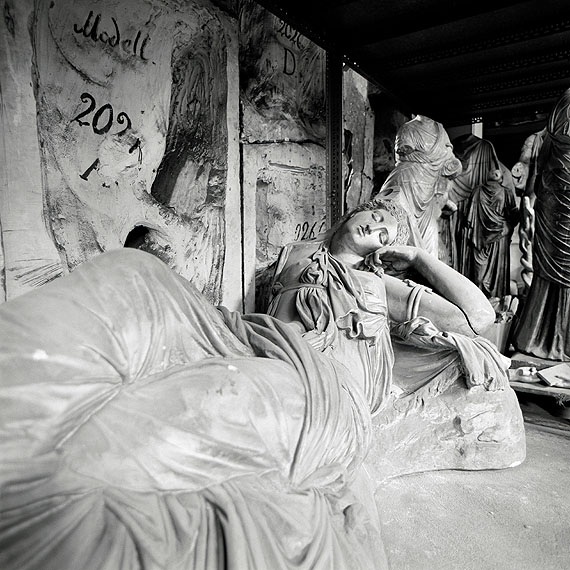 Oliver Mark / shuteye
18.10. bis 17.11.2012

Eröffnung am 18.10. 2012, von 19.00 bis 22.00 Uhr, in Anwesenheit des Künstlers
Eröffnungsrede: Dr. Philipp Demandt, Leiter der Alten Nationalgalerie der Staatlichen Museen zu Berlin

Stanley Kubrick nannte seinen 1999 erschienen letzten Film "Eies Wide Hut" – ein Vexierspiel zwischen Illusion und Wirklichkeit, Ver- und Enthüllung basierend auf Schnitzlers Traumnovelle. Mit Maskerade und Traum spielt auch der 1963 in Gelsenkirchen geborene Fotograf Oliver Mark in seinen Bildern, in denen er eine beindruckende Nähe zum Porträtierten herstellt. Stars wie Cate Blanchett, Mia Farrow oder Will Smith inszenieren vor Marks Kamera Träume, die der Fotograf ihnen zuvor eingeflüstert zu haben scheint. Shuteye nennt Mark seine Foto-Ausstellung, in der auch Kubricks Kollegen Spike Lee, Lars von Trier oder Wes Anderson mit geschlossenen Augen, scheinbar schlafend oder träumend zu sehen sind. Das ist nicht wenig verwunderlich, fotografiert Mark doch oft bekannte oder gar berühmte Menschen, darunter auch Künstler wie Louise Bourgouis und Jörg Immendorf, die selbst eher ungern vor der Kamera stehen. Das Portfolio von Oliver Mark beschränkt sich allerdings nicht auf Porträts, sondern ist beindruckend umfangreich.

In der in Münchner Galerie °CLAIR erstmalig gezeigten Schau shuteye zeigt Oliver Mark auch Räume wie Schillers Zimmer in Weimar, oder die verlassenen Heilstätten in Beelitz, die auf geradezu unheimliche Weise mit einem "magazinig" fotografierten Berlin-Apartment korrespondieren. Seit mehr als 15 Jahren fotografiert Mark für Medien wie Stern, Zeit Magazin, Rolling Stone, Time Magazine, Vogue, Weltkunst ua. und zeigt bekannte Gesichter in unverbrauchten Posen. Jedes Foto ist Ausdruck des gegenseitigen Respekts zwischen dem Kamerakünstler und dem Prominenten, ein Balanceakt. Und so bereitet sich Mark auch akribisch auf jedes Shooting vor – 700 Bilder von Personen der Zeitgeschichte sind bislang so entstanden. Oliver Mark, der im Alter von 9 Jahren seine erste Kamera geschenkt bekam, gibt Vorlesungen und Workshops u.a. für das Bundespresseamt und die Fachhochschule Hannover. In zahlreichen Einzel- und Gruppenausstellungen waren seine Arbeiten zu sehen, zuletzt "18 Hours a Day, Kreuzberg Pavillon- 100 Days in Kassel" sowie auf der Art Paris. 2011 hat Oliver Mark erstmalig eine Ausstellung kuratiert ("Der arge Weg der Erkenntnis", Berlin). 2009 erschien eine Werkmonographie bei Hatje Cantz. Oliver Mark lebt in Berlin.