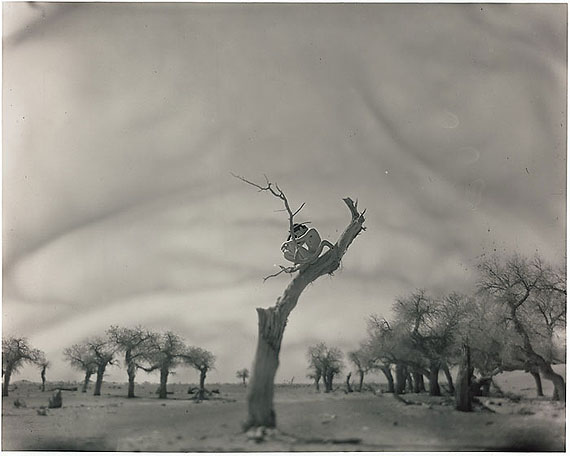 ADOU
Exhibition: 12 Jan – 2 Mar 2013
Sat 12 Jan 16:00 - 18:00

M97 Gallery
363 Changping Road, Building 4
200041 Shanghai
+86-21-62661597
info@m97gallery.com
www.m97gallery.com
Tue-Fri 11-18; Sat, Sun 12-18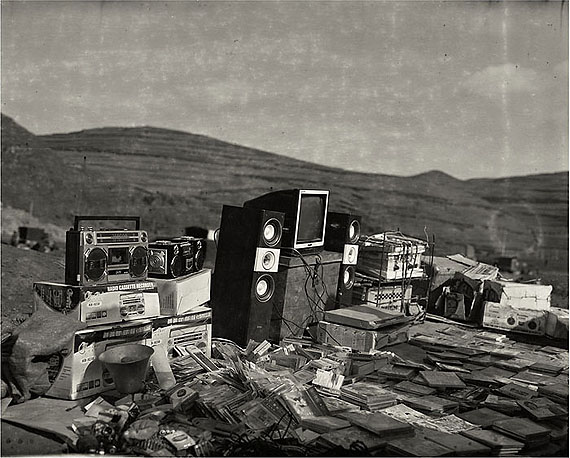 M97 Gallery is pleased to present "ADOU", an exhibition of artist Adou's new series of photographs. This is the artist's first solo exhibition in China and he will be present at the reception opening on January 12.

In this latest series of works, aptly titled after the artist himself, Adou goes to the root of the individual and the camera, the photographer in front of the lens, seen and unseen, both photographer and subject of his photographs. While making photographs in the mountains of Sichuan for his "Samalada" series of portraits, Adou once said "There is no difference between taking a picture of others and myself. The camera may be pointed outward, but whether you like it or not, it always reveals you". In the "Adou" series he has decided to do just that: point the camera at himself, the artist, confined, contemplative, exploring the boundaries of meaning in his practice before the film and lens, so that we, the viewer, can see him wildly exploring and experimenting amidst the elements and vast landscapes of remote and rural China. Adou's works are a return to the landscape, a primitive, isolated and at times vulnerable position for the artist in a desolate world. Part Dadaist and part Existentialist, Adou's photographs come from a long lineage of performance art but perhaps the wildcard that trumps all these before him is his seriousness towards the camera, film and lens, as well as the darkroom techniques and processes he reveres.

The "ADOU" exhibition at M97 also features a selection of silver gelatin prints from his renowned "Samalada" series, a collection of portraits documenting the Yi ethnic minority living in the Da Liang Mountain region, whose native name is Samalada. A newly-published book of the "Adou" and "Samalada" series of photographs is available at M97 Gallery. For more publication details, please visit www.m97gallery.com/publications

About Adou

Adou (b. 1973, Mianyang, Sichuan Province) graduated from the Fine Arts Department of Sichuan Aba Normal College in 1995. He is the recipient of several important photography awards, including among others the Three Shadows Photography Award (2009) and the Japan MIO International Young Photographers Competition for his series "Public Buses & Chinese People" (2005). In 2007 Adou received an Honorable Mention at the World's 100 Young Photographers KLM Paul Huf Award in the Netherlands.

Adou's photographs have been shown throughout Asia, Europe and the United States, including two major solo exhibitions in New York and San Francisco (2009) and a Retrospective Exhibition in Kyoto (2007).

About M97 Gallery
M97 Gallery is an independent photographic art gallery on Moganshan Road in central Shanghai. Established in 2006, M97 represents a range of important Chinese and international emerging and established artists. M97 is dedicated to promoting the understanding and appreciation for the art of photography in China.

Permanent Exhibition URL: www.m97gallery.com/exhibitions/?title=Adou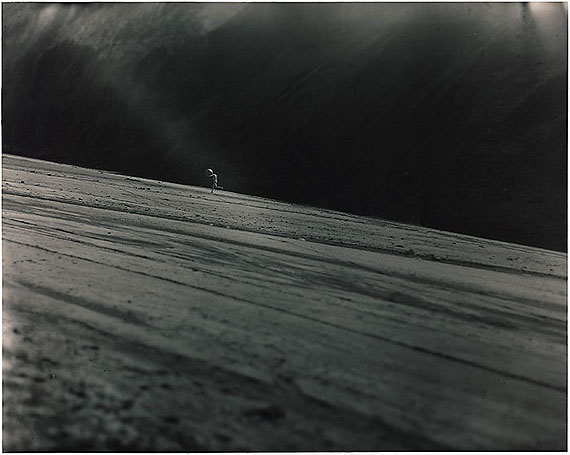 ARTIST ESSAY "ADOU"

"Self-reflection and harmony between man and nature really boils down to a tragedy and an illusion. But who would really want to feel it?
That is why I am full of pessimism and despair of my past after photographing SAMALADA. But I am still being attracted to the enchanting peripheral vision behind the tragedy. Could this be the destiny of humans?

When it comes to destiny, resentment against God and reality, history, or growth, there is nothing easy, nothing cheerful about it. These, in the end, are a tragedy, too. There is nothing we can do but feel helpless.

We are helpless as humans, as Chinese. Chinese people carry a heavy burden. Pressure is ubiquitous and overwhelming. Even if you indulge yourself in deviation for a little while, you are doomed to face the music! You face the country; face the authority; and face the truth that you would rather not see.

Go ahead, run away to the end of the world! Go and imagine the world in your own illusion. Though you may leave your physical being on the other side of the world, your heart is tightly tied to where you started. You muster up all your courage, ask yourself in self-reflection in the face of corpses buried under the ancient Great Wall, of this shattered land, and unknown, clueless strata. You will soon be overwhelmed with the powerful reality as if you are intoxicated with the aged wine of time.

There is no special reason for you to justify your being trapped by reality. Although you go to great lengths to come up with a most persuasive reason, it will always be unsatisfactory. Because why you are human, why just a speck of dust in this world. Did you think God would take pity on you, or fear you, simply on account of your helpless cry?

Therefore, in this cold world, you might as well hug yourself, the only thing that you can hold on to, and press ahead and feel this only existence. Or you could live with a peaceful mind in spite of the harsh reality; or you could surrender yourself to reality as if you are free falling from the top of the mountain; or you could follow the Oriental metaphysics to restrain yourself in hope of your next life. However, neither deserves your absolute devotion. After all, as life goes on, we just go with the flow as the river rushes to the sea. We come into existence by chance, and we will surely die a peaceful death. There are too many, endless why's, endless grilling moments, endless perseverance and degradation…and endless nightmares. But who is there to offer an explanation to any of this!