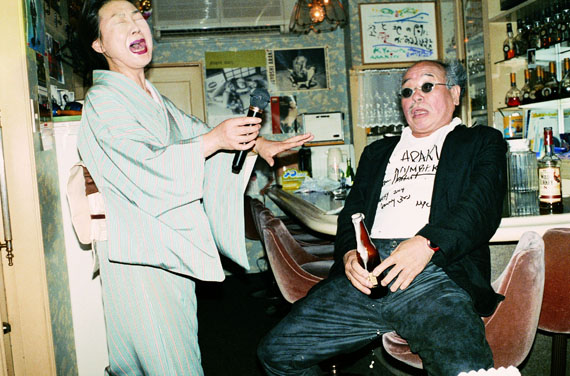 ARAKI TELLER TELLER ARAKI
Exhibition: 4 Apr – 24 May 2014
Thu 3 Apr 19:00

OstLicht
Absberggasse 27
1100 Wien
+43 (0)1-9962066
info@ostlicht.at
www.ostlicht.at
Wed-Sun 12-18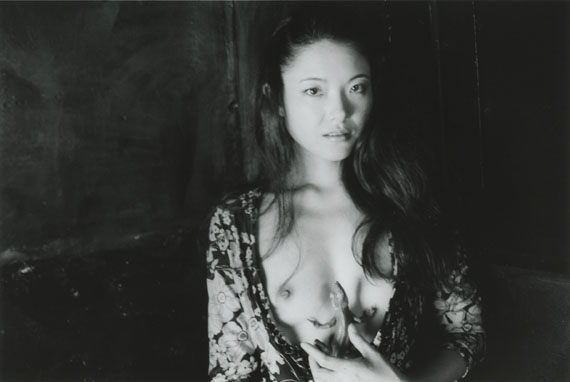 ARAKI TELLER TELLER ARAKI

Exhibition: 4 April 25 May, 2014
Opening: 3 April, 7pm
Juergen Teller will be present.
At the initiative of OstLicht Gallery and Peter Coeln in Vienna, the exhibition by Nobuyoshi Araki and Juergen Teller brings together two of the most important photographers of our times, showing new works conceived for this joint exhibition and entering into an artistic dialogue.

The exhibition ARAKI TELLER TELLER ARAKI thus showcases the encounter between two attitudes of extraordinary photographers, who are united in their radical artistic attitude and their almost insatiable hunger for images as reflections of their personal experience of the world. The elementary interest at the core of their work is the spiritual and physical ambivalence of human existence.

The exhibition is accompanied by an artist's book co-designed by Araki and Teller.

Araki shows works from the project he has been pursuing since 2012: Last by Leica. This is a kind of visual diary in which he draws his photographic impressions and ideas together into a touching commentary on his life, artistic work and working method. Young women, proliferating Japanese urban landscapes, rifts in cloud configurations – these all point to his life themes.

The meaning of the title Last by Leica is twofold: Araki uses the last analogous camera produced by Leica, a Leica M7, for this project. Thus, he understands this series as homage to silver halide photography. On the other hand, Araki's Last by Leica forms the final installment in a series he began in the 1980s with Life by Leica and continued in 2000 with Love by Leica, a collection of female portraits and nude photographs. After suffering a stroke and losing sight in his right eye, Last by Leica also contains a self-portrait taken at the hospital and images of an electrocardiogram. These are juxtaposed with images from his current series Paradise, depicting dolls and flowers in front of a black backdrop. Here, Araki tries to revive paradise, triving to leave behind the darkness, the sorrow and the shadows of death accompanying his life. Finally, selections from his life's project of several decades, Someone's Wife, complete the selection.

With the works selected for the book, Juergen Teller also proves himself a storyteller. Whether he portraying actors of Berlin's Schaubühne, rendering a woman who is not afraid to show her age for Vivienne Westwood's spring campaign, presenting the his own nude upper body and those of his colleagues under the title Betriebsausflug, offering us irritatingly beautiful pictures of his private trip to India or showing his idol Araki in an ironic pose – Juergen Teller allows us to participate in his life through his works. In the exhibition, he will juxtapose a new complex of works entitled Woo! with Araki's Last of Leica series. Woo! was also the title of his show at ICA (London 2013), where he covered the walls of the gallery with his photographs resulting in a huge photo collage on site. Initially planned with proof pages relating to his commercial photography Teller included some more pictures from his twenty-year spanning career. The collage formed hitherto unforeseen relationships across time, which Teller then photographically reassessed as a form of self-reflection and deconstruction. Many of these images will now be shown in Vienna as prints for the first time.

Accompanying publication: Nobuyoshi Araki and Juergen Teller are known for their outstanding publications. For this exhibition, the first artist's book conceived and designed jointly by Araki and Teller will be published. The volume will be published by the independent publishing house eyesencia, founded by Araki and Hisako Motoo in 1998, which has already published other books by Araki and other photographers, for example Daido Moriyama. The artist's book assembles more than 300 photographs, including those works shown as part of the exhibition which were previously unpublished, on about 400 pages. In addition, Araki and Teller will each dedicate a text to the other. The exhibition of about 150 works is curated by Gerald Matt in cooperation with Hisako Motoo (eyesencia) and Juergen Teller. The exhibition will subsequently be shown in Moscow and Belgrade and presumably in Prague and Warsaw.

Nobuyoshi Araki was born in Minowa, Tokyo, in 1940. He launched his artistic career in 1964 with photographs of children in the city; afterwards Araki photographed his own honeymoon. These photographs were published in the volume Sentimental Journey, which has acquired legend status today. During the 1970s, Araki gradually left behind press and journalistic photography and started to explore the existential questions and abysses of human life instead, turning increasingly towards erotic themes.

In his photographs, he developed a unique visual handwriting, creating a poetic portrayal of human passion which points beyond Japanese culture. During this time, he also began to publish his photographs in Garo, the avant-garde manga magazine and Shashin Jidai. Araki invented the concept of the "photographic ego", signifying the intriguing interplay between fiction, fact and desire. Araki, an obsessive photographer, perceives life through and in his pictures and is never seen without a camera. In Japan his photographs were partially censored due to "obscenity". Sky, flowers, street and family - Arakis subjects are manifold, as well as his ways of challenging photography, for example through scratching positive film and Arakinema (Araki + cinema).

Juergen Teller is one of the stars of contemporary photography. Born in Franconia in 1964, he made a name for himself as the photographer of the grunge movement in London early on, producing pictures of musicians like Kurt Cobain and magazine covers. During the 1990s he revolutionized art and fashion photography with distinctive images dealing with the fragmentary identities and surfaces of the fashion world and models. With his new and unique approach to photography, he enjoyed success in magazines such as Vogue, The Face and ID. Breaking the codes of beauty and fashion, his images of models like Kate Moss and Kristen McMenamy became icons. His works question our society's cult of beauty; consciously showing physical flaws, his visual idiom satirizes the need of our times for perfection. Works like his Naked on the Football Field or his video World Cup Final are sensitive declarations in favor of intimacy and everyday life. Like Araki, Teller has long explored existential issues of physical existence and sexuality, testing how close photography can get to reality – indeed, how painfully close it can get to truth.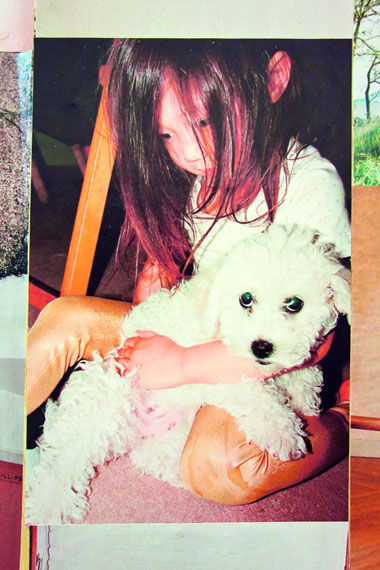 ARAKI TELLER TELLER ARAKI

Ausstellung: 4. April – 25. Mai 2014
Eröffnung: 3. April, 19 Uhr
In Anwesenheit von Juergen Teller
Mit der Ausstellung von Nobuyoshi Araki und Juergen Teller treten auf Initiative der Galerie OstLicht und von Peter Coeln in Wien zwei der bedeutendsten Fotografen der Gegenwart erstmals mit neuen, für ihre gemeinsame Ausstellung konzipierten Arbeiten in einen künstlerischen Dialog.

In der Ausstellung ARAKI TELLER TELLER ARAKI begegnen sich damit zwei Haltungen außergewöhnlicher Fotografen, die durch künstlerische Radikalität und einen nahezu unstillbaren Hunger nach Bildern als Instrument ihrer persönlichen Welterfahrung verbunden sind und deren elementares Interesse den seelischen und körperlichen Ambivalenzen der menschlichen Existenz gilt. Zur Ausstellung wird ein von Araki und Teller gemeinsam gestaltetes Künstlerbuch herausgegeben.

Araki zeigt Arbeiten seines seit 2012 verfolgten Projekts: "Last by Leica". Es handelt sich dabei um eine Art visuelles Tagebuch, in dem er seine fotografischen Eindrücke und Einfälle zu einem berührenden Kommentar über sein Leben, seine künstlerische Arbeit und Arbeitsweise verdichtet. Junge Frauen, wuchernde japanische Häuserlandschaften, aufbrechende Wolkenkonfigurationen verweisen auf die Themen seines Lebens. Der Titel "Last by Leica" hat zwei Bedeutungen: Araki verwendete dafür die letzte von Leica produzierte Analog-Kamera, eine Leica M7 und beendet damit seine Reihe, die er mit "Life by Leica" in den 1980er-Jahren begonnen, und im Jahr 2000 mit "Love by Leica" fortgesetzt hat. Nachdem Araki einen Schlaganfall erlitten und das Licht seines rechten Auges verloren hat, finden sich in "Last by Leica" auch ein Selbstporträt im Spital sowie Bilder mit einem Elektrokardiogramm. Daneben werden Arbeiten aus der aktuellen Serie "Paradise" ausgestellt. Sie zeigen Puppen und Blumen vor schwarzem Hintergrund. Araki versucht darin das Paradies wiederzubeleben, um die Dunkelheit, das Leid und die Schatten des Todes, die sein Leben begleiten, abzustreifen. Schließlich ergänzen Fotografien aus seinem jahrzehntelangen Lebensprojekt "Someone`s Wife" die Auswahl.

Auch Juergen Teller erweist sich mit seinen für das Buch ausgewählten Arbeiten als Geschichtenerzähler. Ob er nun Schauspieler der Berliner Schaubühne porträtiert, eine ihre Jahre nicht verbergende Frau für die Frühjahrskampagne von Vivienne Westwood in Szene setzt, die nackten Oberkörper von sich und seinen Kollegen unter dem Titel "Betriebsausflug" präsentiert, uns irritierend schöne Bilder von einer privaten Indienreise mitbringt oder den von ihm verehrten Araki in ironischer Pose zeigt – Juergen Teller lässt uns mit seinen Arbeiten an seinem Leben teilhaben. In der Ausstellung wird er der "Last by Leica"-Serie von Araki den neuen Werkkomplex "Woo!" gegenüberstellen. "Woo!" war auch der Titel seiner ICA Schau (London, 2013), bei der er die Ausstellungsräume mit seinen Fotografien beklebte und so eine riesige in situ Collage schuf. Ursprünglich nur mit Zeitungs- und Magazinausrissen seiner abgedruckten Bilder geplant, ergänzte Teller die Installation um weitere Fotografien aus seinem Werkkomplex der letzten zwanzig Jahre. So entstand eine Fotocollage mit unerwarteten, zeitübergreifenden Zusammenhängen, die Teller in einer Art Selbstreflexion und Dekonstruktion fragmentarisch abfotografierte. Viele dieser Bilder werden nun in Wien erstmals als Prints präsentiert.

Das Buch zur Ausstellung: Nobuyoshi Araki und Juergen Teller sind für ihre herausragenden Publikationen bekannt. Zur Ausstellung wird ein von Araki und Teller erstmals gemeinsam konzipiertes und gestaltetes Künstlerbuch herausgegeben. Das Buch erscheint im unabhängigen Verlag eyesencia, der 1998 von Araki und Hisako Motoo gegründet wurde und die Bücher Arakis sowie anderer Fotografen wie etwa Daido Moriyama herausbringt. Das Künstlerbuch versammelt über 300 Fotografien, darunter bisher nicht publizierte, in der Ausstellung gezeigte Werke auf rund 400 Seiten. Daneben widmen sich Araki und Teller gegenseitig einen persönlichen Text.

Die Ausstellung mit rund 150 Arbeiten wird von Gerald Matt in Zusammenarbeit mit Hisako Motoo (eyesencia) und Juergen Teller kuratiert. Die Ausstellung wird anschließend in Moskau, Belgrad und voraussichtlich in Prag und Warschau gezeigt.

Nobuyoshi Araki wurde 1940 in Minowa, Tokio geboren. Er begann seine künstlerische Karriere 1964 mit Bildern über Kinder in der Stadt, dann fotografierte Araki seine eigene Hochzeitsreise. Aus diesen Fotos entstand das heute legendäre Buch "Sentimental Journey". In den 1970ern löste sich Araki von der Presse und Reportagefotografie und beschäftigte sich mit den existentiellen Fragen und Abgründen des menschlichen Lebens, wobei er sich mehr und mehr für erotische Themen interessierte.

Mit seinen Fotografien entwickelte er eine einzigartige bildnerische Handschrift, die eine über die japanische Kultur hinausreichende poetische Darstellung menschlicher Leidenschaften hinterlässt. Zu dieser Zeit begann er auch, seine Fotografien unter anderem im Avantgarde-Comicmagazin Garo und Shashin Jidai zu veröffentlichen. Araki erfand den Begriff "Foto-Ich", worunter er den fesselnden Wechsel zwischen Fiktion, Wahrheit und Wunsch versteht. Araki, ein besessener Fotograf, nimmt das Leben mit und in seinen Bildern wahr und ist nie ohne Kamera anzutreffen. In Japan wurden seine Fotos teilweise wegen "Obszönität" zensiert. Der Himmel, Blumen, Straßen- oder Familienszenen – Arakis Bildsujets sind mannigfaltig, wie auch seine Wege die Fotografie herauszufordern, etwa durch Kratzungen am Positivfilm oder sein Arakinema (Araki + cinema).

Juergen Teller zählt zu den Stars der zeitgenössischen Fotokunst. Geboren 1964 in Franken machte er sich in London mit Fotografien von Musikern wie Kurt Cobain und Covers für Szene-Zeitschriften früh einen Namen als Fotograf der Grunge-Bewegung. In den 90er Jahren revolutionierte er die Kunst- und Modefotografie mit unverwechselbaren Bildern, die die brüchigen Identitäten und Oberflächen der Welt der Mode und Models thematisierten. Mit seinem neuen einzigartigen Habitus zu fotografieren, reüssierte er in Zeitschriften wie Vogue, The Face oder ID. Zu Ikonen wurden seine – die Codes von Schönheit und Mode brechenden – Bilder von Models wie Kate Moss oder Kristen McMenamy. In seinen Arbeiten hinterfragt er den Schönheitskult unserer Gesellschaft und persifliert mit einer körperliche Makel bewusst zeigenden Bildsprache die Perfektionsansprüche unserer Gegenwart. Seine Arbeiten wie "Nackig auf dem Fußballplatz" oder sein Video "World Cup Final" sind sensible Bekenntnisse zu Intimität und Alltag. Wie auch Araki beschäftigt sich Teller nachhaltig mit existentiellen Fragen des Körperlichen und der Sexualität und testet aus, wie nahe Fotografie der Wirklichkeit, ja wie fast schon schmerzhaft nahe sie der Wahrheit kommen kann.